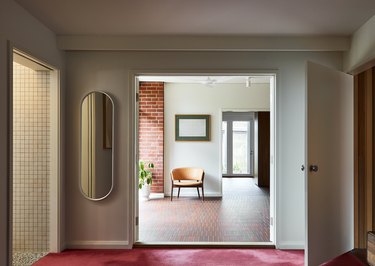 Midcentury modern interior design is a bit of a mixed bag. To simplify things, consider modern design ideas coupled with retro accents. Picture those ranch-like homes you've seen on TV shows that take place in the 1960s, and we'll start there. Those dwellings are a bit enclosed and full of earthy colors. They usually feature a lot of geometric shapes, too. Now consider what you know of more modern abodes with clean lines and functional space. Put those together, and you have a midcentury modern style that can work in every room and even small spaces like hallways.
The corridors in your home should never be neglected or left bare and boring. In fact, they deserve curated home decor as well. So if you're styling your place with a bit of midcentury modern flair, consider one of these design tricks to make the hallways feel extra special, too.
1. Go for wood furniture.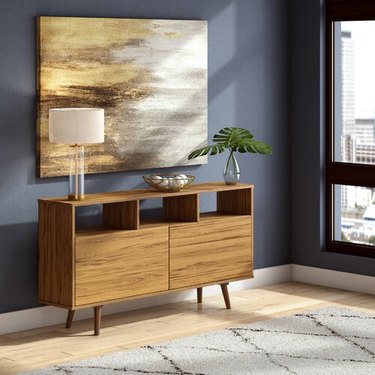 Midcentury modern style and wood furniture go hand-in-hand. So if you've got the space in your hallway, add a solid wood console table with sharp lines and tapered legs for a bit of retro flair. As an added bonus, you'll create a prime spot for extra storage and a landing pad for keys, mail, and other knickknacks that need a place.
2. Find pieces that take up vertical space.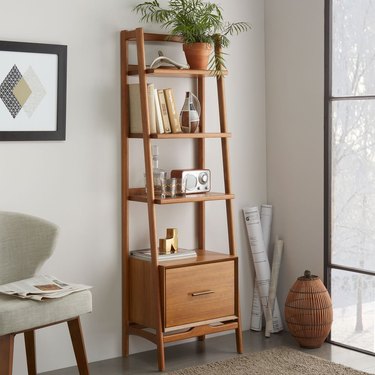 Even though hallways tend to be on the smaller side, you don't have to pick minuscule pieces. Instead, create a midcentury modern focal point that takes up vertical space. A tall shelving unit like this can actually trick the eye into overlooking the lack of real estate. And you'll have a fun styling moment to boot. Add indoor plants that don't need much light for a pop of greenery.
3. Add midcentury modern lighting.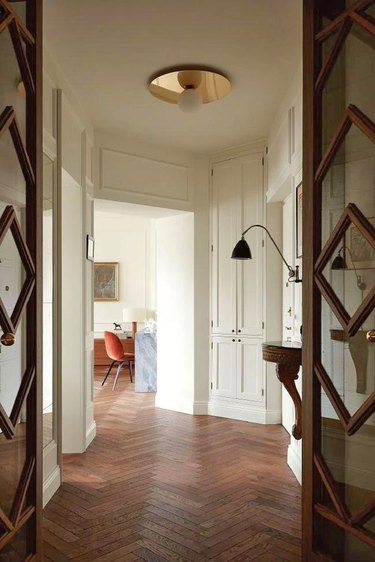 Want a super easy way to add a midcentury touch to your hall? Simply install a midcentury modern-inspired light. There are multiple kinds to choose from, but try going for something spherical with a modern edge. A bronze ceiling fixture like this one will create a graphic statement and have just the right amount of glam. We like how it's contrasted with a more traditionally MCM wall sconce as well.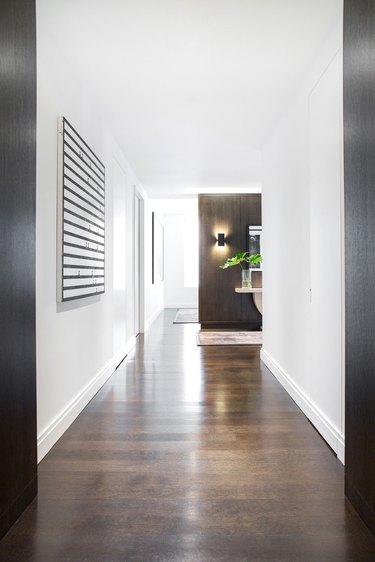 If you have stunning wood floors in your hallway, try leaving them bare. Skip the area rugs and runners, and let the planks be the star of the show. Give them a little polish (we love the Bona Hardwood Floor Polish) then get ready for your runway moment. This easy idea puts the simplicity of midcentury modern style at the forefront.
5. Incorporate a seamless bookshelf.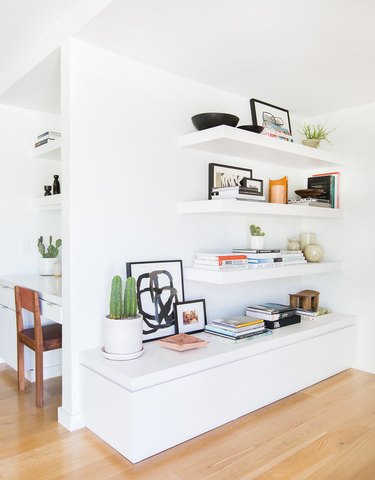 Functionality is key with any midcentury modern look. So if your hallway has space, consider adding seamless shelving that offers style as well as function. You can go with a standing unit or a floating shelf/built-in combo like Amber Interiors did here. Be careful not to overwhelm the shelves with too many things, though. An abundance of trinkets will decrease your visual space.
6. Bring on the midcentury modern art.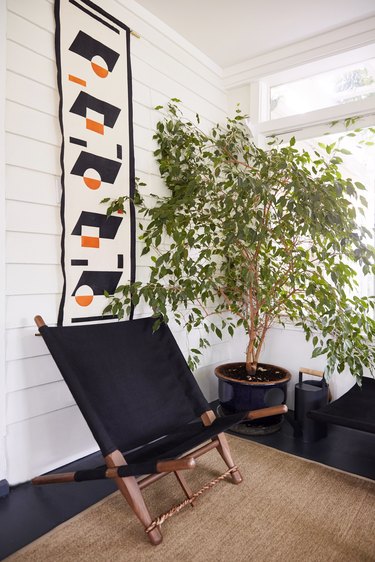 Take your midcentury modern hallway to the next level with geometric art. Try an entire wall mural with muted, earthy shades. Or if you want something less permanent (renters, this idea is for you), find a piece of art that features classic shapes like the tapestry here.
7. Create a small seating arrangement.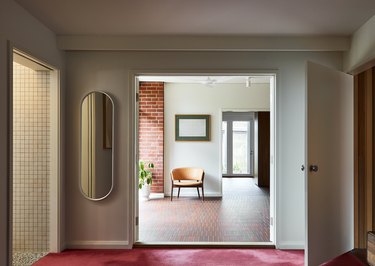 Even the most compact or narrow entryway halls will likely have room for a tiny seating arrangement. Don't go all out with a loveseat or sofa, though. Instead, find a petite chair with rich leather accents or striking wood features that will stand the test of time. We like the seat in this entry hall from MRTN Architects. But depending on your square footage, a leather floor pouf could work just as well. And besides looking chic, the resulting sitting area will create the perfect place for sliding on shoes before you head out the door.