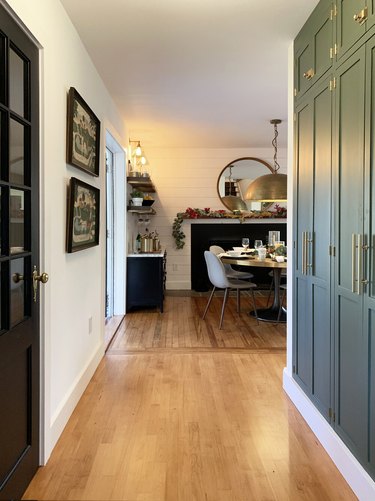 Whether you have a vintage farmhouse or a modern one, many of the home decor elements stay the same. Once you dive into accenting your rustic dwelling, though, it's easy to forget one narrow but oft-used space: the hallway. There are plenty of ways to incorporate farmhouse hallway design ideas into your makeover, however.
It's about adding shiplap in moderation, incorporating beautiful neutral paint colors, or even taking on a DIY project (think: using chalkboard paint to turn your front door into a stylish spot for memos) to add rustic touches. For more pointers, check out these eight hall decorating ideas; they'll help you nail the farmhouse look in no time.
1. Incorporate home decor with wood accents.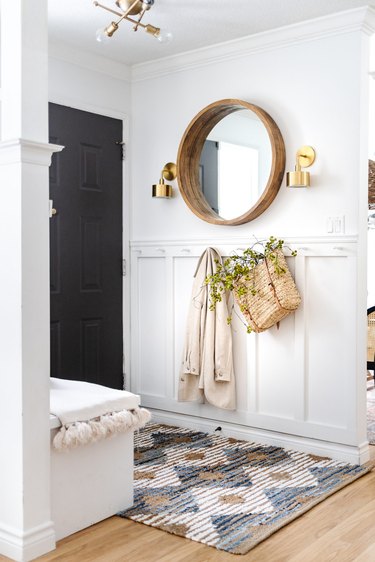 Dress up your farmhouse entryway with rustic wood accent pieces. Take note of this White Picket Farmhouse entry, and recreate the look in your hall. here, a mango wood mirror warms up the home design and bounces light around, but you could also use wooden picture frames with cabin chic wall art to get a similar effect.
No farmhouse is complete without a barn door. If you have an entrance off the hallway, or even if you currently don't but are in the process of a remodel, consider installing this classic accent. The one in this home is ultra-modern with a large glass window, but you can go the more traditional route with a true barn door that slides open and closed.
3. Don't forget the runner.
This home's runner is almost like an area rug because the hallway is so spacious, but for a narrower zone, you can use a 2-foot-by-8-foot option to add a touch of farmhouse flair. We suggest a neutral color with heaps of texture to make your interior design feel more dynamic. As an added bonus, the plush material will feel great underfoot.
4. Be selective with color.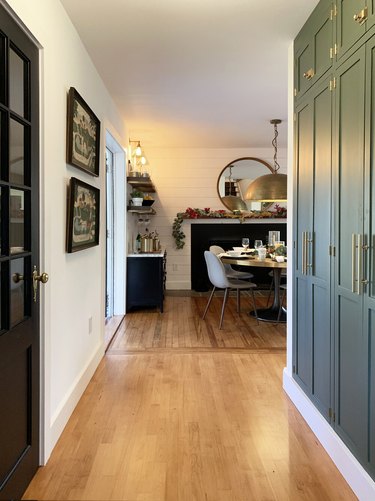 Traditional farmhouse style doesn't have to be neutral. Try picking one rich hue to complement your warm neutral wall colors. The design team at Dichotomy Interiors painted these hallway built-ins with a moody green, for example. And the result still feels farmhouse chic but fresh and current, too.
5. Add a farmhouse-style bench or console table.
If you have space for furniture in your hall, bring in a small bench or console table that feels farmhouse-inspired. In this home, a natural bench complements the wood floors and is dressed up with a cozy plaid blanket and pillow that work together for farmhouse living with a touch of bohemian.
You didn't think we'd cover farmhouse decor ideas and not include shiplap, did you? The best farmhouse hallway idea is to simply add wooden panels and paint them in the color of your choice. This decor element will instantly up the cozy factor. Chango & Co. installed this feature on the walls ​and​ ceiling here and hung a charming chandelier to finish the look.
7. Look for rustic lighting.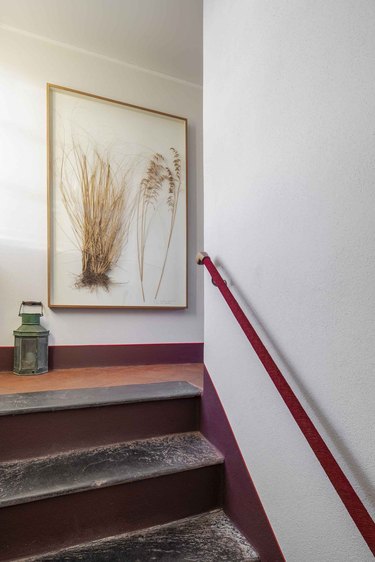 While the farmhouse-inspired lantern here primarily functions as a decor element, you can also use these fixtures for function as well. Look for rustic options to install on your hallway walls or ceilings.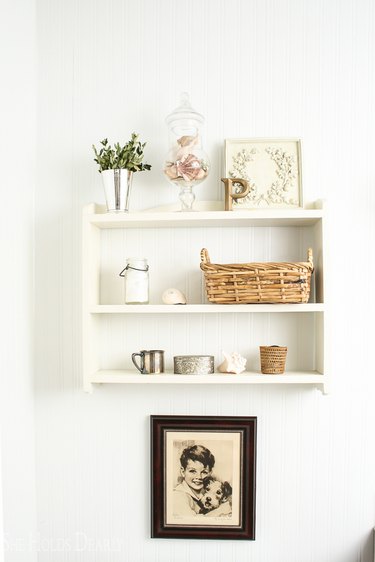 Want one last farmhouse hallway idea? Mount a small shelf for storage and style. We like this one because it's a little rustic and a lot sweet. Simply fill it with a few plants, a wooden sign or two, and a tiny basket for keys and other necessities. You'll have functional wall decor that can be tweaked depending on your needs.