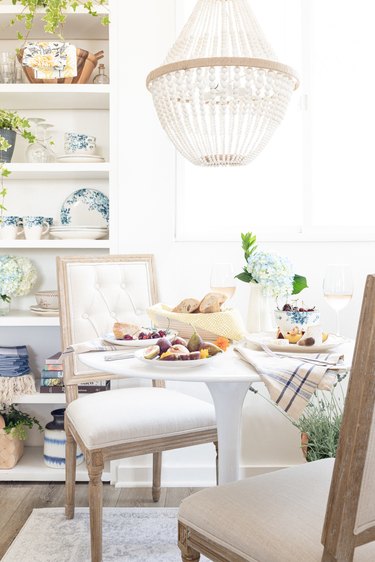 Hunker may earn compensation through affiliate links in this story.
Ever notice how some people just seem to have an effortless je ne sais quoi when it comes to entertaining? Well, guess what: You're about to be one of them. The key to mastering the art of the chic table is embracing an eclectic, vintage-inspired style that's a little bit French country, a little bit modern farmhouse, and a thoroughly unfussy attitude. To illustrate the point, we headed to Hunker House with some of our favorite Walmart products to create the look. Check it out, and shop the story by clicking directly on the products in the photos, all available at Walmart.
A subdued palette of off-whites and refined blues sets the stage for our casual-yet-stylish scene. By mixing eras — a midcentury-inspired table with rusticated Louis-style chairs and boho touches — the space takes on an eclectic charm that recalls chic finds from antique markets and family heirlooms.
Open shelving creates a great opportunity not just for storage but also for decor. We mixed-and-matched florals and glassware here for an unstuffy effect, and we couldn't resist those-blue-and-white hydrangeas at the farmer's market ...
Entertaining pro tip: Food is part of the look when it comes to inviting tablescapes, so keep presentation homey and elegant, making sure you have pops of color and texture throughout.
Once again, we found that keeping it simple was also the key to getting the most out of our purchases. With beautiful enameled cast iron and vibrantly patterned textiles, kitchenware easily becomes serveware! Here, this gorgeous pan and adorable oven mitt stood in for a platter and trivet — and everyone was quickly ready to dig in.