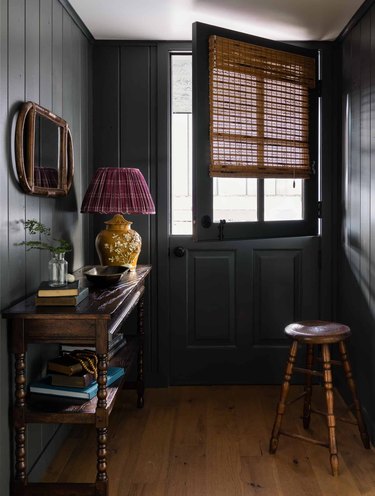 We're glad modern farmhouse style home decor is back in the spotlight, especially when it comes to the rustic, wide wall planks the style is known. Indeed, they create a focal point in any area (think: bedrooms and bathrooms), but we're especially loving shiplap hallways. The long, sleek lines give small spaces a dose of style, creating texture in the cleanest, classiest way.
Shiplap can be synonymous with rustic decorating ideas, but depending on how you outfit the entire zone, the feature can look sleek, minimal, or even coastal. Black plank walls, for example, will give you a kick of contemporary. Moreover, shiplap is super customizable. Go with thick boards or thin; an accent wall or all-over design; or a rich paint color or sleek white.
Perhaps the only downside is the dust that can collect in between the boards, but that's a small price to pay for such a striking look.
Scroll on for a few of our favorite shiplap hallway ideas that will have you hauling wooden slats home before you know it.
1. Use it to make your hall seem longer.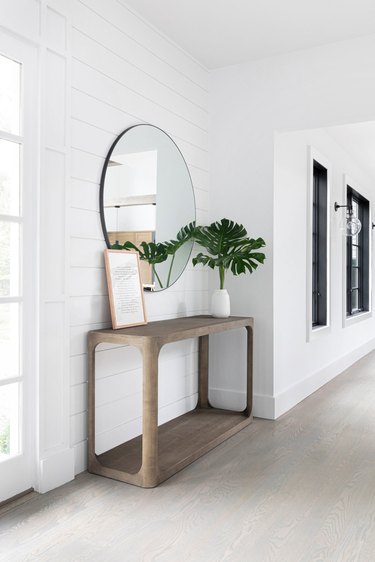 The Chango & Co. team oh-so-smartly enlisted the help of white shiplap for this bright hallway makeover. The wide wooden boards line up with the door beautifully to create balance and make the entire space seem larger than it is. Between the shiplap walls, mirror, and light hardwood floors, it's hard to pick a favorite feature.
2. Add a shiplap accent wall.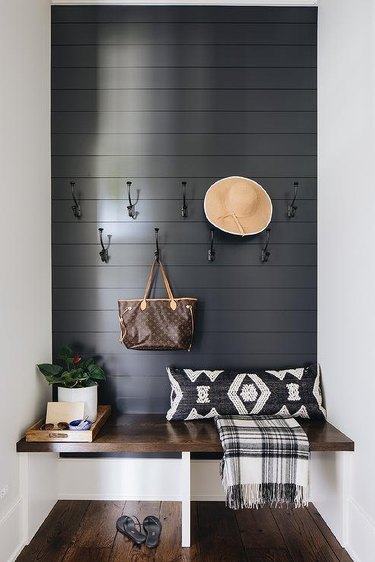 Who needs a hallway gallery wall when you have shiplap? Amy Storm & Co. created high contrast between the black planks and white paint. And the layered textures and patterns complement the starkness of the walls. If you're experienced when it comes to DIY projects, a hall remodel like this could be tackled in a weekend.
3. Use shiplap to create a coastal look.
We all know shiplap can evoke a farmhouse feel, but remember that it fits right in with an easy, beach-chic style, too. Interior Impressions didn't beat around the bush (or, um, beach) in this hall, complementing the planks with ocean-themed artwork. She even skipped the console table and added stools with nautical stripes for a fully coastal aesthetic.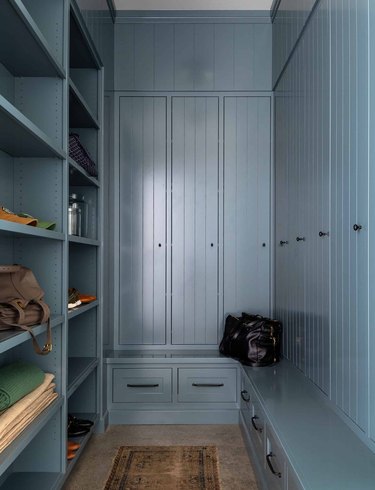 In an already long and narrow space, like this hallway-turned-mudroom from Heidi Caillier Design, install shiplap paneling vertically. It'll give the illusion of a higher ceiling, which can be especially helpful in cramped quarters. This minimal nook doesn't have the square footage for much decor, but the deep aqua walls do the heavy lifting.
5. Wrap shiplap around every wall.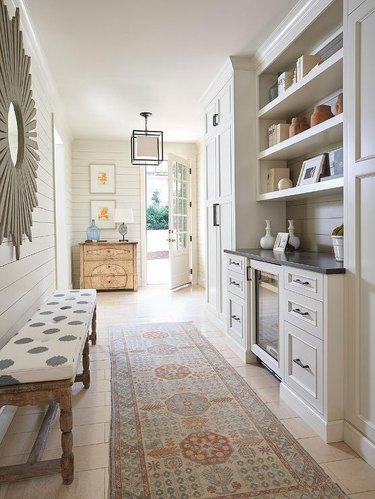 In this Kelley Vieregg hallway, the shiplap wraps around to the front door and entryway, creating a continuous flow and visually elongating an already expansive hallway. The soft taupe color reminds you that shiplap doesn't have to be white.
6. Amp up the moody factor.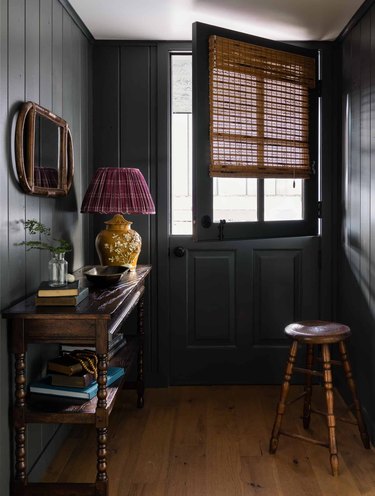 When all else fails, cover your entire hallway in black shiplap. It will automatically give a quaint country cottage edge while simultaneously feeling cozy. You don't even notice the relatively small size of this entry because the color choice is so eye-catching. Go this route if you're not afraid of a moody moment.