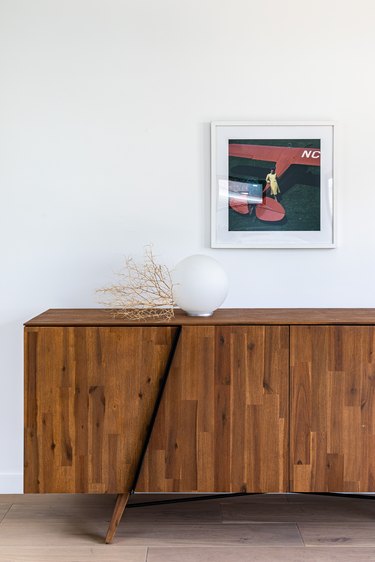 All the lamp lovers in the house say hey! If you've got a corridor that needs some sprucing up, placing a hallway lamp on a credenza or even on the floor is a cool way to instantly update and beautify your surroundings.
Go big, go bold, go unexpected — and no matter what you do, pick a hallway light fixture you seriously love. It should enhance your overall home decor. And whether you prefer midcentury modern or flea market fabulous, there's something for you. Here are a few ideas that will light things up with style.
1. Fall in love with a vintage lamp.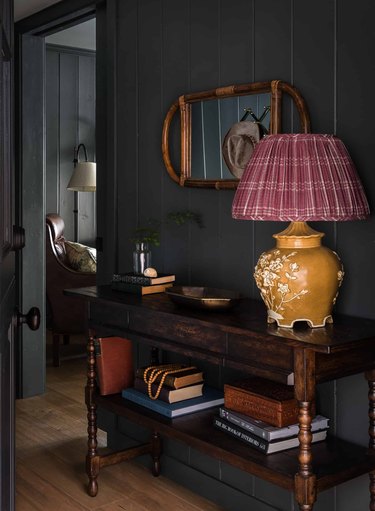 Pop into your local flea market or vintage furniture store to peruse their lamp collection, and chances are you'll fall in love with something that has a lower price and more character than a new model. Just check out the retro table lamp with a vintage checked lampshade in this Heidi Caillier design. It elevates the old-world feel of the whole space.
2. Pick hallway lighting that's personal.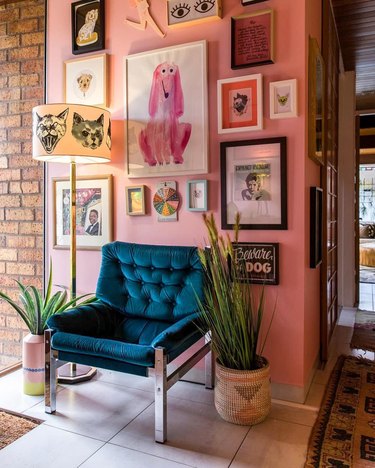 Do you prefer for your living space to have decor that's a tad quirky? Make your hall extra personal with a light that links up with your signature style like this maximalist option in Evie Kemp's landing. A simple floor lamp can go from blah to breathtaking with a shade that has character.
3. Pick up a perfect pair of lamps.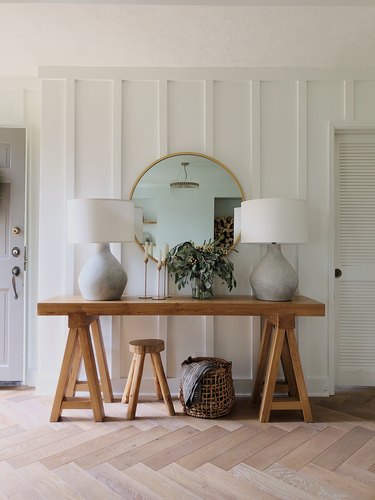 What's better than one table lamp? Two table lamps. And a matching pair is even more lovely. If you have the space on your hallway credenza, placing a pair of elegant lights will really up the ante even if you don't have space for a dramatic chandelier.
4. Hang a simple wall sconce to light up the corner.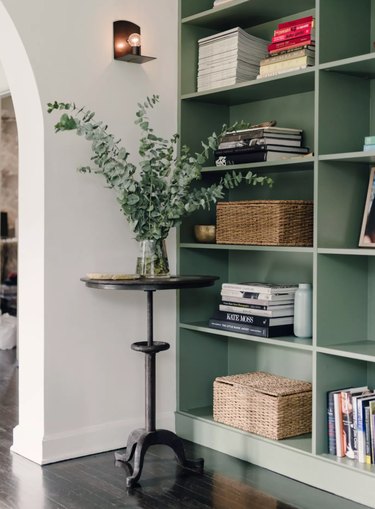 Got a hallway that's short on space? Or would you just rather leave your tabletops free for florals? If so, hang a little sconce for some big lighting. These lighting fixtures come in all shapes and sizes, but we especially like options with dimmable Edison bulbs for a super cozy look. And if you're an apartment dweller, there are plug-in wall lamp options, too. We're fans of this one from CB2.
5. Throw (on) some shade and play with patterns.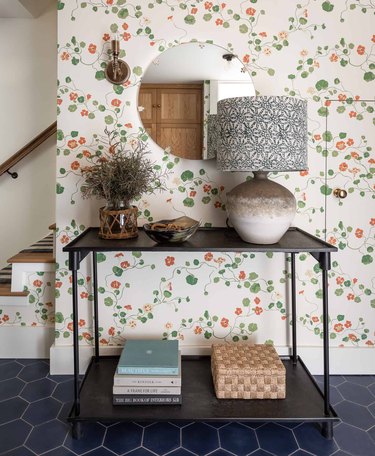 Turn a simple table lamp into a showstopper with a patterned shade against a vibrant wallpaper. This hallway took it up a few notches by mixing a sweet floral pattern with a little bit of boho.
6. Mix in a little midcentury modern lighting.
Dig midcentury modern design but don't want to go all in? Simply add a table lamp in the signature style so your hallway will match your entire home aesthetic. We like this brass option on top of a DIY credenza, and the smart size will fit just about anywhere.
7. Create a minimalist mood with your lamps.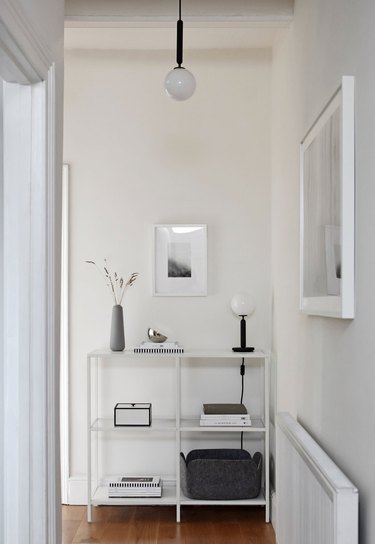 There's just something special about an all-white hallway situation. In this space from These Four Walls, the minimalist accents still feel chic thanks to a matching pendant and table lamp combo. They're simple but still so good. Try the look with Edison or colored LED bulbs to tie your corridor together even more.
8. Go for some art deco glamour.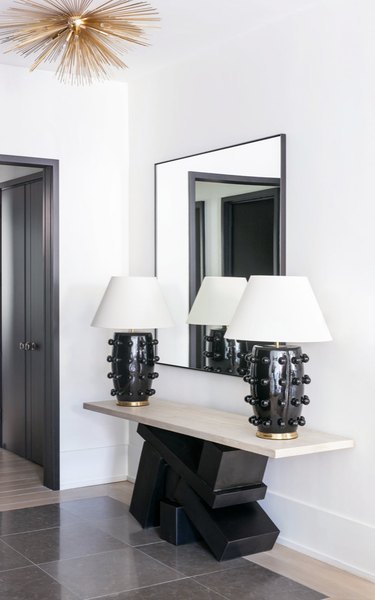 As we said, a pair of table lamps always creates a lovely look. Take it up a notch with dramatic black ceramic lamps and big white shades like these. Then pop them on an art deco inspired console, and you've got a hall that makes its own grand entrance.
9. Opt for an oversize table lamp.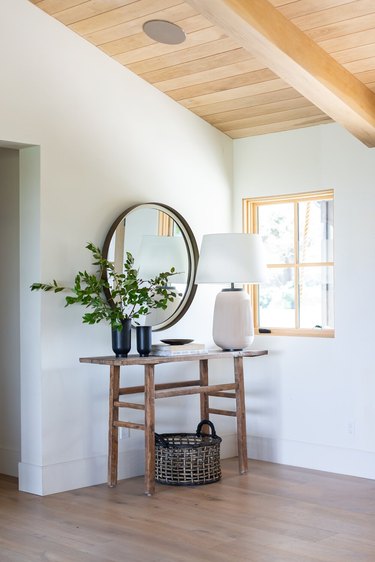 You may be short on space in your home or apartment and only have room for a small console in the hallway. But fear not; you can play with scale by placing an oversize lamp on your tabletop. Go with a white or neutral style with matching shade as Studio McGee did here.
10. Get that lamp on the floor.
When you're low on space but need to brighten things up, add a stylish floor lamp like this one from West Elm to your hall. You'll be good to go. For an expert finish, prop wall art on the floor to hide any pesky cords or outlets.
11. Keep things low-key, and get a globe lamp.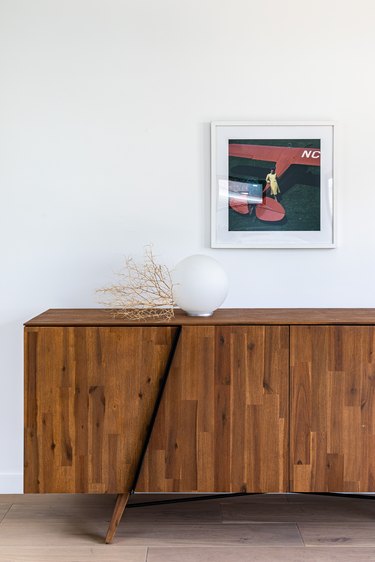 If you're a minimalist or just want to prioritize accessibility by limiting your decor accents, try a small and inexpensive globe lamp. It'll always feel on-trend in an entryway or hall, and certain options (like this one from IKEA) won't break the bank. Pro tip: Colored light bulbs will help you change the mood in your hallway in a flash.