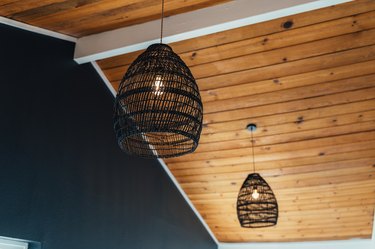 Whether it originates from a natural source or an artificial one, light gives us life. It powers our days and nights, and can significantly affect our moods, biological clocks, productivity, creativity, and health. With the right lighting, you can make small spaces feel bright and cheerier, and large ones, warmer and more intimate. But what's even more important is how the lighting in your home makes you feel — that's the true power of light.
While we have more lighting options than ever to choose from, knowing what kinds of lighting to buy and how to manipulate them for the desired result can be challenging. We turned to award-winning lighting designers who have decades of experience in lighting residences, office buildings, museums, live events, and even amusement-park attractions for their tips on how to create lighting to uplift your spirits at home.
Use dimmers to give you more control over the lighting.
Give yourself more than one option for brightness with your lighting, by choosing a bulb that is labeled "dimmable" to set different moods for your spaces throughout the day. "I have every light in my house on a dimmer, because I like controlling the light all day," says founder of L.A.-based Vortex Lighting, Anne Militello, a former Walt Disney Imagineer and celebrated lighting designer and artist, whose past projects range from private residences and luxury hotels to concert tours for the likes of Leonard Cohen, Robert Plant, and Pearl Jam. "It's so much more comfortable in your living room if you're having a cocktail party or you're having a nice dinner to be able to dim the lights. You want the lighting to be romantic."
Using a dimmer can also help you prepare for a restful evening. Starting around dinnertime, Militello will dim her lights more and more over the course of the evening. "By the time I go to bed, it's so dim and comfortable, I can't wait to go to bed. I just I love it," she says. "It really makes you understand it's the end of the day and you're really looking forward to going to bed."
If you don't already have built-in dimmers in your home, there are several dimmer controls — including ones that can be controlled by smartphone — that can be installed for wired lighting, or purchase dimmer attachments for your existing lamps. (Incandescent and halogen dimmers will work with most dimmable LED bulbs.)
Choose warm lighting for lounging and entertaining.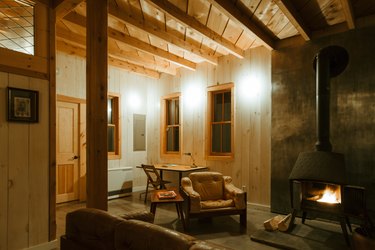 "Warm light is like candlelight. When the sun rises, it's that golden, beautiful light, the sun looks like a golden yolk in the morning and at sunset, it's that's golden hour, where you get that beautiful shift to almost pinkish gold that everybody looks so beautiful in," explains Militello. "What is also primal to us is firelight. Deep within our genetic memory of our bodies, our physiology, we carry the acceptance and the rhythm of firelight being something that's warm, and that we're comforted by. It makes us glow, and you don't have to spend tons of money now to get to get lighting that's flattering and comfortable and healthy for you."
To achieve warm lighting, she suggests choosing LED bulbs with packaging that reads "soft light," "warm dim," or "warm glow" versus "daylight," which indicates cold light and will make you more alert and awake.
For spaces with limited natural light, add cool lighting.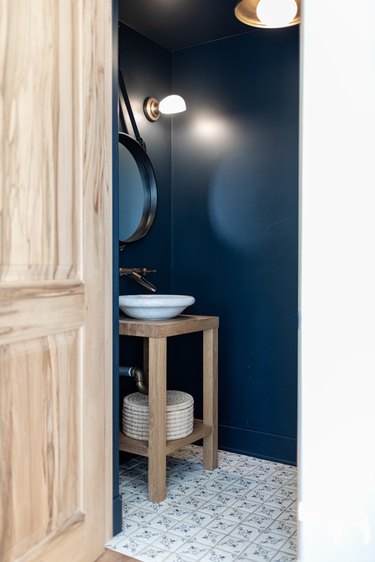 "Daylight is cool in color, in the 6,000 to 7,000 Kelvin range (light temperature), whereas the electric lighting used in most homes is in the 2,000 to 3,000 Kelvin range," says Archit Jain, cofounder of Oculus Light Studio, whose credits include AKA Beverly Hills, the Google Backlot, and Palihotel. "When we we are trying to mimic daylight, one way to do it is to get lamps where you can change the color temperature of the light [with your voice]. So you could say, 'Give me cooler color (bright daylight)' rather than a warmer color. This allows you to make it feel more like daytime in an enclosed space where the lighting isn't changing."
To enhance your lighting source, reflect it with light-colored surfaces.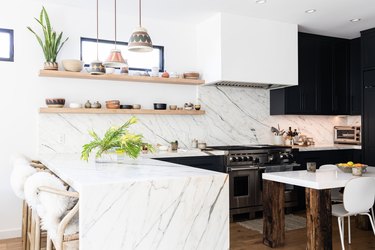 This applies to lighting during the day and night. Use light-colored finishes or furnishings for lights to bounce off. In his own home, Jain motions to French doors with sunlight coming through and points out the white rug next to it, as well as the room's light hardwood floors and white walls. "The floor is very light already, but there are ways to reflect the light coming from the windows [on the other wall] that would help," he explains. "If you had a lighter surface where your light is falling, that would help fill the space with more light." The white rug is an example of this, with sunlight bouncing off it into other parts of the room.
At night, also strategically place your lamps to create lighting that is appealing to you. For example, a lamp is more effective when placed in a corner, against a wall, or in front of a bookshelf. Because what that does is it not only produce the light directly from the lamp, but it reflects the light from the surfaces around," says Jain, who mentions placing lamps closer to light-colored surfaces, as a solution. "Many times we like the idea of soft light around us. We get this diffused light when the light can reflect off of other surfaces, by getting the light onto our furniture, onto our walls, onto our ceilings and not just directly from the source. This creates a warm, softer environment. And the softness is really critical because what we don't want is a lot of harsh shadows."
Use multiple light sources to suit your range of needs.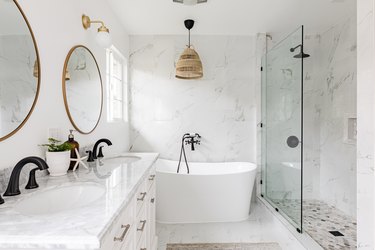 Expand the lighting options in each of your rooms beyond one lamp or overhead light to make your home as comfortable as possible. "For my bathroom, in my overhead ceiling fixture, I have daylight bulbs with the cool light, because in the morning, I like the bluer light to wake me up because I don't have a window in it," notes Militello. "But for night, I have sconces that flank my vanity mirror with warm LEDs that can warm dim to have that nice candlelight glow. I like to take baths in."
The same approach can be applied to other areas of the home as well: "Say you have some lights that are screw-based, or you have a general room light fixture on the ceiling that takes a light bulb, I would put in the daylight-balanced light, and then I'd have a table lamp at night that has the warm in it so you can have both options depending on your needs." For a chandelier or pendant with a dimmer, she suggests a warm-glow bulb in order "to have a variety of whites in the same bulb," from coolish white to very warm.
In Jain's company office and home office, he overlaps different light sources to create an environment conducive to his productivity. "I'm looking at my desk right now at home and I have two lights on my desk with warm light and I have one above, which I don't use often that is cool light," he says. "It all depends on how you work. When I work in the office, I usually leave my overhead lights off and then use the light on my desk that helps me bring focus to what I'm doing rather than looking all the around. From an eye-fatigue standpoint, you don't want to look at lit surfaces and then dark surfaces. That is not helpful because our eyes get tired from having to adjust." He encourages this practice in our living spaces as well "to create focal points and reduce shadows, with soft light that is the most flattering. Everything looks nice and warm."
For the younger set, color-changing and colored bulbs bring a festive atmosphere.
"Tons of my college students have color-changing bulbs because at night they want the 'party light' — blue, red, or whatever color — to have fun," says Militello of the students of the CalArts MFA Lighting Design Program, which she heads.
Jain has a similar personal story about color lighting: "My son who's home from college, bought some color-changing moving light. He turns that on every evening. And I feel like if I sat in it, I'll be more agitated than relaxed." The designer emphasizes the fact that "it comes down to personal preference."
To Summarize ...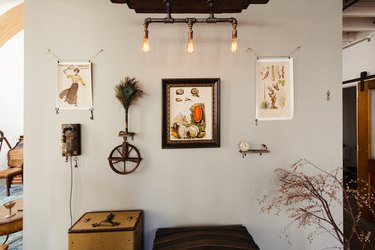 As you evaluate how much light you want in different spaces in your home to make you happy, here's a summary of what to look for the next time you shop for lights:
Choose dimmable bulbs for flexibility.
For warm light, look for the words "warm," "soft," or "warm-dim/warm-glow" with 3,000K or lower.
For cool daytime lighting, look for "daylight" label or a color temperature of 5,000K or greater.
Embrace LEDS: "If you bought a high quality light bulb off the market that is LED, you would be very happy with it and it will last you for a very long time," says Jain. "You'll save money because you'd be using way less energy than what you would do with an incandescent light."