If you're spending more time at home, and square footage is hard to come by, you're likely in need of some small family room ideas. Whether you use the space as a temporary home office or makeshift playroom, it's important to make sure the family room layout still feels welcoming. And if you're in an apartment, you have to be even more intentional. No extraneous items if you can help it.
Whatever the constraints of your small family room, there are ways to make it appear bigger and successfully work within the limits you have.
1. Invest in a corner sectional.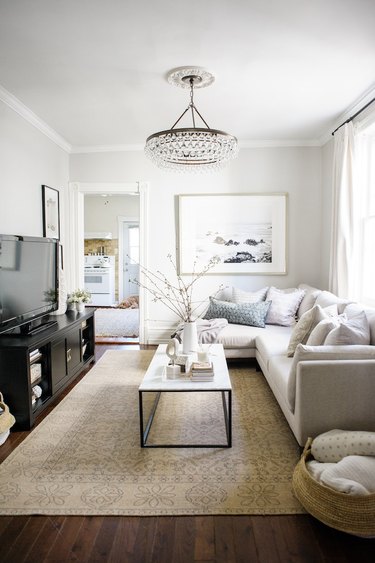 Your family room furniture is super important in a tight space. You don't want to crowd the room with a chunky sofa or a huge armchair, but you also need an appropriate place for quality family time. Get the balance right with a slick sectional, just like this one in Lark & Linen's modern living space.
2. Try footstools and poufs.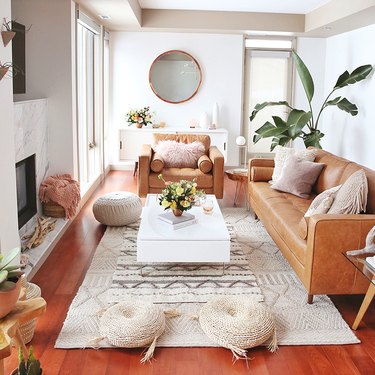 If you still need seats for little ones, try floor cushions or stools to add comfort without taking up too much square footage. This boho setup by Justine Celina should give you all the inspo you need. Note how she pulled the furniture away from the walls, even though there's not much room? This simple trick creates the illusion of a bigger space.
3. Let in the light.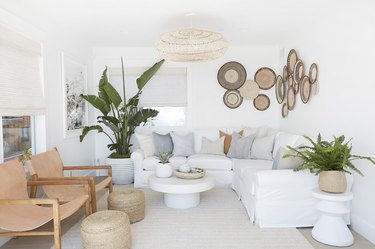 Aim for light, bright, and airy with your family room by keeping the color palette neutral. Take advantage of the natural sun with simple window treatments. While you're at, decor made from natural materials, such as a jute rug and leather chairs, look great alongside lots of greenery.
4. Use color wisely.
You don't need to be scared of color in a small space; just be wary of how many hues you incorporate. A brighter sofa (we dig the orange tone) or rug will draw the eye in, taking the focus away from the size of the space. Justina Blakeney got the balance just right with the neutral walls and bold sofa. Splashes of pattern on the scatter cushions make the room even more vibrant.
5. Add shelving.
6. Create a gallery wall.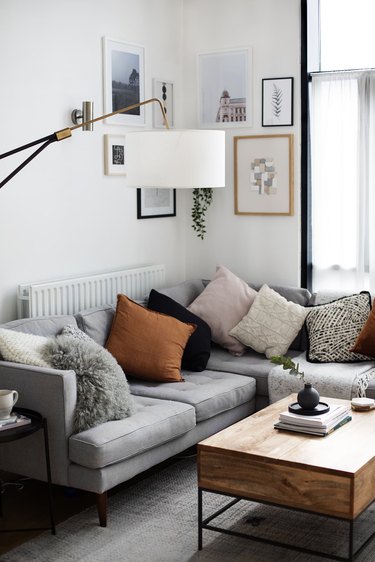 When you're short on floor space, there's another feature that you can take advantage of for decor — the walls. For something a little different, create a corner gallery wall, and pull the eyes away from the room itself.
7. Go vertical!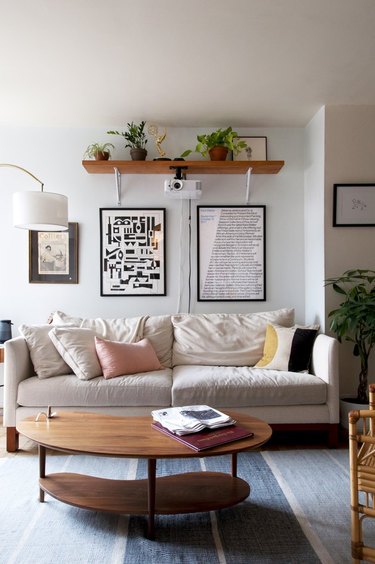 Walls are great for displaying art, but it's important to capitalize on that vertical real estate as much as possible in a small family room. This midcentury living space uses a shelf to hang a wall projector and to show off decor. And don't get us started on the two-tier coffee table; it combines form and function.
8. Embrace the toys.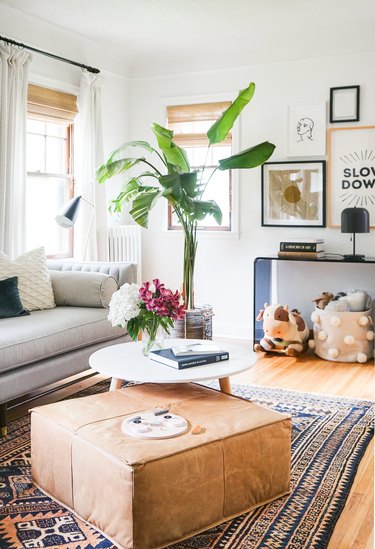 Family rooms usually have to work as playrooms, too. Make like Erin of Francoise et Moi, and embrace the cuddly creatures in your room, while still opting for a chic design that works for the rest of the family. We especially appreciate that large square leather floor cushion.