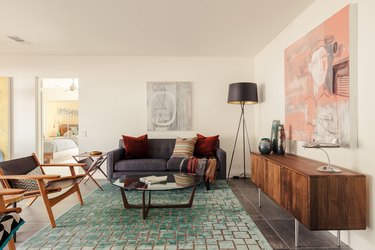 When it comes to family room flooring ideas, just about anything goes. Sure, the floor needs to be comfortable and durable — to withstand all those nights of lounging, snacking, and movie-watching. But other than that, there is no strict flooring guide you have to follow. You can have a bit of decor fun.
In many homes, the family room is part of contiguous flooring in an open floor plan. But that's not always the case. You can choose specific materials for the living area, to make it cozier or more food/pet/child-resistant. The goal, however, is for the family room flooring ideas to match the overall style of the house. Think concrete in modern-industrial spaces. Light hardwood in more minimal spaces. Tiles and even carpet for the spaces in-between.
Here are a few family room flooring ideas to fit your specific style.
1. For Loft Living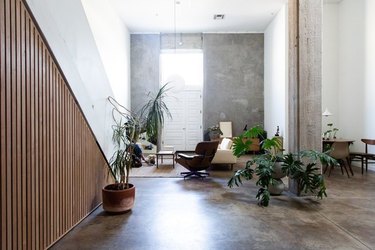 Polished concrete floors are common in industrial spaces. The sturdy, low-maintenance material can handle whatever spills, stains, or accidents you might imagine. But with a layer of polish, voila. It's a gorgeous, modern blank slate for contemporary and midcentury decor alike.
2. For the Modern Cabin
3. For a High Desert Hideaway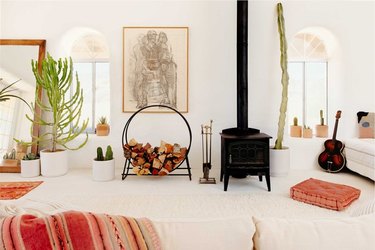 The high desert outside of Los Angeles is filled with modest straw-bale construction homes, begging to be reimagined as desert-modern hideaways. Bryan Crawford, one of the people behind this gorgeous spot, took the family room floor down to the cement during the renovation. After, he used a combination of paints to get the kind of marbled white tone that brightens the room year-round.
4. For a Brooklyn Brownstone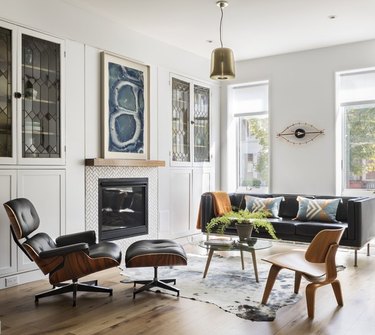 5. For an '80s Remodel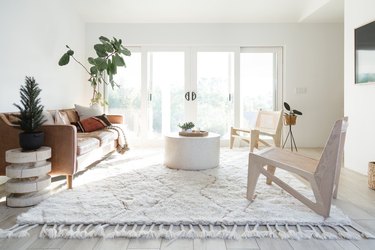 If hardwood isn't in your budget, a wood-like tile can be a chic, modern alternative. It has the look of wood with the strength and durability of tile. Win-win. When Amber Thrane, the woman behind Dulcet Creative, remodeled her contemporary home in Temecula, Calif., she chose a light grey, wood-look tile, which reads like wide-plank white oak. It's a gorgeous, neutral base for her relaxed, California-boho vibe.
6. For a Midcentury Masterpiece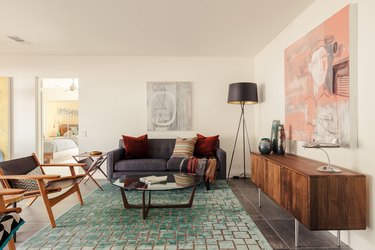 When you renovate a notable property — in this case, one designed by Albert Frey, the "Father of Desert Modernism" — every choice matters, right down to the flooring. Consequently, the owners of this stunning home replaced dated, peach-colored tiles with sleek concrete ones. The tiles are used throughout the 1900 square foot home and softened here with a mod family room statement rug.
7. For a Quirky Victorian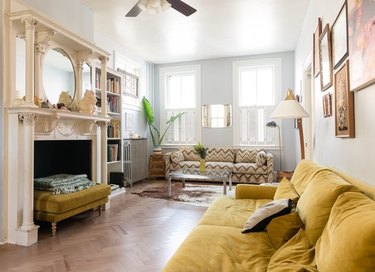 In this quirky Victorian home, which dates back to 1885, the maple herringbone floor in the family room feels original, but it was actually part of a lengthy renovation. You can get a similar look if you're ready to invest. While you're spending, a floor lamp, like the one here, could be a great addition, too.
8. For a Classic California Bungalow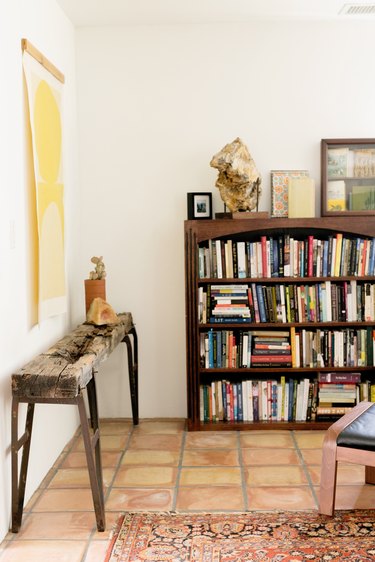 Saltillo tile is all-natural and environmentally-friendly. And it appears rather regularly in homes all across Southern California and the Southwest. In Michael Upton's sweet 1940s California bungalow, for example, saltillo tiles run throughout the home. But they pop in the family room thanks to a creamy white wall color and eclectic shelving.
9. For a '60s Ranch
Carrie Waller, of Dream Green DIY, did something almost nobody else does during her reno: She recarpeted the transitional family room. Carpeting has truly fallen by the wayside recently. But modern options, like this bright one, actually look fresh, not dated.