A family room is just that — a room dedicated to your family, where memories are made and playtime is a top priority. As a parent to little ones, you may find yourself with random piles of toys strewn throughout your house, especially in this space. That's where genius family room toy storage ideas come into play.
If your space doubles as a playroom, contemplate bright, fanciful colors and lighthearted decor that match the playful vibe. But if you'd prefer that your toy storage fade into the background of your grown-up aesthetic, the storage solutions will need to be more subtle. Whatever look you're going for, we have six family room toy storage solutions that are sure to get you inspired and organized.
1. Incorporate storage around the TV.
As you look at other family rooms, we're guessing that most of them likely have a TV as the centerpiece. If that's the case in your home, a TV stand or a shelf that sits right underneath could be an ideal toy storage solution. In this half-playroom, half-family room belonging to Amy of The Coastal Oak, whimsical decor and handy baskets come together to turn the TV area into a nook dedicated to keeping play things contained.
2. Chic baskets will do the trick.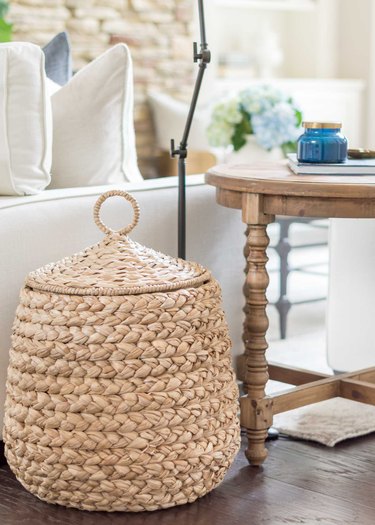 Let's say that you want the toys hidden — really hidden. Here, we recommend large baskets with lids to act as family room toy storage. Kelley Nan puts this stylish, woven Pottery Barn basket to work in her living space, and you'd never even guess it was filled with toys.
3. Create a cohesive look.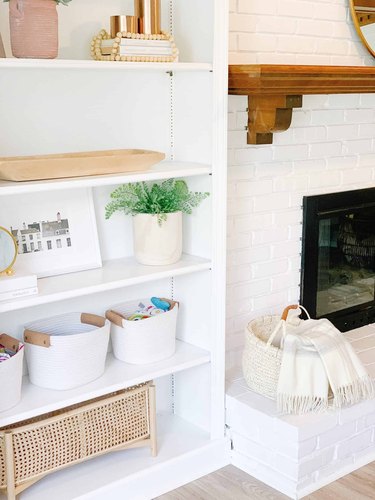 For family room toy storage that also acts as decor, try to adhere to a tight color palette. For example, in this breezy space styled by Arin of Arin Solange at Home, white rope, cane, and weathered wood partner up perfectly to keep the overall look and feel cohesive and grown-up.
4. It's all about the cabinets.
Want a surefire way to achieve the pinnacle in family room toy storage? It's a no-brainer — purchase a storage cabinet. It's the one piece of furniture that will work in a variety of family rooms, and it can hold a ton of toys. Ashley of At Home with Ashley chose this white number that blends in seamlessly with the rest of her colorful space. It's just the thing to corral all of her little one's faves.
5. Think outside of the box (or bin).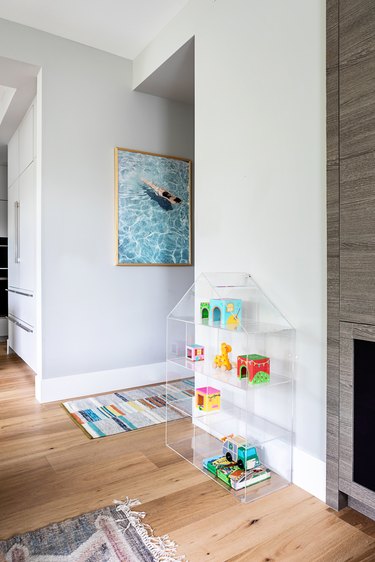 There are only so many baskets and bins that one room can take. Think outside of the box as it were, and look for alternative ways to store toys in your family room. For instance, we love the playful look and feel of the house-shaped bookcase that designer Lindsay Saccullo employed in this living space. The whimsical design acts as a toy itself, making clean-up a lot more fun for little ones. And since it's clear, you don't have to worry that it will overwhelm the room.
6. A storage bench is a game changer.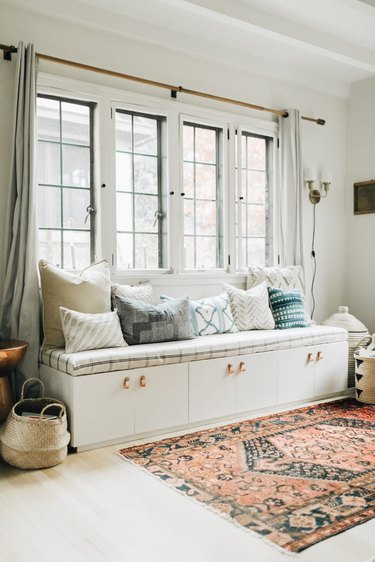 For family room toy storage that does a lot more than simply store toys, look to this DIY creation by Kate of Wit & Delight. She crafted this bench that fits perfectly below the window, making it a pretty perch for reading as well.