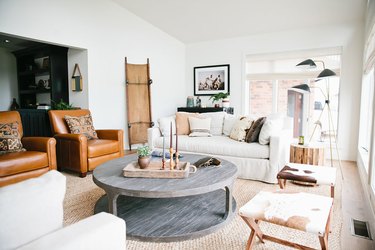 If you want personality in your home, explore a few rustic family room ideas. Defined by natural textures, simple colors, and hardy furniture and decor, rustic style truly celebrates natural beauty. And it makes communal living spaces feel welcoming and cozy.
Here are our top tips for adding weathered charm to your abode. They'll help you strike the perfect balance between rustic and relaxed.
1. Make your fireplace a focus.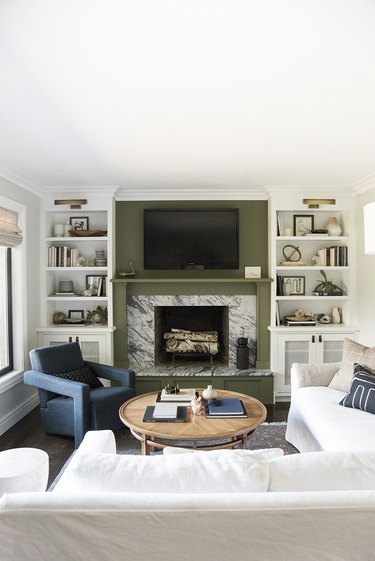 Rugged fireplaces are very common in rustic design schemes. But you don't have to opt for a traditional style to stay true to your rural roots. Make like Sarah of Room for Tuesday and update your existing real wood fireplace with marble panels and a few coats of rich olive green paint. Then layer your walls with gorgeous found objects.
2. Create the perfect nook.
What could be better than spending an afternoon in this snug spot designed by Sita Montgomery Interiors? Why, having your own family room reading nook, of course. To get the look, try painting your brick walls white and going for minimal window treatments to let in natural light. A smattering of rustic accents can even be combined with more modern furniture.
3. Mix and match materials.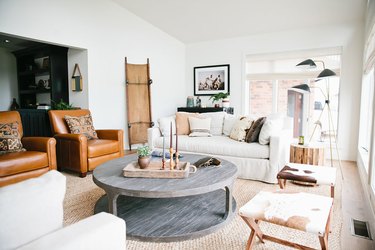 Mixing and matching various textures and materials will add a rugged edge to a monochromatic base. In this rustic family room, for example, a slipcovered sofa, two leather recliners, matching cowhide stools, and an oversized jute rug create a rustic family room that wows. The fusion of textiles makes the stark white walls feel welcoming.
4. Light it up!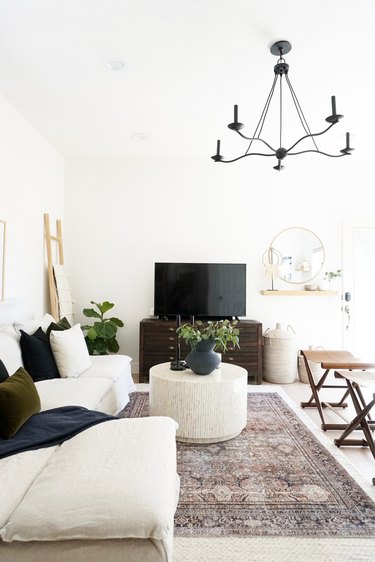 Consider every part of your design — from the floor to the ceiling. The details don't stop at the furniture. That's why a rustic light fixture, which might feature reclaimed metal or exposed bulbs, can do so much for your space. The forged iron chandelier in Alma Aritetta's rustic family room adds the perfect finishing touch.
5. Use calming neutrals.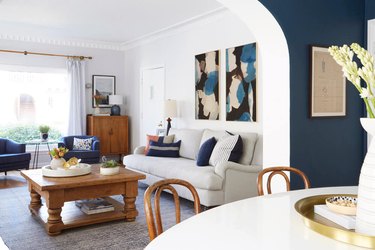 Let's not neglect the color palette in your family room. Neutrals tones are perfect for rustic styles, but you can also experiment with earthy colors like muted greens and calming blues. Ground the neutral colors with a rich wood coffee table.
6. Buy vintage.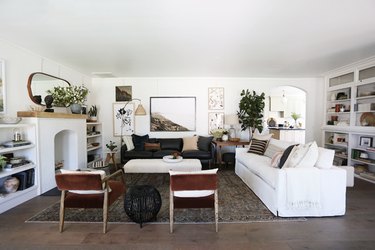 You'll have the perfect excuse to shop vintage (you can even do this online) if you're in need of rustic decor. Think worn Persian rugs, striped linen cushions, organic ceramics — anything to add an artisanal feel. You can also focus on a large mirror and other statement pieces like those in this family room designed by Juniper Home.
7. Juxtapose industrial and rustic elements.
Rustic design doesn't need to look like you've grabbed everything from a barn. In fact, this style can be perfectly integrated with industrial and boho pieces. The Leclair Decor team kept this rustic family room chic with a worn leather couch and steel accents. And that concrete tiled chimney breast? If you don't get your own, you're missing out.
8. Accentuate architectural features.
If you're lucky enough to have exposed beams in your family room, keep those architectural accents in their original state. The natural wood tones will create an immediate rustic vibe. And homeowners can keep them from feeling too farmhouse by sprinkling in vibrant colors in other places. A few plants and a patterned rug will do the trick.