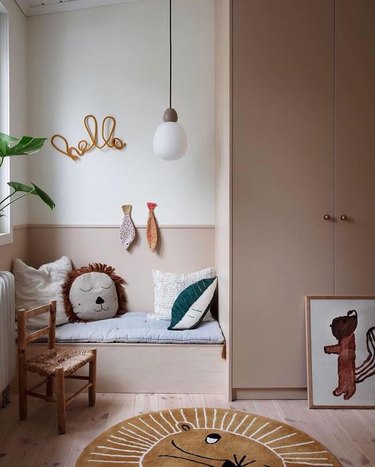 Playrooms are designed for exactly that: "play"! From reading to wrestling to drawing to building, a playroom is the space where all sorts of messy activities can take place, leaving you and the rest of your home with a bit of a respite.
When it comes to playroom decor, a good rug is a pretty important feature. It acts as a shield to the flooring, keeps your little ones' toes cozy, and also works to add another layer of interest to the room. But what makes the perfect rug for a playroom? Whether you want to add an element of education, adventure, or wonderment, or just a pop of color, here are our top picks guaranteed to add interest to your playroom from the ground up.
1. Go on an adventure.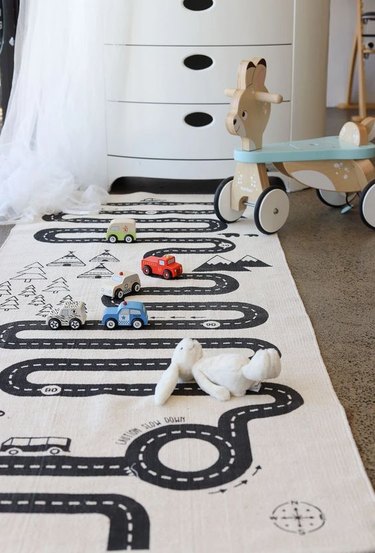 Double-duty decor is pretty important in a small playroom, so make sure the rug you choose can pull its weight — like this cotton option acts as a toy, too. Whether it features the whole solar system or long, winding roads for all of their cars, an interactive piece will work wonders for keeping kids occupied.
2. Keep it cozy.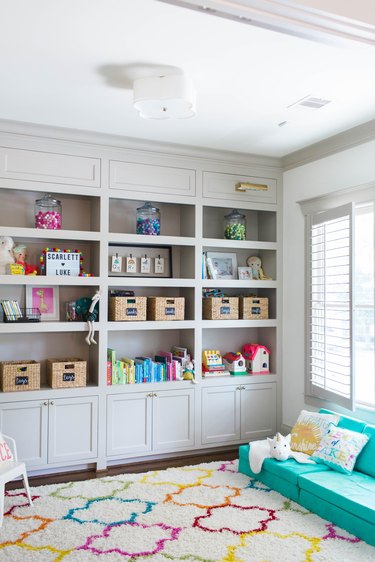 There's likely to be a whole lot of rough and tumble in a playroom, so you'll need to make sure the floor is nice and soft to avoid unnecessary scrapes and injuries. A large, colorful berber option will keep the design fresh but also make sure the room is nice and cozy. Just look at this playroom design from Easy Like Sunday Morning — perfect for little toes to run around!
3. Choose fun shapes.
Think outside of the box when it comes to the shape of your playroom rug. Again, fun is the key word here, and regular shapes like rectangles and circles are, well, just regular shapes. But something like this tiger-shaped option is sure to become your little one's new best friend. Plus, it's super soft and fluffy for a spontaneous nap, too.
4. Opt for a style that's easy to clean.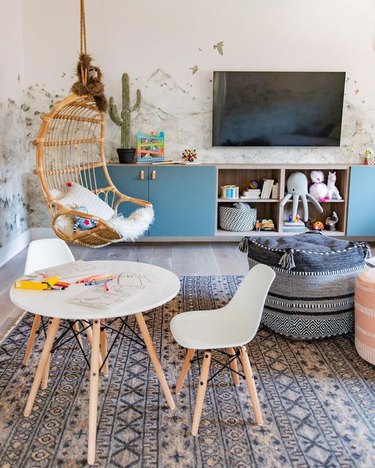 We're fully aware that a playroom rug needs to be very easy to clean, and preferably stain-resistant, but wipe-down versions are not always the most aesthetically pleasing of options. By opting for rugs made out of synthetic fibers that are more resistant to stains, and darker options like this one selected by designer Rebecca Zajac, you won't have to compromise on style.
5. Work it into the rest of your decor.
Having children doesn't mean that your home needs to turn into an ode to all things bright; there are some great options out there to ensure your playroom decor is still an enjoyable room for you, too. Take this playroom by Bless'er House as a good example. The boho rug fits in with the rest of the design-led home, but is still functional thanks to its large size, which provides a protective layer between the furniture, kids, pets and the wood flooring.
6. Make it playful.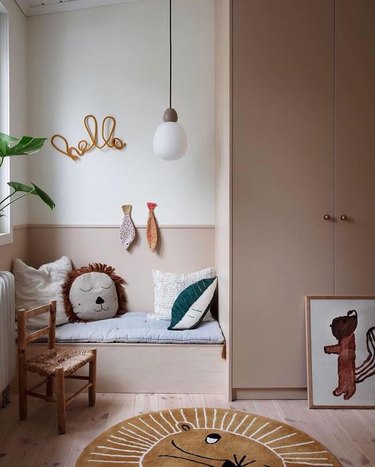 By far the most important quality to obtain in a playroom is the promise of fun. By adding a rug with a whimsical touch, you can ensure that your kids will never want to leave, and trust us, it doesn't need to be adorned with Disney characters to bring them delight. This lion face rug is a fun piece of playroom decor, that also manages to work with the tonal walls and minimalist design.
---
Emma Jane Palin is a multi-award-winning blogger and freelance writer with a penchant for design and interiors.