We're all in it together when it comes to keeping our children's bedrooms tidy, and it's important that you consider extra storage and toy organization as well as how best to plan the spot. After all, not everyone is lucky enough to have a separate playroom. That doesn't mean your storage solutions have to be boring, though. In fact, far from it. Here's everything you need to know.
If you want to make the storage in your kid's room seamlessly blend into the home decor, a built-in unit or caddy will do just the trick. Save space with sliding barn doors and add a shelving element to store books, toys, and anything else your little one might want access to.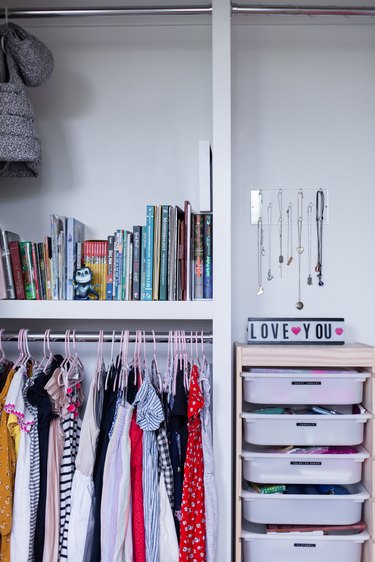 While an organized closet might seem like half a world away in your kid's bedroom, we promise that it is possible! Think about shelving, baskets for extra storage, and dividers for the interior (especially if it's a small spot), and check out these closet design ideas for further inspiration.
Don't forget about beneath the bed.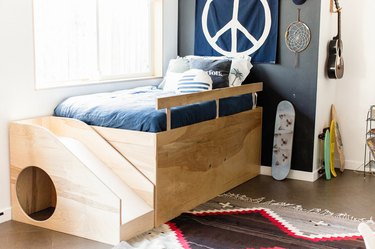 Is your little one's play area short on square footage and storage space? Utilizing the space under the bed is a great way to keep things clutter free and a little more interesting for your child, too! Note the slide and hideout on this slightly raised bed with integrated storage, for example. Super cool, right?
Find durable freestanding furniture with extra storage.
Integrating freestanding furniture is still one of the best ways to help with storage and organization in a kid's room, especially if you're not in a permanent space. Think nightstands, dressers, desks, and consoles. These dreamy kids' furniture sets are a great place to start.
Let shelving be part of the design.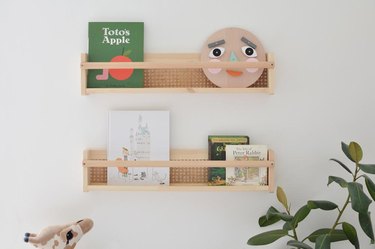 We know kids love books, toys, stuffed animals, and games, and we also know that little ones like to leave those things lying around. Using shelves to organize your child's room or play area will encourage them to clean up while also fostering a lifelong love of reading. Create your own bookshelves with this easy cane DIY. It's ideal for beginners and will elevate a basic IKEA shelf into a super chic, boho bookcase.
Get creative with organization ideas in a small space.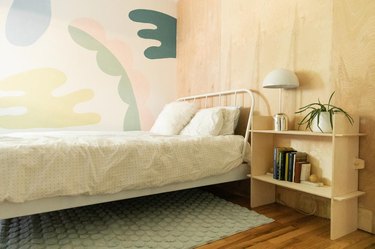 How do you tackle kid's room organization in a small space? You think about creative storage solutions that combine both function and form. These stylish storage ideas will make the most of your little one's space no matter how tiny it is.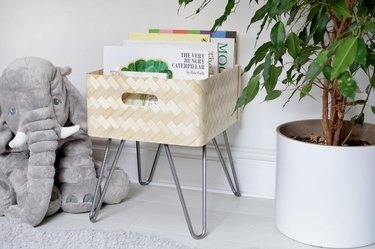 From toys and clothes to dress-up outfits and craft supplies, there is quite a lot to consider when it comes to decluttering and organizing your kids' rooms. You don't want to compromise on style, but it's important to make sure the extra storage is as functional as possible. For the minimalists amongst you, these simplistic toy storage ideas are discreet and aesthetically pleasing. Additionally, this DIY bamboo storage bin will work in kids' rooms of any style.
Where to Buy Organizational Products
Kids grow fast, which means you might want to be a little conservative when it comes to spending money on furniture and pieces for bedroom organization. IKEA offers affordable children's items, bookcases, and totes for craft supplies and toy storage that can be hacked to feel more unique and custom.
For freestanding furniture pieces, Pottery Barn Kids is full of stylish designs that will stand the test of time. The dressers, bunk beds, cubbies, and nightstands are all high quality and aesthetically pleasing, too.
If you're on the hunt for contemporary child's bedroom items, give AllModern a try. The extra storage units, baskets, and toy organization items will seamlessly blend in with the rest of your home decor.