Stuffed animal storage is key to a parent's sanity, especially since stuffies seem to somehow multiply when they're not kept in check. (How does that happen? Grandmas, most likely.) Bunny, Baby Bear, and Buster need a home at the end of the night, too — whether that's on a shelf, in a basket, or in a drawer. No matter which storage solution you choose, it has to contain the chaos.
The good news is we rounded up nine of our favorite ways to store those soft toys. Read on for design inspiration that both you and your little ones will enjoy.
1. Add baskets, baskets, and more baskets.
Baskets are a favorite for organizing kid items of any kind, from stuffed animals to toys to blankets. And we say the more, the better. That way, you and your little ones (might as well have them help) can throw stuffies into the baskets with no real organization needed when it's time to pick up.
2. Take advantage of under-the-bed space.
You thought you were out of room? Put the space under your kiddo's bed to good use. Instead of letting it simply collect dust, use the area for drawers like RLH Studio did here. Best yet, under-the-bed storage is easily accessible for little ones, so they can clean up and reach for their toys themselves.
3. Use items that are functional and cute.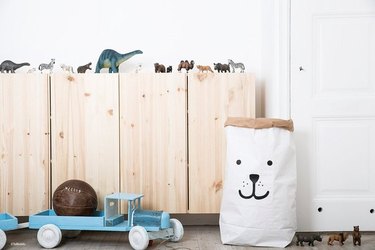 Scandinavians have minimalist design down, even in their children's rooms. Paper bags, like this sweet one from Etsy, are common Scandi solutions for corralling toys and stuffed animals. They're tough, simplistic, and oh-so-cute. What else could you want from storage?
4. Let cabinets be the cure.
You and your little ones won't mind picking up when you get to put stuffed animals away behind cane lattice cabinet doors like the ones in this space from Ginny MacDonald. And even though this room was intended for a little girl, we wouldn't mind moving in ourselves. From the Lulu & Georgia lemon wallpaper to the styled floating shelves, this room is an absolute delight.
5. Don't neglect those built-ins.
For a kiddo who likes to keep favorite stuffed buddies close, consider a built-in bed with shelving at their feet. This Cameron Ruppert Interiors design is a child's dream room, but it's also an organizational dream for parents, as there's additional toy storage under the mattress. Just think how fun it'd be for a little one to close the curtain and head straight into dreamland with stuffed friends along for the ride.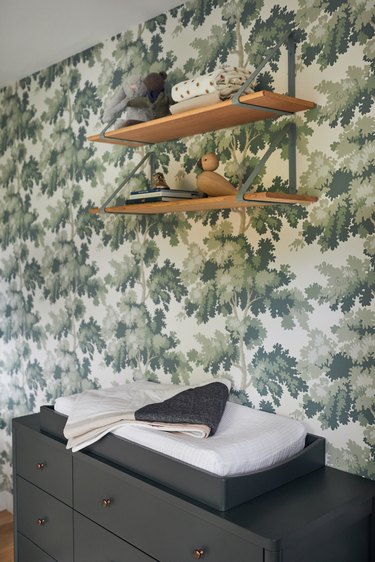 For an itty bitty nursery, stick to the necessities. Prospect Refuge Design did just that in this space with two hanging shelves above the changing station for the essentials — books, burp cloths, and a couple of little stuffed friends to keep baby entertained while the parents do the dirty work. As the little one grows, the shelves can be repurposed.
7. Make the most of a window seat.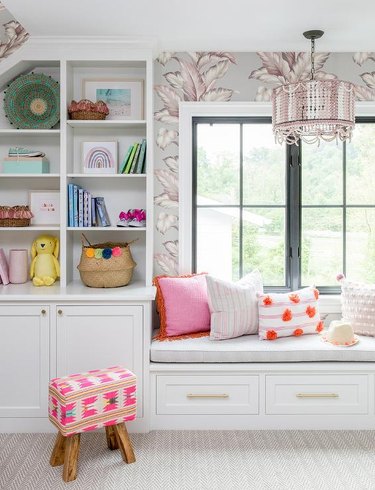 Sometimes you have to find storage in sneaky places. So how about installing drawers under a window seat? Combined with the built-in shelves and cabinets, this is a kids' room with an envious amount of storage. There's plenty of room to hide toys and stuffed animals when bedtime comes around.
8. Employ one long shelf.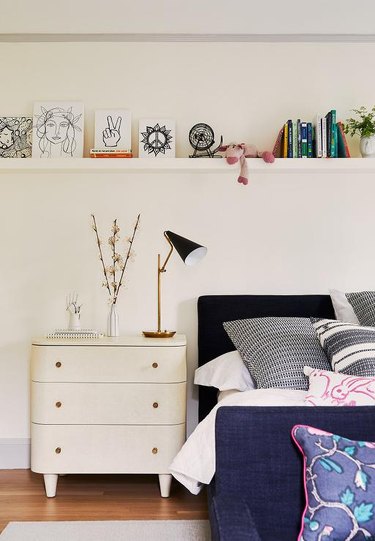 Katie Rosenfeld used a simple but effective storage solution for this kiddo's room: one long shelf that extends the length of a wall. It creates an easy display area for stuffed animals, books, and artwork. Plus, the look can evolve as the child grows. Eventually, it will even be perfect for photos and art projects.
9. Add cubbies and bins for the ultimate stuffed animal storage solution.
There are so many ideas to steal from this Chango & Co. room. First up, there's a floor-to-ceiling collection of cubbies with bins, toys, and stuffed animals. The design highlight, though, is the ladder outfitted to a rail that will allow little ones to slide back and forth and grab Mr. Snuggles.