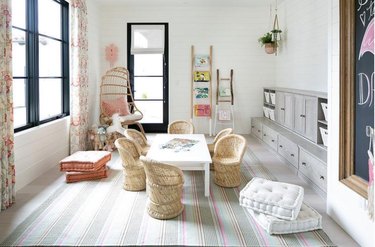 Exposing kids to books at a young age is a proven way to inspire curiosity and foster a life-long love of reading. However, even with that knowledge, corralling your kids' tomes, along with their toys, stuffed animals, and games, can become burdensome and start to feel like yet another thing to manage and organize. But before you throw in the towel, scroll on for seven kids' book storage ideas that will bring some semblance of order, not to mention style, back to their rooms.
1. Introduce utilitarian details.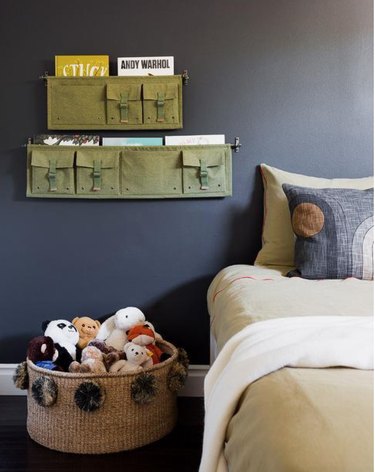 Sandra Fox created an elevated gender neutral bedroom with the bare necessities, including an overflowing basket of stuffed animals and a pair of wall-mounted army green canvas pockets. This kids' book storage idea keeps clutter off of the floor and affords just enough space for a curated selection of child-approved reading material.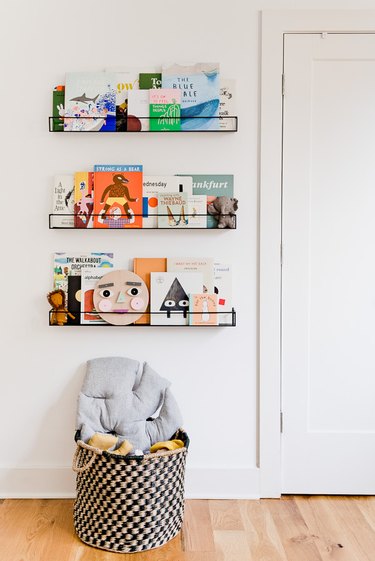 Ground white walls and introduce contrast with a set of oil-rubbed bronze shelves, as seen in this nursery by Brittni from Paper & Stitch. They're deep enough to hold a few toys, and the slim profile adds weight without distracting from the overall design.
3. Or, let the books take center stage.
A kids' book storage idea using barely-there acrylic shelves showcases book covers (as opposed to just the spines) enabling them to function as artwork, too. This playroom photographed by Jane Beiles features vibrant colors in measured doses for a look that's understated and still youthful.
4. Repurpose a decorative ladder.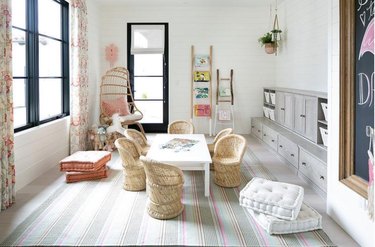 Decorative ladders made their mark as a creative alternative to towel bars in the bathroom and blanket storage in the living room. We love the way that Tracy Lynn Studio repurposes them as a clever way to display books in this approachable yet sophisticated playroom. A muted color palette and woven accents are a timeless combination.
5. Maintain a cohesive look.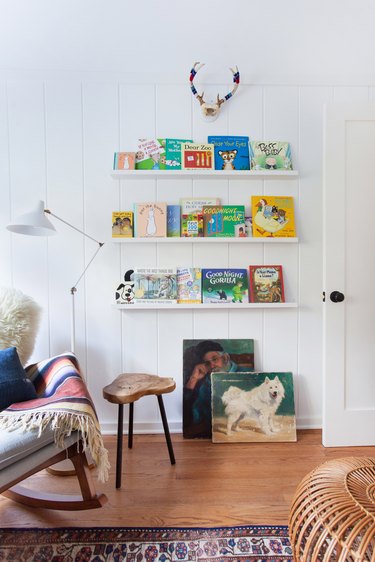 For a cohesive look that doesn't distract from the overall aesthetic, choose a kids' book storage idea that's the same color as the walls. In this bedroom by Amber Interiors, white picture ledges blend into V-groove wall paneling while adding a dose of dimension. Wood accessories and one-of-a-kind textiles infuse plenty of warmth and texture.
6. Choose something whimsical.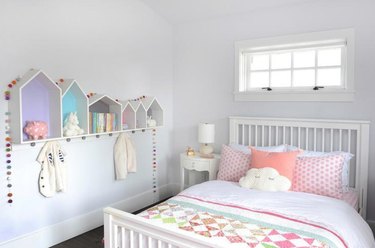 For a kids' book storage idea that will win over parents and children alike, install something whimsical like a row of house-inspired cubbies. Hungerford Interior Design kept the decor in this sweet bedroom pared-down and included a peg rail to maximize the pint-size approach to organization.
7. Go with a vertical solution.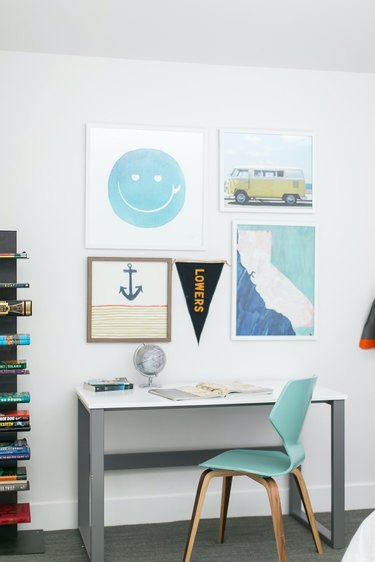 Maintain a clutter-free book zone with modern undertones when you call upon a freestanding tower to do the heavy lifting, as Raili Clasen did in this elevated teen's room. The vertical orientation is a great space-saving tool that practically allows the shelving to disappear when filled with books.