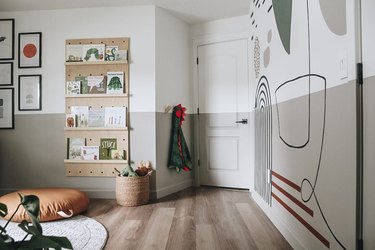 Struggling with a messy kids' playroom? Does everything just seem to get scattered within a matter of moments? Well, you've come to the right place. When it comes to playroom organization, we've got plenty of tips to get you, and your kids, on board with keeping things clutter-free. These child-friendly ideas will make organizing fun — we promise!
1. Make the most of baskets.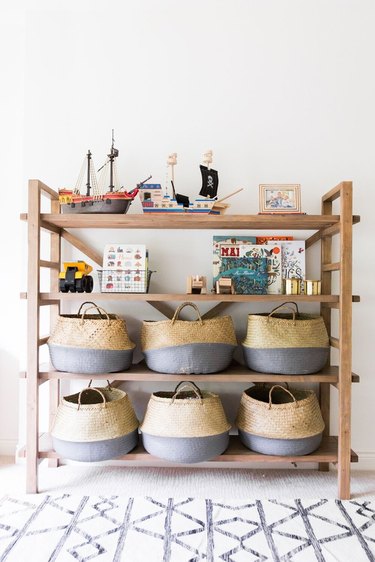 If there's one playroom essential we recommend, it's baskets. Kids always have multiple LEGO sets and toys, so make it easy to pack everything away with a shelving unit filled with baskets. If the clutter is hidden, it won't bother you! Studio McGee chose a natural weave jute option for this space to add some organic texture and a hint of gray.
Books can be a prime source of clutter in a playroom, so opt to store them on the wall. Brittni of Paper & Stitch displayed her little one's stories on picture frame ledges, forgoing a traditional bookshelf. The covers can easily be seen and act as another form of artwork in the space. Plus, the ledges are good for small toy storage, too.
3. Play around with a pegboard.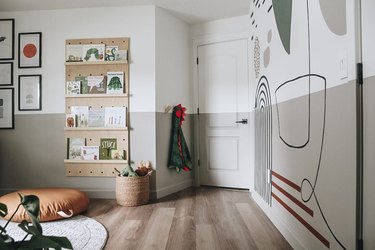 If you're strapped for space in your playroom, it's important to make the most of every square foot. Liz of Within the Grove did exactly that with this neutral playroom, adding in a pegboard to display books and small toys as well as baskets and a coat rail to keep things extra tidy.
4. Utilize surface space.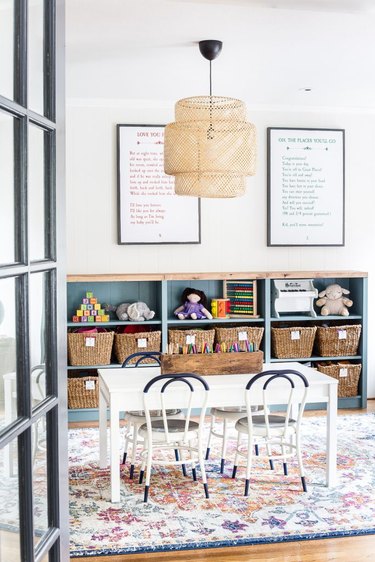 Robert and Lauren from Bless'er House are already one step ahead when it comes to playroom organization. They wanted to make it as simple as possible for their daughter to tidy up, so the duo created plenty of storage space with cleverly labeled baskets. We're taking note of the tabletop containers for pens and colored pencils, too. Everything is exactly where it needs to be.
5. Try wall-mounted baskets.
If you're not feeling freestanding options when it comes to playroom storage, get yourself organized with a wall-mounted basket instead. Sarah Joy used hers for corralling books, but you could easily pop in games, puzzles, and cuddly toys. Why not organize by color for something extra fun?
6. Don't be afraid to repurpose existing furniture.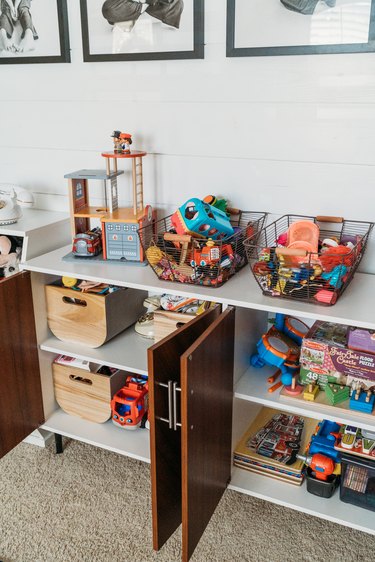 While you might be tempted to hit the shops for the perfect organizational playroom furniture, think about what you have in your home already. Amber Massey used a buffet in her modern play area, filling it with LEGOs, Mega Bloks, Barbies, and cars in wooden and wire baskets.
If anyone could make a playroom look uber stylish while keeping organization at the forefront, it's Shea McGee. This playroom alcove features built-in shelving that turns the toys into a decor moment. For the less aesthetic items, large storage baskets on the bottom shelf get the job done.
8. Add in a whiteboard and rail system.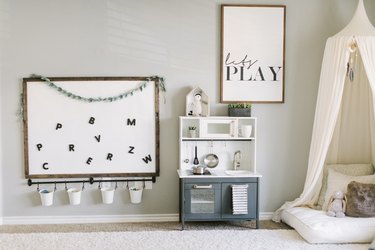 Playrooms are meant to be fun, right? RIGHT! We love how Katie Lamb encourages creativity on the walls with this magnetic board in her twins' playroom. She added a rail bucket system from IKEA to inspire them to keep magnets and other small knickknacks in their place.
9. Get creative with toys!
That's right, toys can act as organizational items, too — you just need to get creative with them. Hunker contributor Trisha Sprouse did exactly that with this DIY play kitchen that holds multiple items for playtime. She even painted the set in neutral colors and added in gold details. Now that's a kitchen we'd want to keep tidy.