If, like us, you're obsessed with Netflix's ​Get Organized with The Home Edit​, it's very likely that you've been re-assessing every inch of your home in the last few months. From organizing an Insta-worthy pantry to spice rack arrangements, there are plenty of organizational tips. But there's one space we're especially focused on — the closet. Don't fret if yours is currently in disarray; we're here to help. Here are seven DIY closet organizer ideas to get you started. Happy rearranging!
1. Invest in uniform hangers.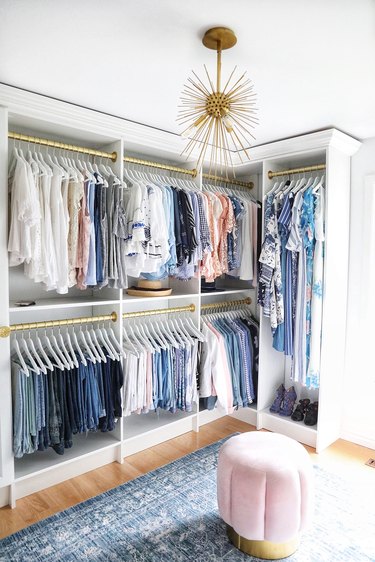 One of the simplest tricks to make an impact in your closet is to invest in uniform hangers. Think slim velvet styles, or wood options, for maximum functionality and form. Match them to your decor, and you'll instantly elevate the entire space.
2. Use baskets and storage bins.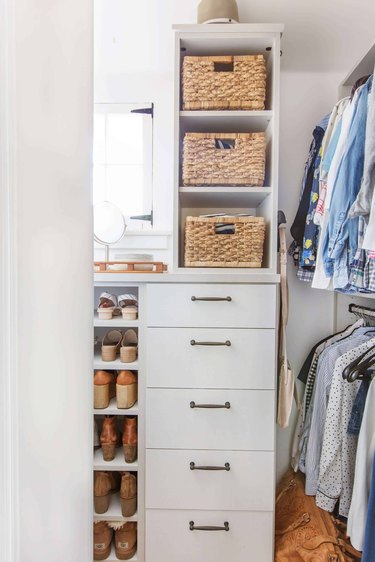 Folded clothing and accessories can easily look messy if they're jammed in a cubby hole, so pop them in a storage basket instead. You'll find both fabric and wicker options in a variety of stores. Stacked storage bins with lids will help maximize the amount of space available on every shelf but won't be as easy to access. So if you go that route, label the front of each to make it easier to find things. For your drawers, organize like Marie Kondo with these DIY "Hikidashi" boxes.
3. Don't leave your shoes on the floor.
If, like us, your kicks are the pride and joy of your closet, a shoe rack is non-negotiable. Organize by color or style, so you can quickly grab and go. This design by Em Gurner is the ultimate goal when it comes to DIY closet organization (note the pipe rail clothing rods, too!). For those lesser worn flats, stackable shoe storage will double the functionality, keeping your footwear protected from dust and damage at the same time.
4. Double your hanging space with soda tabs.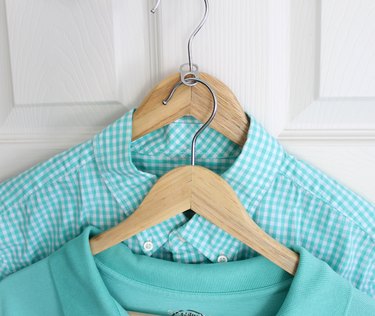 Need more hanging space? Those with a small closet can take note of this simple hack that uses the tab from a fizzy drink. As Gina of The Shabby Creek Cottage demonstrates, simply slide a hanger through one end of the canned beverage tab, then attach another hanger to the other side of the aluminum.
5. Hang purses with hooks to show them off.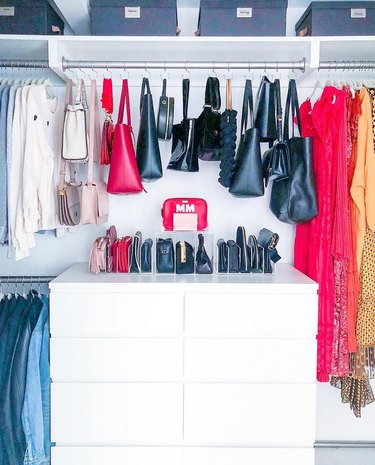 It's easy to stuff your totes into a cubby and forget about them, but purse hooks will allow you to keep your bags center stage. Acrylic purse hangers are ideal if you don't want to detract from the design. Similarly, metal hooks, like the ones The Home Edit used in Mandy Moore's closet, will ensure your purse handles don't get crushed and look perfectly chic.
6. Create a seasonal rotation.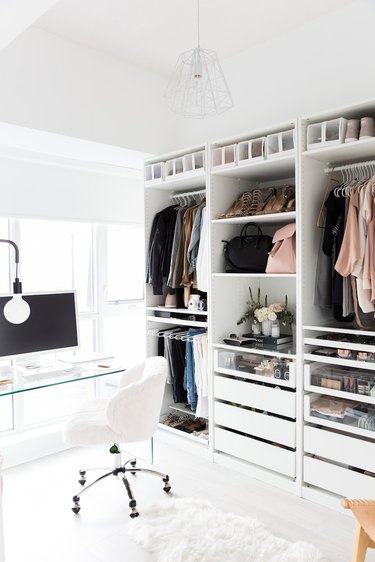 While decluttering is a great first step to closet organization, creating a seasonal rotation is another way to help save space. Label seasonal bins for summer and winter, and vacuum pack those items of clothing that you won't need. These brilliant storage solutions will help you with the transition. Store the bins elsewhere (like in the garage), or place them on a high shelf until the weather changes.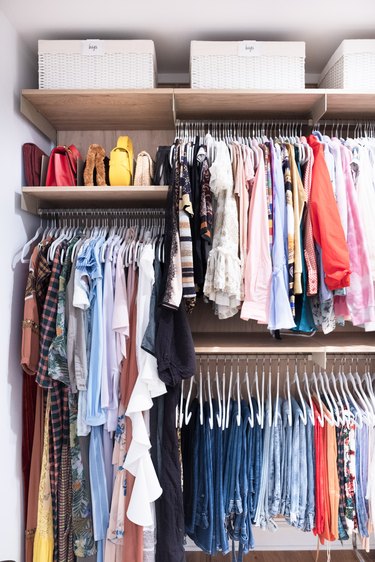 Arranging your closet by color will help you find items more easily, while also creating a streamlined aesthetic. The Home Edit team starts with clothing category and then sorts by color in rainbow order, (red, orange, yellow, green, blue, indigo, violet). Prints and patterns can be placed wherever they fit on the spectrum.