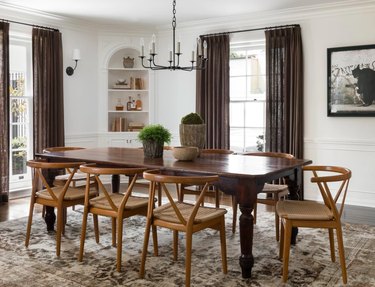 From farmhouse chic to modern you can basically apply any interior design style to a dining room. While we love planning out a new space or switching up the decor in an existing one, we often run into the same problem: Where to store all our dining essentials? One sneaky idea: Add dining room built-in storage to your space to keep odds and ends tucked away. This can also be the perfect opportunity to display some of your trinkets, too. After all, there's no rule saying that you can only show off your favorite pieces in one room.
Here, we're sharing some ideas for built-in dining room storage in a variety of styles. Just be aware: Built-ins are highly specific to the space you have, so you'll most likely need to hire a contractor if your dining room doesn't already have built-in features.
1. Incorporate Drawers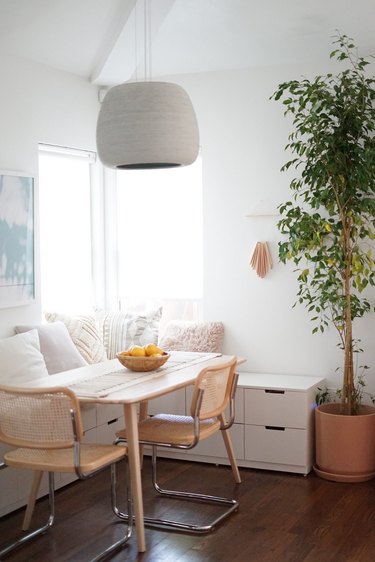 Get creative with how you incorporate more storage. This built-in seating project by Almost Makes Perfect uses IKEA dressers. Stow away everything from candles to place settings in these drawers while keeping the space looking sleek and minimal.
2. Corner Built-In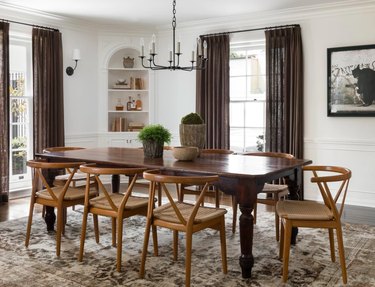 While this detail is often an original feature of Spanish or colonial homes, you can hire a professional to make an arched corner hutch — perfect for displaying prized china.
3. Rustic Cabinetry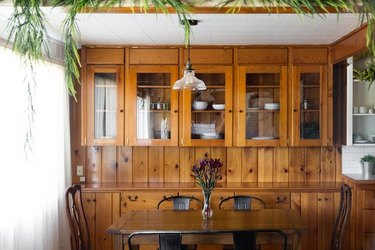 We love this all-wood built-in storage look because it really drives home the rustic/cabin vibe of the space. Pair with dark chairs, hanging plants, and a vase or two to create a tranquil space. And the best part is that extra dishes and utensils are tucked away, yet easy to access.
4. Shelves for Decorative Display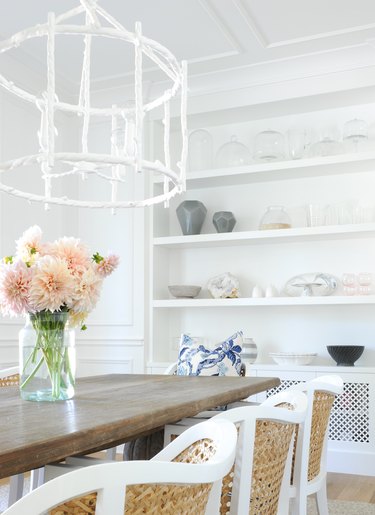 This custom built-in in Monika Hibbs' dining room is perfect for storing bowls and trays while showing off decorative items. It also includes perforated wood doors at the bottom for a personalized touch to this storage classic.
5. Add a Bar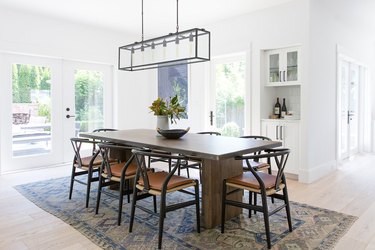 This farmhouse-chic dining room carves out a nook to create a dedicated bar area — a unique touch that elevates the space.
6. Pegboard Built-In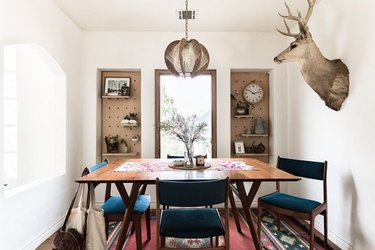 This rustic space makes great use of pegboard. It's an excellent choice if you like to switch up decor, since you can move shelves easily and choose new items to hang up as the seasons change.
7. Think About Non-Dining Room Storage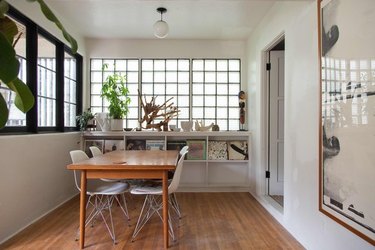 While built-ins can be ideal for housing dining room essentials like dinnerware and entertaining pieces, it can also be a great opportunity to show off your personality, so think about other items that might display beautifully. In this case, shallow built-ins below glass-brick windows display the owner's vinyl collection.