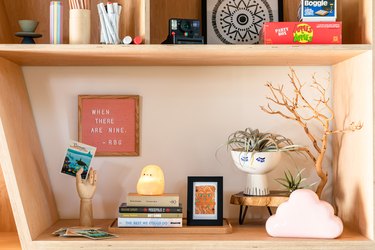 A bookshelf is one of the most powerful design tools you have in your home, as it's basically the perfect vehicle for displaying fun (and affordable) decor. After all, a shelf is a spot you can constantly be switching up, whether it's a new season or you're just in a different mood. Try these themes out next time you decide to change up your shelfie game:
Old School Jams, New School Design
A record player vibes along with midcentury-esque touches (gold bird figurines, a textured lamp) with newer aesthetics (like a tarot print and a letterboard) for feeling that's old school-meets-today.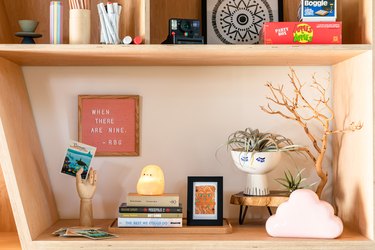 This shelf is all about channeling memories of youth with playful, almost cartoon-like touches. Add in your favorite art supplies to encourage creative expression.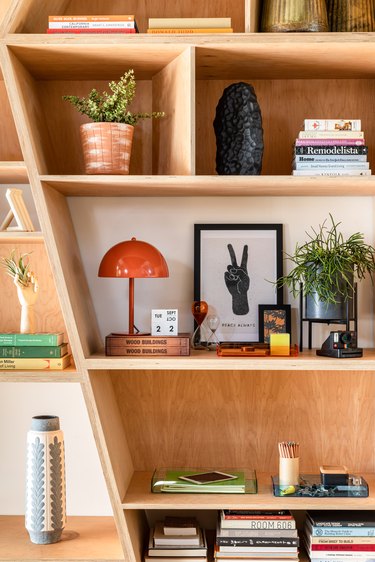 Earthy elements combine with lots of books and the perfect, vintage-inspired reading light to create a setup that feels just a touch groovy.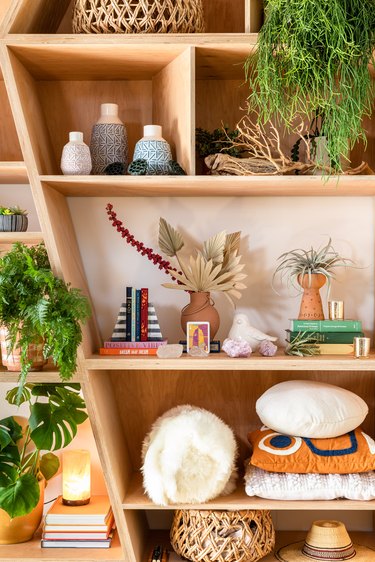 Mix natural elements (think plants, dried florals, terra cotta pots, Himalayan salt lamps) with decor that brings a boho feel (textured pillows, sheepskins, abstract patterns).