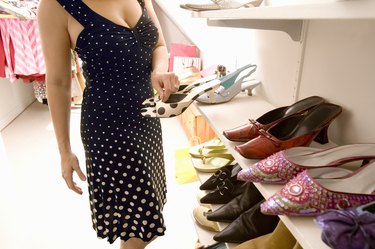 If it's designed correctly, a walk-in closet provides an abundance of useful storage space, but if you try to jam too much into an inappropriate space, even a big closet can be too crowded to be functional. Adhering to standard dimensions in the design of a walk-in will ensure that your closet is as luxuriously roomy as you want it to be.
Typical Widths and Depths
Walk-in closets should be a minimum of 4 feet wide by 4 feet deep. With these minimum dimensions, the closet will accommodate shelves and hanging space on one side wall and the back wall. A width of 6 feet will make room for storage on all three walls, and a width of 10 feet will be sufficient to allow an island or seating area in the middle of the closet.
Walkway Clearances
A walk-in closet needs to be big enough to provide 24 inches of clear walkway space between any shelves, rods or other obstructions, keeping in mind that hanging clothes take up about two 2 of horizontal space. It's for this reason that a closet must be 6 feet wide to allow for hanging areas on both side walls; a narrower closet would not have 2 feet of clear space between the two hanging sections. The 24-inch minimum also applies to the clear walkway space on all sides of an island; if there is not enough room for the 2-foot walkway in addition to the island, an island is not feasible.
Storage and Hanging Placement
Hanging rods can be positioned so that two rods occupy one wall, one above the other, in a configuration called a double hang; this configuration is best for shirts, jackets and other short garments. Standard height for double-hang rods is 40.5 inches high for the low rod and 82 inches for the high rod. Medium-hang rods, which are mounted 54 inches above the floor, are best for pants and longer garments, and 66-inch-high long-hang rods work for dresses, coats and other long garments. Shelves above the rods should be 14 to 16 inches deep to accommodate big items.
ADA Requirements
To meet the standards for accessible design established by the Americans with Disabilities Act, a walk-in closet must have adequate clear maneuvering space so that users in wheelchairs can easily access the interior of the closet. The act specifies a minimum clear space of 30 inches wide by 48 inches deep, so the standard recommended walkway width of 24 inches is not wide enough to satisfy the ADA. The act also requires that the reach ranges within the closet be between 15 inches and 48 inches from the floor; all shelving, hooks and hanging rods in the closet should fall within this range.