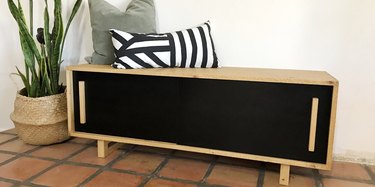 As you admire your oh-so-neat and tidy house, you can't help but give yourself a pat on the back for all of the brilliant storage and organization ideas that you've implemented. The fabric bins. The chic baskets. The labeled canisters. We get it — you're basically Marie Kondo's protégé! But maybe there are ​some​ areas that could still use a little work.
We're here to tell you that regardless of the space, there is one item in particular that can solve just about any organization problem: a DIY storage bench. Not only does it provide a convenient place to sit, but you can lift up the seat to reveal copious storage space for a wide variety of items. You can place one in the entryway, bedroom, under a window, even outdoors.
And by making it yourself, you can customize the size and style to fit the space — no need to hunt for a store-bought storage bench until you find the right one.
If you've always wanted to create a dining nook or a banquette for your kitchen, look no further than this stylish DIY storage bench created by Erica of Designing Vibes. It's just the thing to hold placemats, throw pillows, and other entertaining supplies.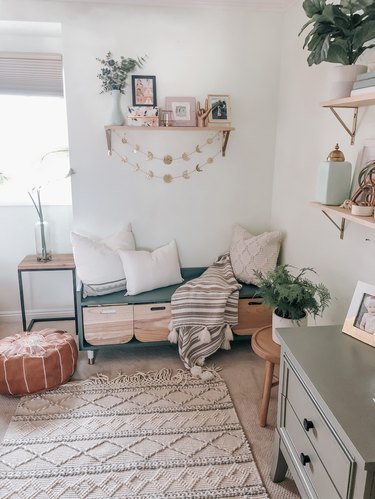 In a living room or playroom, you know that your littles' toys have a tendency to, well, explode all over the place at any given moment. That's where a DIY storage bench, like this one made by Janelle of Burnett Bungalow, could really help. The bins make it easy for you and the kiddos to stash away toys and other items, and we're loving that on-trend teal hue, too.
Let's say that you'd like to give your DIY storage bench a bit more personality. In this case, why not try out a pattern? Showcasing a shade of soft blue and geometric detailing, this storage bench handmade by Erin Spain is pleasing to the eye and has three handy drawers.
4. Don't forget the great outdoors.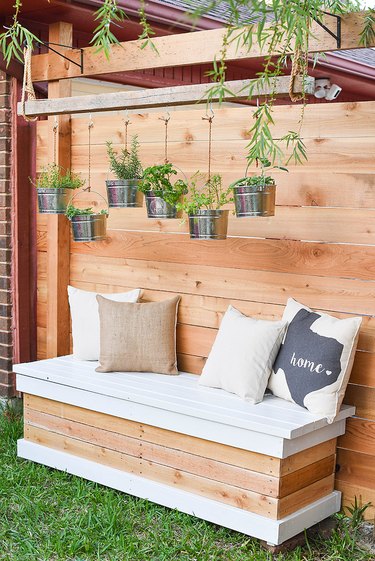 Maybe you've never considered a DIY storage bench for your patio or backyard, but we'd highly recommend it. It's ideal for storing outdoor throw pillows, lanterns, candles, and gardening essentials. We particularly adore this one constructed by Megan of Our Handcrafted Life.
5. Allow room for baskets.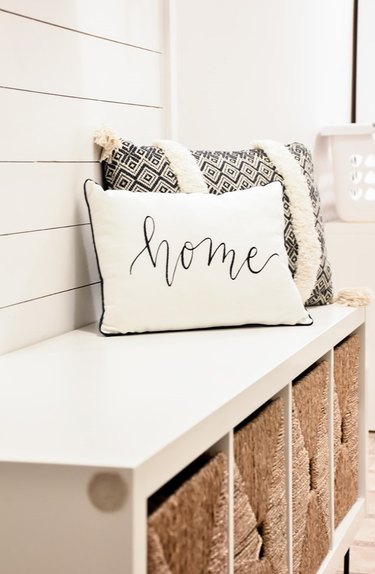 A laundry room is the perfect place for a DIY storage bench. This one by Christina of The Frugal Homemaker holds helpful, farmhouse-inspired baskets and even features a hall tree up top with hooks and a ledge for coats and decor.
6. Go for modern details.