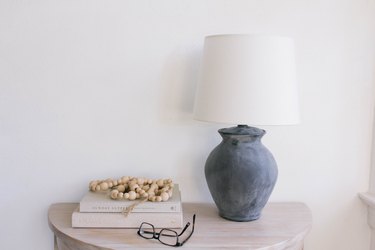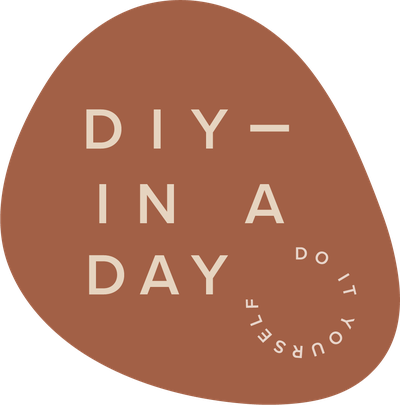 DIY in a Day brings you step-by-step instructions for easy projects that will spruce up your space — within 24 hours (or less!).
What's old is new again with the resurgence of "found objects" being used as home accessories. From vases to utensil jars to lighting, we're spotting timeworn pottery in many popular designers' feeds. While we love the sustainable use of old materials, sometimes the price or availability of such relics can be a bit out of reach. So we've got a sustainable hack that turns a cheap dime-a-dozen thrift store lamp into a trendy ceramic vessel lamp that looks as though it's been aged by time. Our simple technique produces an earthy, textural finish that provides a nice contrast to a crisp white lampshade — and it couldn't be easier to do it yourself.
Step 1
Look for a thrift store lamp that has a similar shape or style of a ceramic jug, urn, or vase. Wood, metal, glass, or ceramic lamps will all work. We found this ceramic lamp at the thrift store for $4.99!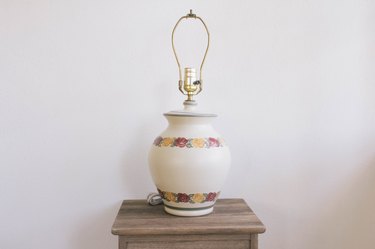 Step 2
Start by cleaning the base of the lamp with a damp cloth. Dry thoroughly.
Step 3
Wrap painter's tape around the cord and light socket to protect them from paint.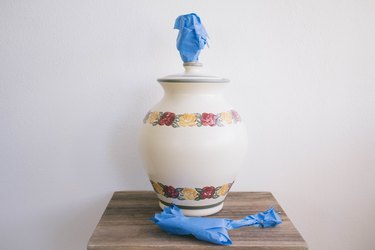 Step 4
Lay down a drop cloth or newspaper to protect your work surface, and spray paint the lamp with black chalkboard paint. Two to three light coats was sufficient to cover the original design on our lamp.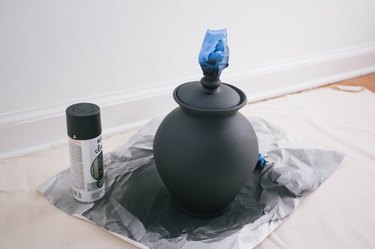 Step 5
Let the paint dry for several hours (preferably overnight), and then rub a piece of chalk all over the entire lamp.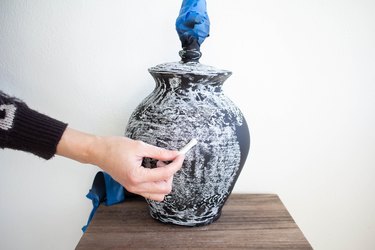 Step 6
Use a soft cloth to wipe the chalk off the lamp — kind of like erasing a chalkboard.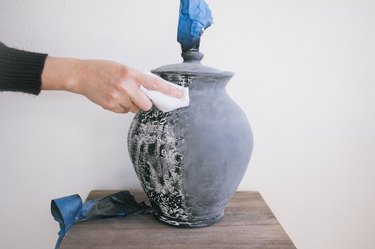 Now go back and rub more chalk in a few random areas. This time use your fingertips to wipe away the chalk, as this will remove less than a cloth would and will produce a more uneven, natural-looking patina.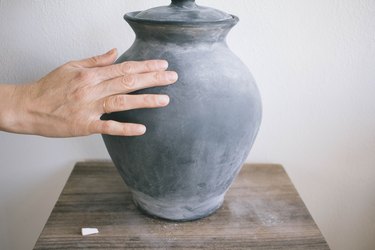 Now place a lampshade on top, and your new (old) lamp is ready to dazzle. Seriously, how simple was that? And how timeworn does it look? Total found object #goals, if you ask us!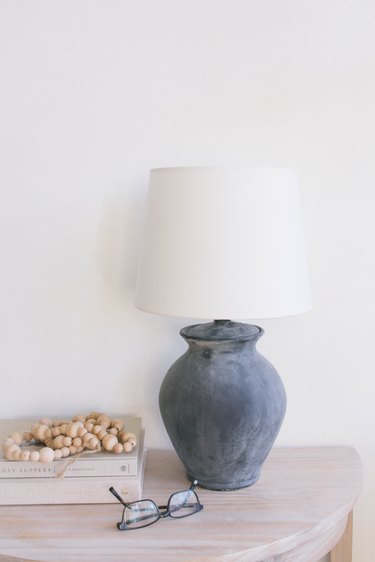 Tip
If you're worried about the chalky finish rubbing off, you can spray a clear matte topcoat on top to seal it in. But if your lamp is more decorative and won't see a lot of traffic, it's not necessary.