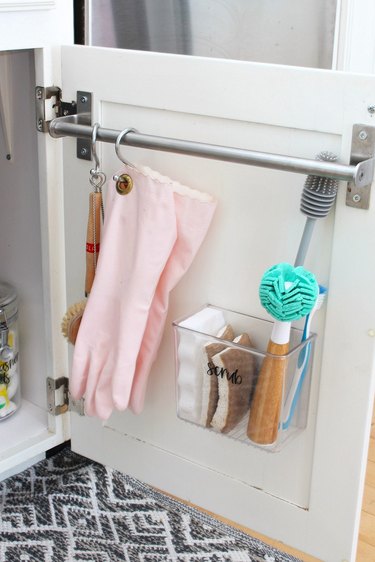 Well, we think it's high time that under-the-sink storage take center stage. For many, this spot tends to take on the look of a junk drawer, where its contents are an afterthought. But picture yourself finding dishwashing items with ease or never losing a bottle of lotion again. In other words, practical storage solutions under your sink are easy ways to make your daily life easier.
Here are six ways to accomplish under-the-sink storage in style.
1. Utilize the cabinet door.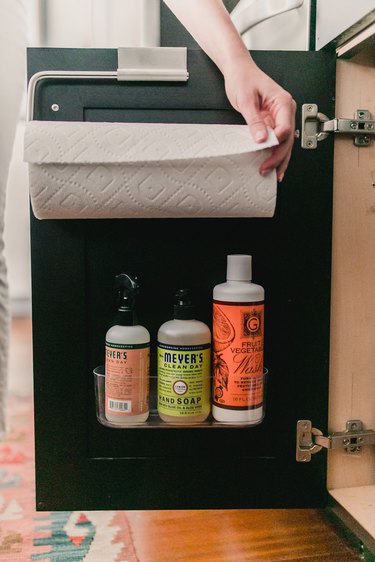 If you have a small cupboard, you can stash items on the inside of the door. For instance, Jess of The Golden Girl hung a paper towel rack and stick-on caddy to make the most of the cabinet door, which looks polished and offers convenient under-the-sink storage.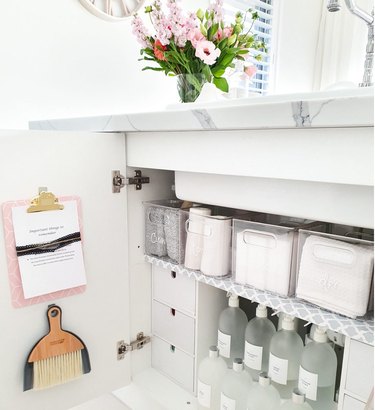 Do you have lots of room underneath the sink? If so, you can build a shelf that divides the space into helpful zones and acts as a place to rest clear bins. That's what Iryna of From Great Beginnings did in her kitchen, and the result is an organized niche that's also pleasing to the eye.
3. Don't overlook a towel bar.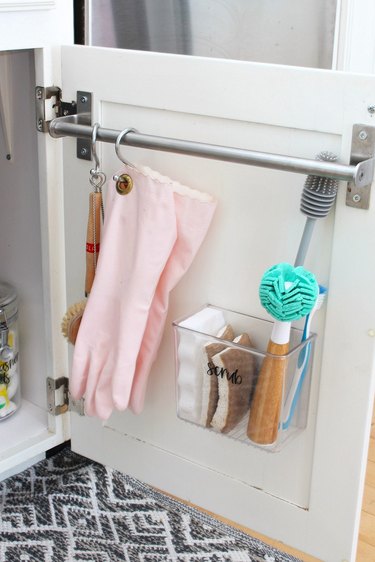 Sure, you can use your towel bar for towels. Or you could put it to work by hanging a few must-haves. Using "S" hooks, you could hang a pair of gloves and a few scrub brushes. A nearby clear caddy is handy as well, proven by this kitchen cabinet organized by Jenn of Clean & Scentsible.
4. Make it work in a narrow space.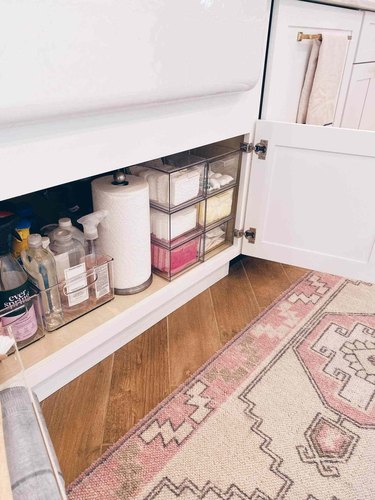 You may only have an itty, bitty spot under the sink to store your essentials. In that case, plan your storage solutions according to how much room you have. For example, Ceres of The Pink Dream chose low-profile bins and mini shelves to organize the narrow area under the sink.
5. Turn to double-decker storage.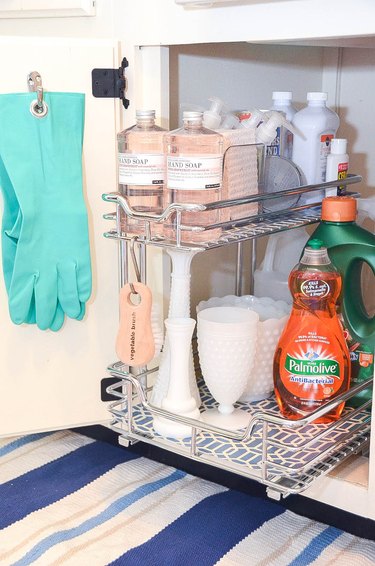 6. Use clear, labeled containers.
Whether it's a kitchen or bathroom sink, you can't go wrong with clear, labeled containers. We'll give you bonus points if the labels are in a pretty font, too, which is what Angela of Blue i Style did for her under-the-sink storage.
---
Shelby Deering is a lifestyle writer who contributes to national magazines and websites, including Country Living, Good Housekeeping, Well+Good, and more. When she's not writing, you'll find her shopping flea markets, hiking, and going for walks with her corgi.
View Work