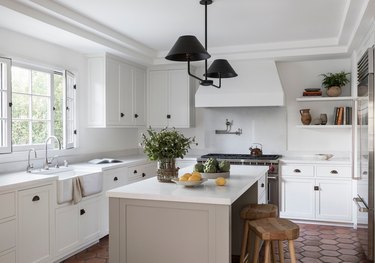 If flooring isn't the biggest investment you'll make in your home, it's certainly one of them. First impressions count, and flooring serves as the foundation, literally, for your home's interior design style and sets its overall tone. So we don't think we'd be accused of hyperbole to state that you can't spend too much time considering the feel of your space and what aesthetic you're trying to achieve. To create a cohesive look throughout your abode, all of your flooring choices should be made at the same time, taking into account every room; they should also function as the jumping off point for future furniture and palette selections — so no pressure here.
If you've been hit with farmhouse fever, and aren't sure where to begin with your flooring options, look no further: The following are seven farmhouse flooring ideas that will pave your way.
1. Say "yes" to wood.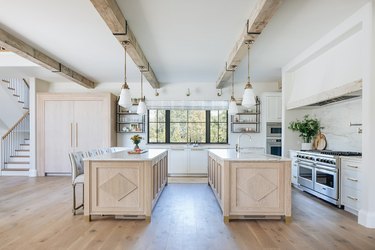 2. Personalize your space with tile.
3. Consider terra cotta.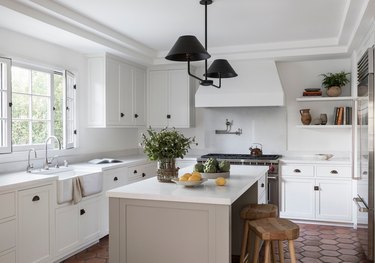 Terra cotta tile is often associated with Spanish-style homes, but Katie Hodges makes a pretty compelling case for using it as a home-run farmhouse flooring idea in this all-white kitchen. A pair of wood stools add a welcome rustic note to the monochromatic space, while an oil-rubbed bronze pendant light adds visual weight from above.
4. Choose a dark finish.
5. What about brick?
Brick is traditionally relegated to the great outdoors, but introducing this material inside is an unexpected choice that lends an earthy feeling with plenty of dimension. If you've been blessed with a mudroom or separate side entrance, make like Shea of Studio McGee (tastemaker of all things farmhouse), and install brick in a chevron pattern for maximum impact. Quintessential farmhouse details like decorative hooks, black accents, factory lighting, and v-groove ceiling complete the hardworking space.
6. Add a coat of paint.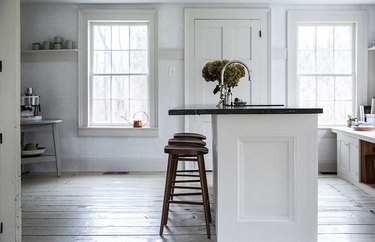 7. Give stone a try.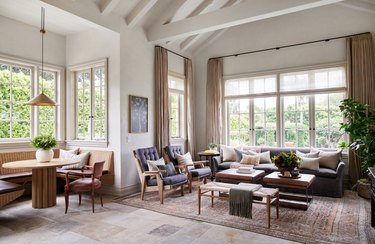 Yes, you can use stone flooring and still achieve the relaxed and inviting look that makes farmhouse style so well-loved. Amber Lewis achieves an elevated yet cozy great room using tumbled limestone flooring — embraced in its au naturel state for its texture and old world sensibility across many design styles from Mediterranean to contemporary. A curated mix of textiles, furniture, and wood tones makes this room the stuff of farmhouse dreams.