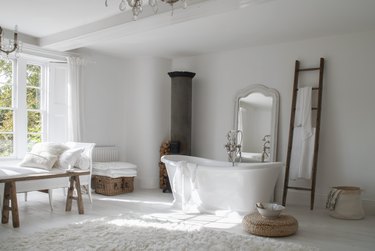 You don't need a backyard full of barn animals to enjoy modern farmhouse home decor. Far from it, actually. Whether your abode is located in the middle of the city or at the end of a dirt road, you can add touches of the farmhouse aesthetic (think: weathered wood, shiplap, barn doors, or even something as simple as a mason jar) to any room.
We're especially partial to farmhouse style bathroom decor. But there's one question we bet you're asking: How do you organize your toiletries in a modern way that has rustic charm? We've got the answer. Scroll on for eight farmhouse bathroom storage ideas that'll have you jonesing to organize.
1. Take advantage of the space under your countertop.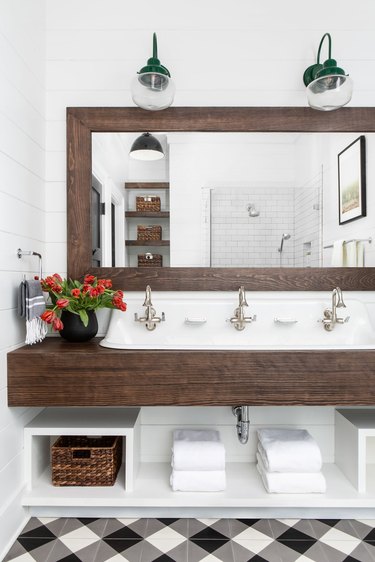 Here's betting you haven't thought much about the space under your bathroom sink. Let's change that! Chango & Co. designed this basin and vanity without cabinet doors, creating an ideal place to show off pretty washcloths and hand towels while hiding less attractive necessities in wooden or wicker baskets. (There are more bins in the reflection too — see them?) Storage problems solved.
2. Add as many drawers as possible for extra storage.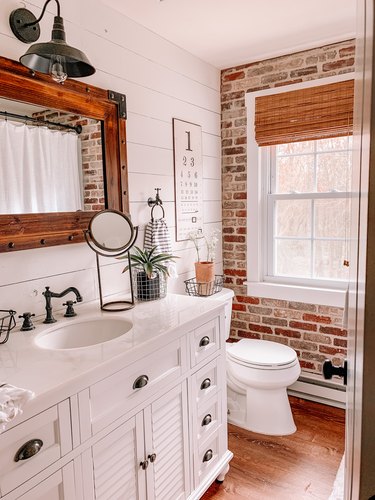 Exposed brick, shiplap, a thick wooden mirror frame, and the perfect color palette: Could this bathroom have any more rustic charm? While designing her washroom, Morgan Cooper kept many of the farmhouse elements on the walls, while the vanity allows for plenty of drawers and storage. We also love Cooper's use of wire baskets to house plants, although you could use similar ones to organize vanity-worthy products, too. (Speaking of greenery, here are some plants that particularly complement farmhouse style.)
3. Don't skimp on baskets, even in a small space.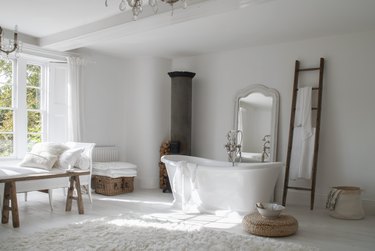 This bathroom by White & Faded is a fantastical combination of chic and farmhouse, from the wide plank wooden floors to the dripping chandeliers. To keep the space clean of clutter, the designers utilized baskets for storage space. In your own washroom — whether it's small or large — use one bin as a hamper, and keep lotions in another. You won't even need a medicine cabinet.
4. Select a vanity that combines drawers and open shelving.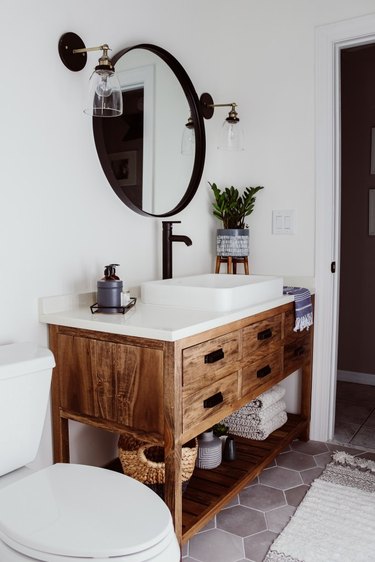 This farmhouse washroom is the perfect blend of modern and rustic. Liz of Within the Grove chose a wooden vanity that provides storage for hiding unsightly necessities. But it also has open shelf space on the bottom for more bathroom accessories, like plush towels. The rest of the decor rides that modern/rustic line too, from the sleek mirror to the quaint planter and clean white walls.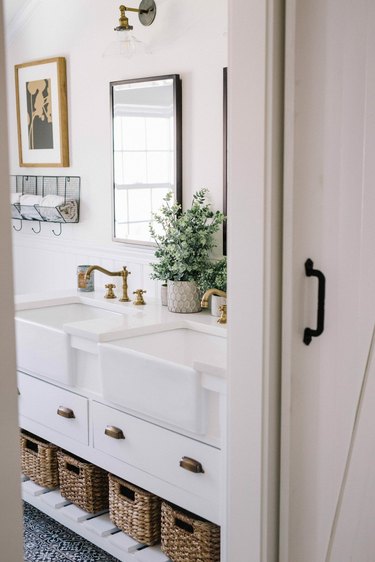 Arguably, nothing makes a space feel more organized than symmetry and uniformity. And as you peek in the door of Lynzy & Co.'s modern farmhouse washroom, you'll find bathroom storage baskets that match perfectly. We also dig the twin apron front sinks.
For a creative solution to bathroom storage, Michelle Lisac Interior Design took advantage of an otherwise unused wall, carving out two space saver nooks that can house towels, plants, and bath accessories. They completely get rid of the need for a bath caddy. We also love the inclusion of an oversize basket. It's whimsical but still so practical.
7. Embrace that vertical space.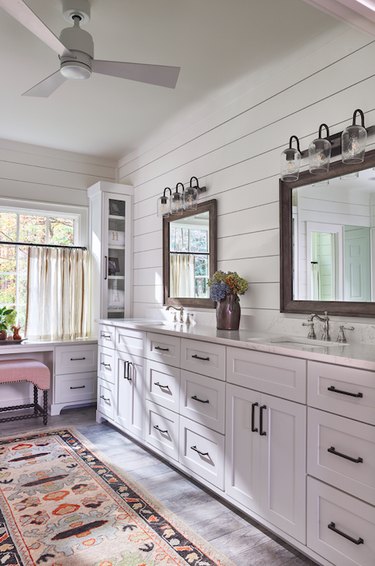 There's no lack of storage ideas in this farmhouse bathroom. Maggie Griffin designed the washroom, ensuring every hand towel and bar of soap had a place to live. She also took advantage of the vertical space between the window and the wall with a tall storage cabinet. The glass windows create an extra incentive (or, um, pressure) to keep things organized.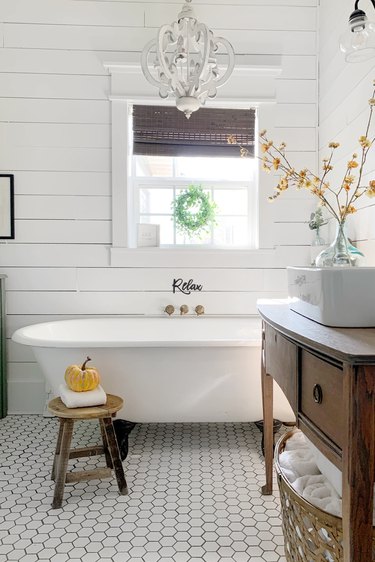 Cindy Hulsey's entire home is farmhouse goals — see for yourself on her Instagram — but we're especially partial to this white and bright bathroom with shiplap walls and rustic decor pieces (the freestanding vanity is perfect). To recreate this streamlined design, you'll want to keep clutter to a minimum, so use drawers and baskets wisely. Anything extraneous will have to go.