When it comes to comparing arts and crafts and mission style, things get a bit confusing. Both styles date to the same time period — the early 20th century — and both focus on handcrafted wood pieces.
Visually, arts and crafts furniture and mission style furniture are one and the same, with straightforward wood forms. But their production roots are different — the former focuses on the handmade, and the latter is mass-produced.
What Is Arts and Crafts?
The arts and crafts movement that originated in the mid-19th century in Great Britain. At that time, the Industrial Revolution was in full swing, but the decorative and fine arts community devised a rebellion against production lines and machinery, instead focusing on fine craftsmanship.
The movement spread throughout the world, becoming quite popular in the United States at the turn of the century, where it took on the name "Craftsman style" (you're probably familiar with Craftsman bungalows). But colloquially, both arts and crafts and Craftsman are used interchangeably when referring to the American movement. Gustav Stickley published the magazine The Craftsman starting in 1901; it included writings and photographs illustrating the style and encouraging others to adopt it.
Important figures like brothers Charles and Henry Greene helped spread the popularity of Craftsman architecture in the U.S. In the early 1890s, they established their firm and went on to complete projects still revered today — such as the Gamble House in Pasadena, California.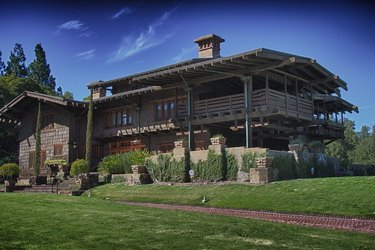 When it comes arts and crafts furniture specifically, the aesthetic is simple. Pieces were often made out of stained wood, featuring straightforward rectilinear forms with little to no ornamentation. The focus was on the solid craftsmanship rather than the design, promoting the humility and integrity of labor. Stickley was a major proponent of the style, producing countless pieces of arts and crafts furniture.
What Is Mission Style?
Similar to arts and crafts, mission style focuses on natural materials and doesn't use ornamentation. Mission style interiors primarily incorporate earth tones and oak pieces.
Around the 1890s, New York furniture manufacturer Joseph McHugh mass-produced chairs inspired by the arts and crafts ones found inside the Swedenborgian Church in San Francisco, marketing them as "mission-style" chairs — that is, chairs from the Spanish missions in California.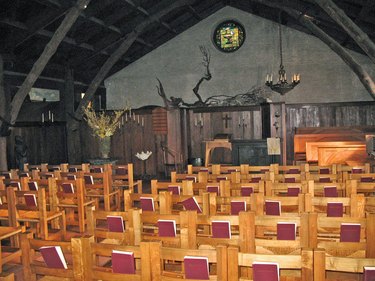 But these furnishings had essentially nothing to do with Spanish missions or mission-revival architecture, and, in fact, were just part of the arts and crafts movement. Unfortunately, the name stuck, particularly on the East Coast, where McHugh's company was based. Stickley actually joined in on the movement by creating his own line of mission style furniture.
According to a New York Times article from 1981, Harvey Ellis designed for Stickley and his attention to "delicacy, lightness and color" greatly influenced the style of the furniture made in Stickley's workshop. However, Stickley didn't put a lot of Ellis's designs "into general production."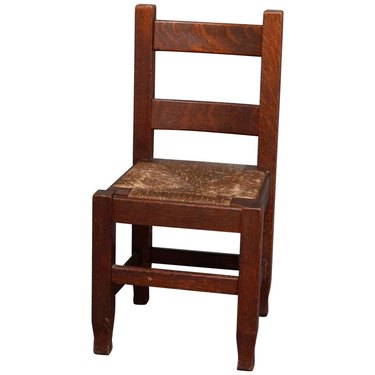 Today, you can still find both arts and crafts and mission style pieces on retailers like 1stdibs, Chairish, and Etsy. While there might be a lot of overlap between the two, arts and crafts was more of a movement, not necessarily an aesthetic style. It focused on craftsmanship more than it did any specific rules about how to make furniture. Both styles, however, are important in the history of U.S. design and furniture.
---
Stefanie is a New York–based writer and editor. She has served on the editorial staffs of Architectural Digest, ARTnews, and Oyster.com, a TripAdvisor company, before setting out on her own as a freelancer. Her beats include architecture, design, art, travel, science, and history, and her words have appeared in Architectural Digest, Condé Nast Traveler, Popular Science, Mental Floss, Galerie, Jetsetter, and History.com, among others. In another life, she'd be a real estate broker since she loves searching for apartments and homes.