In an era when sleek, midcentury modernism reigns supreme, Mission interior design feels a little, well, outdated. As part of the Arts and Crafts movement — which was all the rage in Europe and North America between 1880 and 1920 — Mission interior design places a big influence of decorative details, handcrafted charm, and details inspired by Mother Nature herself. In fact, many people liken this interior design style to Frank Lloyd Wright's iconic aesthetic. Translation? The polar opposite of minimalism.
But as every design enthusiasts know, trends always return — and we think it's about time Mission makes a comeback. If you want to stay ahead of the curve by incorporating the look into your space, but don't know where to start, consider adding some Mission-style dining room lighting into your home.
Paned to Perfection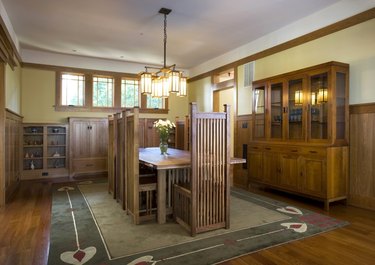 Similar to the designs that made Frank Lloyd Wright famous, Mission decor places a heavy emphasis on clean, angular silhouettes. And, as expected, Mission-style dining room lighting is no exception to this design rule. Want to embrace the Mission aesthetic without compromising your space's minimalist vibe? Take a cue from Christian Gladu Design and select a lighting fixture with an angular silhouette. With rectangular lights and geometric, windowpane design, this is one Mission style dining room lighting idea that strikes a balance between Mission and minimal.
Pattern Play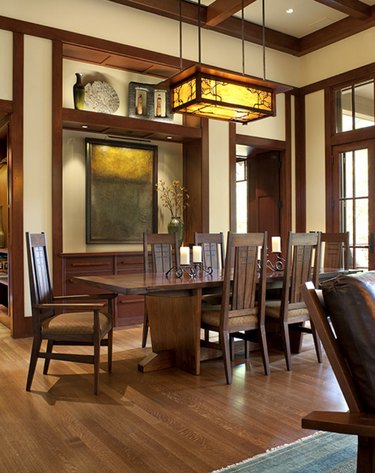 The combination of a sleek silhouette and rustic details oozes mission appeal, creating a space that pays homage to the past, present, and future. Let Alchemy Interiors show you how it's done with this charming pendant.
An Old-School Edge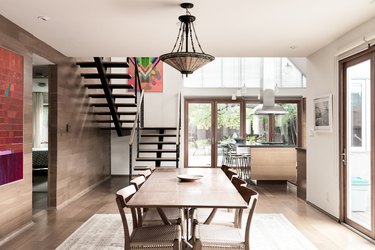 Made famous by Louis Comfort Tiffany in the late 1800s, Tiffany lamps are often associated with the rise of the Arts and Crafts movement as well as Mission style. It doesn't matter if you opt for a sconce, floor lamp, or pendant. One thing's for sure: The colorful glass featured in Tiffany lamps has "Mission interior" written all over it. Best of all? A Tiffany lamp can look good in just about every space, including this contemporary dining room.
Strike a Match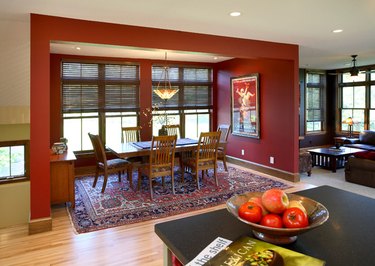 Tiffany lamps — or any light fixtures with colored glass — can take on plenty of looks and styles, so how do you know that your glow achieves that oh-so-covetable Mission style? Opt for light fixtures with geometric patterns that are peppered in bold bursts of color. In this dining room from architecture firm Awad + Koontz, the pops of red in the light fixture complement the room's rouge walls.
Chandelier Change-Up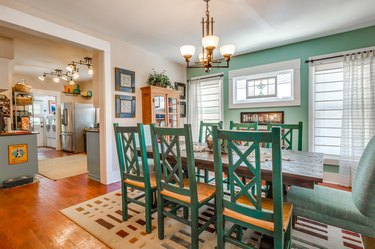 As thoughtful, handcrafted design details play a big role in the Mission aesthetic, don't go expecting a luxurious, dazzling chandelier. When it comes to Mission-style dining room lighting, simplicity is key. Trade in a fancy chandelier for a simple, angular fixture as seen in Mission Accomplished's project.
Up Close and Personal
When it comes to your Mission-style dining room lighting, the devil lies in the details — and this room from Hartman Baldwin does not disappoint. Somewhere between a pendant and traditional flush mount, this fixture boasts amber-colored glass, an angular silhouette, and brown accents, all of which are popular traits of Mission-style dining room lighting.