There's a reason why classic jeans come in navy blue — it's a timeless choice that seems to go with every type of wardrobe. And the same can be said about the shade within a home: its versatility can complement nearly any style at any budget. From the rustic textures of a farmhouse look to the sleek appearance of a minimalistic approach, navy can provide depth to a design that falls between the trendiness of gray and the moodiness of black. Don't be afraid to see for yourself: start off with some new kitchenware or a pair of lamps, and then work your way up to new furniture or tiles. We've rounded up 13 items that'll make this your future go-to hue.
Serving Bowl
If you want to start out small with navy blue, then start with your kitchenware. Try filling fruit in a speckled enamelware bowl from Amazon ( $28.95 ), or use it to serve your favorite salad at your next dinner party. It looks especially chic within a farmhouse aesthetic.
Blue Moon Art Print
We love this blue moon print from Capricorn Press ( starting at $25 ) not only because of the color, but because of the size choices. You can get a tiny print for your office, or a larger piece for your home's gallery wall.
Linen Duvet Set
In the market for new bedding? Try a linen duvet set from Loomstead ( starting at $199 ). Pair the indigo duvet with the crispest set of white sheets, and you'll look forward to your bedtime routine every night.
Dinner Plates
Dinnerware is also a great way to get into a new color story, since they're easy to swap in and out depending on the meal. The next time you set the table, make sure you have these dinner plates from Crate and Barrel ( $22.95 for a set of four ).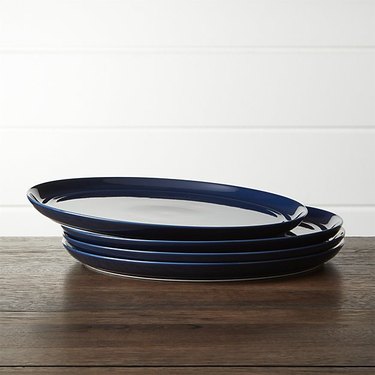 Metal Table Lamps
Table lamps come in navy blue, too! Check out these lamps from Gilt ( $149 per pair ). Keep the two together on a console table, or split them up on two nightstands.
Metal Pendant
A midnight blue metal pendant light from Serena and Lily ( $128 ) would add a new design dimension to your kitchen island or breakfast nook. If you have room, cluster them together in a row or hang them at different heights.
Modern Book Wall
Incorporating vintage books into shelf displays is a hot design trend, and for good reason: piles of varying heights add an interesting visual element. Arrange a navy blue book set from Chairish ( $249 ) on a set of white shelves, and work in gold photo frames and leafy plants.
Boucherouite Rug
The best accent color for navy blue is hot pink. Here's a perfect example: this boucherouite rug from The Gardener's House ( $298 ), a handmade vintage number made out of recycled cloth. Place it at the foot of your bed, in front of an upholstered bench, for a bold display.
Velvet Oval Ottoman
Navy blue furniture can make a big statement in a clean, minimalistic space. To start out small, take a look at a velvet ottoman from Lulu & Georgia ( $310 ). See how it pairs with your favorite armchair or as a small coffee table.
Velvet Chair
The inkiness of this Anthropologie chair ( $398 ) makes us swoon — how gorgeous is that velvet and gold combo? If you were thinking about redoing your dining room, take this as a sign and put a set of these chairs on your list.
Campaign Dresser
A campaign dresser is pretty good, but do you want to know what's even better? A navy blue campaign dresser, from Land of Nod ( $699 ). It's too pretty to put inside your closet, so start brainstorming ways to make space in your bedroom.
Patterned Wallpaper
Using wallpaper on an accent wall is a simple way to add dimension. This pick from Hygge and West ( $140 per roll ) hits the mark in so many ways: it's metallic, geometric, and navy blue. It looks good with cream-colored furniture and dark woods.
Clay Tiles
And if you're really feeling confident about navy blue, start planning a project with Fireclay Tile's navy blue clay tiles ( starting at $28 per square foot ). A sink backsplash or walk-in shower would look phenomenal in this color.