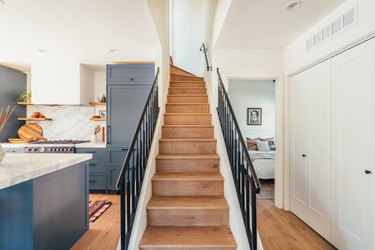 When it comes to home organization, finding places for all your clutter is essential. Finding ways to hide and organize cords is a great example and so is piling living room blankets in a storage ottoman. But TikTok creator Sam James has chosen an inconspicuous spot in his home that we never would have guessed could double as a storage space.
The TikTok begins at the base of a seemingly normal carpeted staircase — nothing out of the ordinary. We then see the second stair from the floor lift up, revealing three small shelves lined with shoes — a secret under-the-stairs storage space!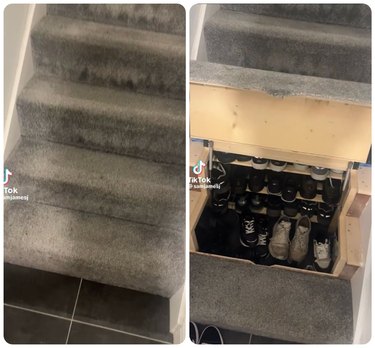 This small under-stair storage area seems to hold about a dozen pairs of shoes, which would come in handy for anyone with a tiny closet or cluttered entryway. This could also be a great hack for someone who prefers to keep things like shoes out of sight instead of on display on a shoe rack or mat.
Amidst all the positive comments like "genius" and "absolutely brilliant idea," the creator shared that he worked with a company called Smart Space Stair Storage to have this storage space professionally installed. While the company is based in the U.K., creating your own under-stair storage space could make for a great DIY project, or you could hire someone handy to do this project for you. Who knew there was so much wasted space underneath the stairs?
Under-Stair Storage Ideas
While the possibilities are endless when it comes to under-stair storage ideas, shoes make for an obvious choice, especially since most stairwells are close to the front door. Under-stair storage would also be great for organizing seasonal essentials, like hats and scarves or umbrellas.
There were a few concerns in the comment section about pests creeping into a space like this, and even though the creator wrote that he hadn't run into any problems, it may be a good idea to store certain items in storage bins with lids. Mice and insects can typically chew through paper and cardboard, so plastic bins like those below would be your best bet for keeping your items secure.