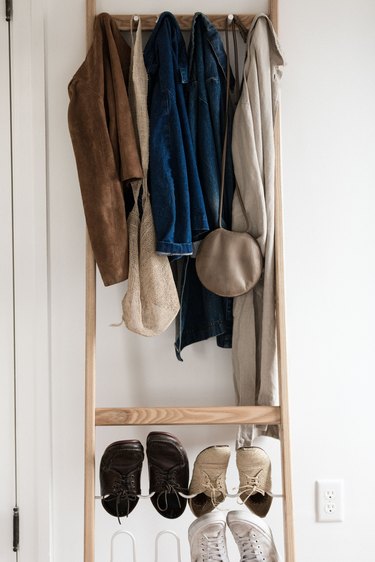 In every type of home, especially those with families, you know the drill. Come in the door. Kick off your shoes. Go about the rest of your day. You also know that those piles of forgotten shoes tend to pile up in a hurry, creating messy, disorganized chaos in your entryway.
If you're making entryway storage and organization ideas a bigger priority in your home, we highly recommend starting with the shoes. Shoe storage is not only a surefire way to keep your foyer neat and tidy, but it's good for the rest of your home, too — you won't drag in mud, snow, or Lord knows what else if you have a dedicated spot for your shoes instead of wearing them throughout the house.
And the good news — you don't have to have a giant entryway or a huge budget to accomplish convenient entryway shoe storage. Here are eight ways you can corral the clutter that is your stylish shoe collection.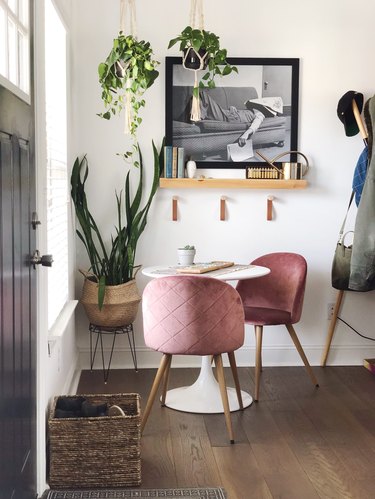 You can't go wrong with a classic, and in the case of entryway shoe storage, it's a tried-and-true shoe rack. You can leave it out in the open if you use an eye-pleasing option, like this version from Urban Outfitters, or you can always put it in an entryway closet if you have the room.
3. Tuck shoes under a bench.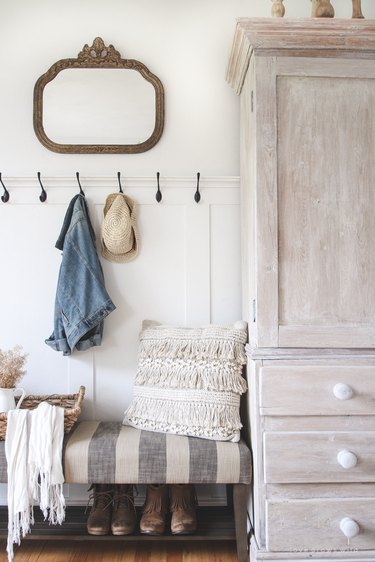 A bench is an entryway must-have in our opinion (it offers a perfect place to sit as you put on your shoes and get organized before you head out the door), but it also doubles as entryway shoe storage. Just place your shoes on the rack below the seat, which is what Liz of Love Grows Wild did in her home's entrance.
With drawers that pull down, a shoe cabinet like this one from IKEA seen in designer Shavonda Gardner's home and showcased on Cup of Jo, hits the nail right on the head. You can even pretty it up with your own drawer pulls to give it personalized flair. And we like that it's narrow and stays neatly out of the way.
5. Try a simple shoe mat.
Perhaps you'd like to stick to minimal elements in your entryway. Here, we suggest a straightforward shoe mat for the floor, preferably in an attractive wood finish like this one seen in a foyer styled by Colleen of Lemon Thistle.
6. Implement a fabric bin.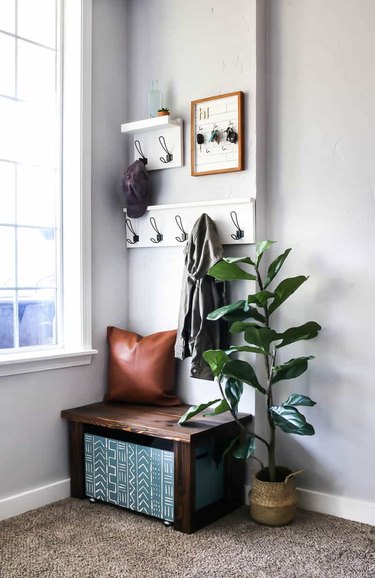 If you're ​really​ short on space, a fabric bin positioned underneath a small bench will do the trick when it comes to entryway shoe storage. That's what Chelsea and Logan of Making Manzanita did in their home, making it even more stylish in a mud cloth-inspired pattern.
7. Make your own built-in.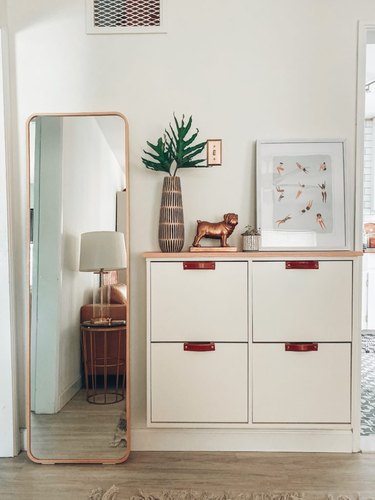 Using an IKEA piece or turning to a contractor, you can create built-in entryway shoe storage with drawers. It's an effective way to completely hide your shoes, as seen in this abode belonging to Madison of The Blushing Bungalow.
8. Utilize a space-saving bookcase.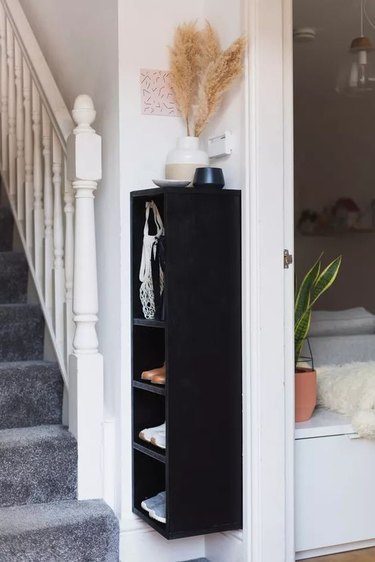 You can have entryway shoe storage with even just a teeny, tiny strip of wall to work with. This DIY tutorial by Hunker contributor Francesca Stone will show you how to build a wall-mounted unit for your shoes that will allow you to fully realize all of those entryway storage and organization dreams you have.