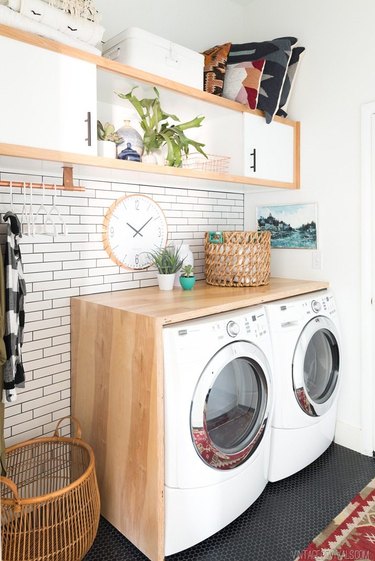 Thinking of giving your small laundry room a makeover on a budget to increase functionality? We've got you covered. Even when your finances and floor space are a little bit tight, there are many simple ways to make a difference. (And if you haven't already, don't forget to check out our laundry room hacks.) From painting to getting clever with storage solutions, we've rounded up our favorite small laundry room design ideas that will make you want to do the washing.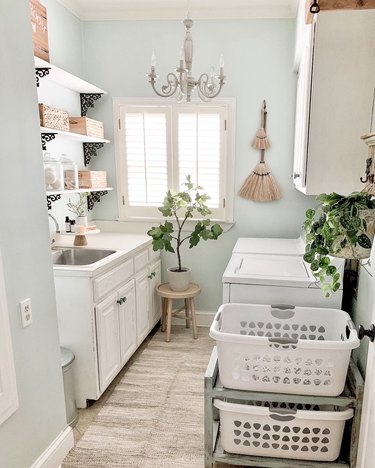 A lick of paint can go a long way in a laundry room. Just because it's not an entertaining space, doesn't mean it should be boring. Carissa of Bless This Nest spent around $250 updating her laundry room by adding a fresh mint color to the walls, creating a functional storage space with white cabinets, and making her laundry supplies look cute with thrifted accessories and baskets.
2. Make your own countertop.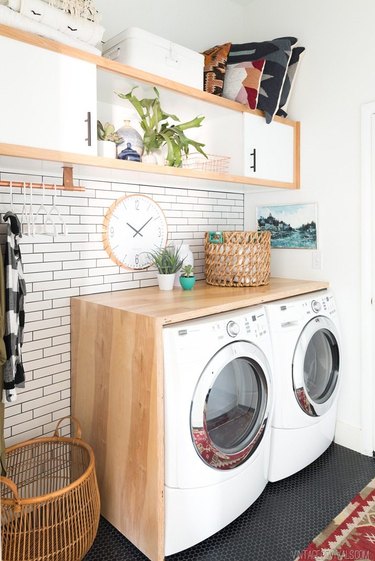 Dreading the thought of spending your dollars on a countertop? Maybe you want to save up for subway tile or wall cabinets instead? If so, follow this DIY from Vintage Revivals. Mandi created a butcher block style counter for her front loading washing machine and dryer, using sheets of plywood for a stacked effect. The whole job was pulled off for a very budget-friendly $90. And we dig the laundry baskets for a storage idea, too.
3. Do something different with your flooring.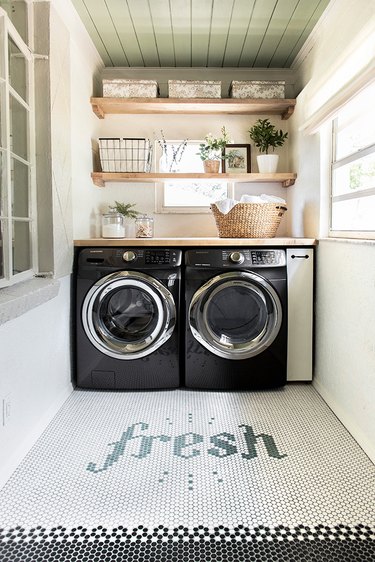 Working with a small laundry area means you're limited on places to add aesthetic focal points. You'll need to think outside the box to save space and make something special. For example, Jenna Sue Design got creative by incorporating custom penny tile floors. What would you write on yours?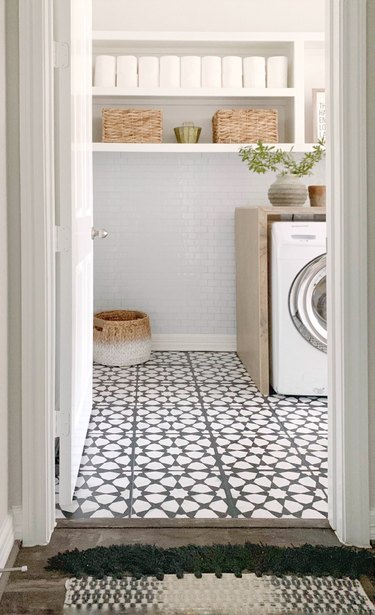 Adding peel-and-stick wall tiles is a super-easy way to give your small space a makeover on a budget, and you'll barely be able to tell the difference between them and the real deal. Plus, there's no need to hire help. Fariha of Pennies for a Fortune used a white subway tile in her budget laundry room — avoiding the cabinetry — to complement the floor tiles she stenciled herself.
5. DIY some open shelving.
Storage is essential in any laundry room design, but you needn't break the bank to achieve it. DIY your own open shelving for easy access to all your essentials and an opportunity for fun styling. Erin of How to Nest for Less spent $80 for all the shiplap wood and shelving seen here. If you go this route, you can even skip bulky laundry bags in favor of chic baskets.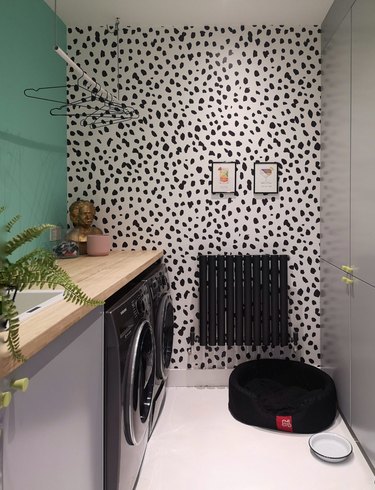 We're always looking for ways to make laundry day easier, and it seems like the folks at Tierney Terrace Location House are on the same page. Luke and Nikki installed a clothing rail above their washer to make the most of the space ​and​ help store delicate items that have to hang dry. Extra points for the wallpaper, too!
7. Make use of vertical space.
When you're stuck for square footage, make the most of the wall space. That means it's time to think vertically! Robert and Lauren of Bless'er House did exactly that with their budget laundry room makeover. A pegboard hangs essential laundry tools, wire baskets for dryer sheets, and a broom as well as hooks for a clothes rack and ironing board.