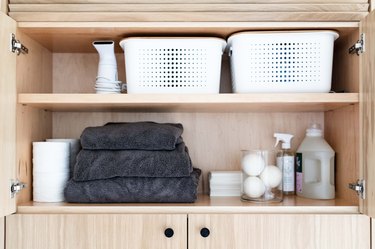 Hunker may earn compensation through affiliate links in this story. Learn more about our affiliate and product review process
here
.
We all have those obvious rooms in our homes that definitely need organizing. The kids' playroom. The living room teeming with books and remote controls. The bedroom with linens that need to be stashed away.
But then there's the laundry room. Although there aren't quite as many moving pieces to deal with in such a utilitarian space, some laundry room storage and organization may make your life easier. Imagine the dryer balls neatly stored in a pretty glass jar. The detergent tucked into a cabinet instead of out in the open. Or hangers that reside on a thoughtfully placed rod.
This and so much more is possible with the help of some carefully considered laundry room ideas, chock-full of storage solutions for your unique space.
Laundry Room Storage: Design and Layout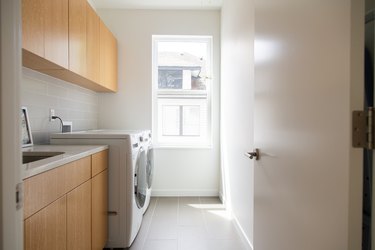 If you're starting from scratch, you have the advantage of carrying out whichever laundry room ideas you choose. First, it's best to think about your needs and the space you're working with. For example, if you prefer your laundry to be neatly stashed away, you'll want to install a bank of handy cabinets. Do you need a countertop to separate your clothes? Is it convenient to have a hamper resting alongside your washer and dryer?
As for laying out the room, consider purchasing a stacking washer and dryer to free up more space for storage and organization. And instead of bins and hampers on the floor, perhaps your layout would work even better if you went with vertical solutions, like shelving, hanging rods, and pegboards.
Small Laundry Room Storage Solutions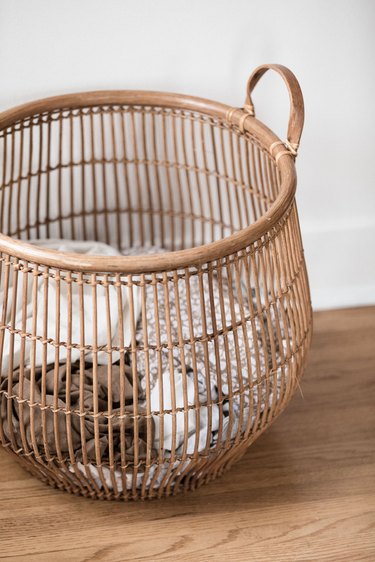 Maybe your laundry room is the smallest space in your house. Or, it's tucked into a nook, placed in a garage, or squeezed into your basement. Either way, if you're short on space, you too can have the laundry room storage and organization you've been daydreaming about. It'll just take some creativity.
For instance — no room for a laundry basket? Buy a collapsible one instead. A drop-down drying rack that you hang on the wall won't take up any space at all. A countertop provides your items with an additional place to land. Or, you can even custom build a small cabinet that sits in the narrow crevice between your dryer and the wall. Think outside the box, and you'll achieve the laundry room organization you're craving.
Helpful Products for Laundry Room Storage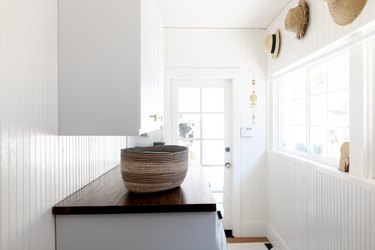 The right products can take your laundry room from disorganized chaos to an orderly wonderland. We've recommended several laundry room storage products over the years, but we're especially partial to the following ideas:
Laundry sorting bags that hang on the wall
Pegboards
Elevated laundry hampers
Hanging racks
Wall hooks for an ironing board
Storage furniture
Labeled laundry baskets
Dowel systems
And baskets galore
It's time to get organizing!
Where to Shop for Laundry Room Storage and Organization Products