Being able to wash clothes at home is one of the most valued creature comforts, ranking right up there with being able to cook, bath, and enjoy home heating and air conditioning. And you shouldn't be denied that just because you live in a small place. The good news is that there's a setup that should work, no matter how small your space or what type of plumbing and electrical hookups you can swing. The bad news is that compact appliances cost more and do less (and take longer doing it) that full-size units. Then again, when compared to going to the laundromat, that bad news actually looks pretty good.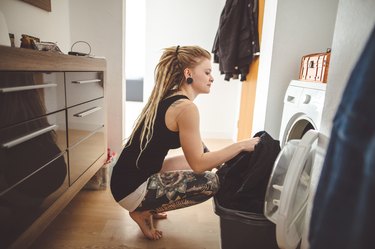 Electrical and Plumbing Requirements
To appreciate the differences between compact washer and dryers and their full-size counterparts (as well as differences among compact units), start by considering the power and plumbing needs of laundry appliances. Standard, full-size washers usually have their own hot and cold water supply pipes plus a dedicated drain pipe for the wash water, and they plug into regular 120-volt electrical outlets. Standard dryers are either gas or electric and always are vented to the outdoors via vent ducting. Electric dryers need a 240-volt outlet for power, while gas dryers need a gas supply and a 120-volt outlet.
If you live in a small home that wasn't designed with laundry in mind, you may have no 240-volt outlet, no dedicated water or drain hookups, no gas supply (at least not where you need it), and/or no easy way to vent to the outdoors. No problem. There are some compact laundry units that need only 120-volt power and require no venting, and all compact units can tap into existing water supply and drain lines for the plumbing hookups. And if you can arrange for 240-volt power and/or outside venting, you can opt for a dryer that will dry much faster than the no-vent models.
Compact Laundry Unit Types and Sizes
Compact washers and dryers come in three main types and a range of smaller-than-normal sizes. Most compact washers offer load capacities of around 3 cubic feet, which can handle about 8 to 12 pounds of laundry per load. By comparison, standard 5-cubic-foot washers can handle about 18 pounds of laundry, while large units can wash up to 28 pounds of clothes per wash.
Standard compact machines come in separate washer and dryer units and typically are about 24 inches wide and 24 inches deep, allowing them to fit under a kitchen counter, much like a full-size dishwasher. Many models are stackable so you can install them in a tall, narrow closet, with the dryer set on top of the washer.
Combo machines are two-in-one units that wash and dry in the same machine. These are also designed to fit under a kitchen counter. Most combo units are ventless, or condensing, types, meaning they don't require external venting. They dry by circulating hot air through the clothes and capturing the moisture in a reservoir or sending it out through the unit's drain hose. Some combo machines are portable and are simply rolled to a position near the sink for wash day.
Laundry centers are the familiar tall two-in-one units designed to fit into a closet or other tall, narrow space. They tend to be a bit bigger than combo or standard compact units, at about 27 inches wide, 30 or more inches deep, and over 70 inches tall. Laundry centers used to be America's answer to small-space space limitations, but all that has changed with the greater availability of Euro-style compact machines. Many laundry centers require 240-volt power and outdoor venting.
Finding Space for Laundry Machines
The two best places to shoe-horn a washer and dryer or combo unit is under a counter or in a closet—in other words, places where they either look at home or where you can't see them at all. Under-counter spaces can be in the kitchen, of course, but they can also be in a bathroom or even in ordinary living spaces, where you can hide them behind cabinet doors. A breakfast bar, island or peninsula separating a kitchen from a living area can house machines that open into either space (on the living side, just hide them behind doors).
You can get even more creative with closets since closets can go just about anywhere and can double as household storage spaces. If it's difficult to run water and drain piping to a new or existing closet, you can keep the laundry units close to the kitchen or bathroom by building a new "closet" that looks like a tall cabinet.
Also, don't forget under-stair spaces or existing storage spaces that can be modified to hold a laundry machine or two. And if a permanent installation isn't an option, there are always portable combo machines, which can serve as counter space to hold other items when the machine isn't in doing laundry.