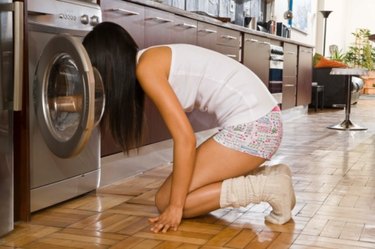 Like most appliances, clothes dryers come in a range of sizes and with a variety of internal dimensions. The external dimensions determine the space that the appliance occupies in your home, while the internal dimensions of the dryer determine how many clothes can fit into the dryer at one time. Dryers with smaller dimensions generally dry smaller loads of clothes, while dryers with larger dimensions dry more clothes at once.
Standard Dryer
Though sizes vary slightly from manufacturer to manufacturer, the standard size of a stand-alone clothes dryer is approximately 27 inches in width and between 36 and 42 inches in height. Many laundry rooms and built-in washer and dryer spaces in homes are built taking these dimensions into account, so when it comes to buying a dryer, many homeowners may be limited to these maximum dryer sizes.
Compact Dryers
When living in a location, such as an apartment, that offers limited space or has no designated space for a dryer, a standard dryer may even be too large. In such instances, a compact dryer may be ideal. Compact dryers have maximum dimensions of less than 24 inches in width and less than 33 inches in height, allowing them to be maneuvered into tighter locations.
Larger Dryers
If the most important factor in the dimension of your dryer is drying capacity, the bigger the dryer the better. Some large-capacity dryers offer up to 7 cubic feet of interior drying space, while standard dryers average approximately 4 cubic feet. Since increasing the capacity of the dryer also increases the exterior dimensions of the dryer by several inches, you may need up to 4 feet of wall space for the dryer.
Single-Unit Washers and Dryers
If you have more vertical space than horizontal space for your laundry equipment, a connected washer and dryer unit may be your best bet. These units are stacked on top of each other and have the same width dimensions as a standard dryer, with heights of 75 inches or more. Interior dimensions of the dryers offered in single-unit systems are usually standard-sized or compact, depending on the size of the unit.