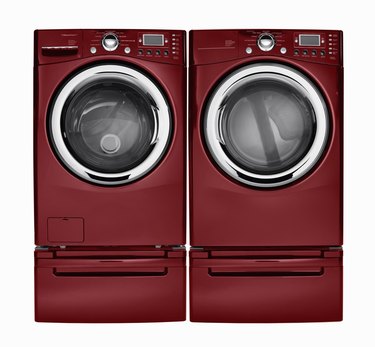 The Kenmore Elite HE3 comes in two varieties, a washer and a dryer unit, which are purchased separately. The Elite HE3 line of washers and dryers comes Energy Star compliant, meaning they use at least 20 percent less energy than minimum U.S. Department of Energy standards. This line features front loading design and has been discontinued by the manufacturer, although new and refurbished models are still common, as of July 2010.
Washer
The Elite HE3 washer can handle up to 23 bath towels in a single load. It features a variety of cycles, among which are soak, heavy duty, delicate and permanent press. Prewash is also available, before running a cycle. The Kenmore Elite HE3 washer also features four water temperature settings and water levels can be adjusted. This model includes a washbasket, below the unit, for dirty clothes, in addition to patented Quiet Pak 2 sound insulation.
Dryer
The Elite HE3 dryer includes standard cycles, in addition to special settings. A sensor setting can shut off the machine, when it determines the clothes are dry. A heated drying rack, located on the bottom of the unit, dries shoes and hats much faster than comparable units. Patented EvenHeat technology prevents delicates from being burned and wrinkles from forming. The Kenmore Elite HE3 dryer unit comes with enhanced sound insulation, to reduce noise.
Considerations
Both units feature a one-year parts and labor warranty. All models feature sophisticated electronic controls, and the Kenmore Elite HE3 washer and dryer are stackable. As of July 2010, Sears offers the Kenmore Elite HE3t steam washer for a discounted price of $844.88. The gas HE3 unit is available at Sears Outlet for between $540 and $649.93, with the electric unit costing less at $500.
Types
The Kenmore Elite HE3 washer and dryer come in two different colors--a flat white and black. They may be purchased as either a regular or a unit with a steam feature, with the steam unit costing more. While the HE3 washer can only be run on electricity, the dryer unit may be purchased as either an electric or a natural gas model.
Size
The Kenmore Elite HE3 washer measures 38 inches high, with a depth of 31.5 inches. The height from the bottom of the Kenmore Elite HE3 dryer to the top of the control panels measures 38 inches. The width of the Elite HE3 dryer comes in at 27 inches with a depth of 31.5 inches. The washer model weighs in at 245 pounds, with the dryer unit coming in at 142 pounds for electrical and 147 pounds for gas.