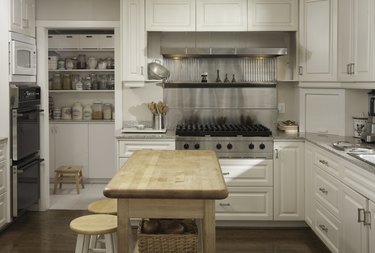 A stove, commonly marketed as a range, includes a cooktop and oven and is sized to fit the average kitchen's counter height and depth. Standard stove sizes rarely vary more than an inch or two, although less-standard sizes are available to fit households outside of the norm, whether smaller or larger.
When you measure for a new stove, whether you're measuring electric or gas stove dimensions, take into account the surrounding clearance required by the appliance's manufacturer. Typically, the cutout or opening needs to be 2 inches wider and 1 or 2 inches deeper than the stove.
Standard Stove Sizes
Manufacturers size stoves to coordinate with the standard kitchen counter height of 36 inches, placing the cooktop portion at this height in relation to the floor. But the overall height is dictated by stove type and varies depending on the style and manufacturer.
A freestanding stove with the knobs and controls positioned on the back panel is typically around 47 inches tall, while slide-in stoves, which fit in between cabinets and feature controls along the face of the unit, range between 36 and 39 inches tall. Some freestanding stoves have controls on the front edge, reducing their standard height; likewise, slide-in stoves may have the controls along the back, increasing their height.
Drop-in stoves, which use existing cabinets as bases, are a few inches shorter than average, ranging between 27 and 29 inches; with the cabinet, this raises the cooktop height to about 36 inches once installed.
Standard Widths and Depths
The standard stove is 30 inches wide, a size that easily accommodates four burners, although smooth-top stoves may have a fifth burner or a tri-ring element. At this standard width, some gas ranges take full advantage of the available cooking surface, with four burners positioned at the corners of the unit and one long, narrow burner in the center to accommodate a griddle or similar pan.
The standard depth is between 24 and a little over 28 inches from the back of the unit to the front. This doesn't include the oven handle, which extends the total width by one to two inches.
Specialty Sizes
Smaller stoves are available for compact kitchens, whether you live in an apartment or require an appliance that works for a small guest apartment. Bellingham Electric Appliances notes that these stoves range between 20 and 24 inches wide with a depth of 26 inches, although depth varies by manufacturer. They typically come with a standard set of four burners, three small and one large, but they may have as few as two.
Commercial-style stoves sit on the opposite end of the spectrum with six or more burners, starting at 36 inches wide and going up to 48 inches. These sizes are most common in luxury ranges, dual-fuel stoves with an electric oven and gas cooktop, and units featuring side-by-side ovens.
Common Oven Dimensions
Oven size depends on the width and depth of the appliance as well as the presence of a warming or storage drawer. But you can't gauge the interior measurements of the oven by the overall size of the unit; two same-size stoves may have different-size oven dimensions. The oven in a standard stove is about 5 cubic feet, although smaller units or standard-size appliances with large storage or warming drawers may have as little as 2 cubic feet.
Commercial-style stoves tend to have bigger ovens, up to 6.1 cubic feet, and may feature one large oven with a smaller 2- or 3-cubic-foot oven. Single adults and couples who shy away from dinner parties may find a small 3-cubic-foot-oven suitable, while households with more than three people should look for ovens with at least 4 cubic feet of space.