Even before we were all shopping exclusively from home, online shopping was trickier for certain products over others. A throw pillow or vase is much easier to pick out online, plus, if you're not 100% in love, neither item is hard to return. Rugs, on the other hand? Most of us would rather sell to a friend or neighbor than trying to squeeze back into a box and return.
That's why it's extra important to know exactly how to shop for a rug online. Design and appearance is obviously the number one factor — customer photos are the real MVP here — but then comes a whole slew of details to keep in mind.
To help organize and improve our searches, we spoke to Molly Parker, Vice President of Category Experience at Overstock, who shared a few tips on what to look for, as well as some tricks of the trade while shopping online for rugs — here are her top tips.
1. Shop with the space in mind, first.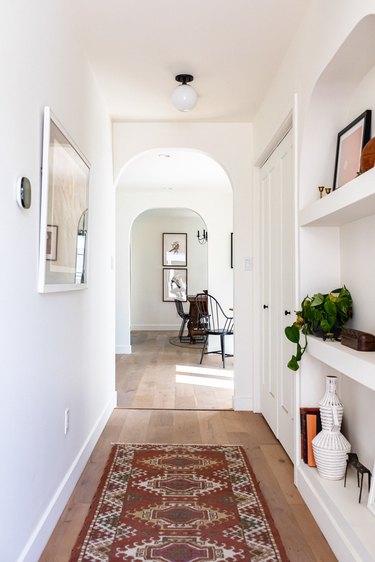 The first thing you need to consider when buying a rug online is selecting the right material or fabric for the amount of foot traffic you expect to have in that space. For example, if you know you need a rug for a high-traffic area of your home, you'll "want a texture with high durability such as wool or sisal," explains Parker. "If you're buying for a kids room, you can pick something that's machine-washable, like cotton or polyester, for easy cleanup." No matter what type of design you're after, knowing what type of material is best is key. (Overstock also has a super-easy guide on rug materials that can immediately help narrow down your search.)
2. Then, think about texture.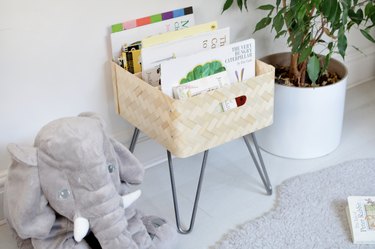 Once you know the different types of materials that will work in your space, narrow it down by texture. Will you be playing on the floor with kids or walking barefoot most often? Look for keywords like cotton, seagrass, and viscose, which will be softer. If you are layering, and therefore care less about how it feels, or will most often be wearing shoes on the rug, choose materials like jute, sisal, and nylon will be more firm and sturdy — but slightly less comfortable.
3. Speaking of layering ...
If you're looking to layer rugs and need to buy two online, Parker has two important tips to keep in mind. First, always choose opposite textures: "Area rugs made with natural materials, like seagrass, sisal, or jute work well as a base layer since they feature neutral shades with a low pile. The top rug should be colorful or patterned with a high pile so it contrasts well," she explains. Second, those natural rugs made of jute and sisal are generally less expensive, she shares, so you can keep that price super-low, even when shopping for a large area, and then splurge a little on the top layer. Since that top rug will be smaller, it's a more affordable way to get the rug look of your dreams.
4. Shop around using keywords.
Without naming names, there are a several brands that sell similar (if not the exact same) rugs at different prices, so it's always a good idea to do a quick search on the rug you love to see if you can find it for a lower price. We suggest starting with the exact style name of the rug — for example, nuLOOM Vintage Medieval Floral Area Rug — and price-checking across the web to find the lowest price. Then, search for similar keywords that you love, in this case "Vintage Floral Area Rug," and you can expand your search to include a variety of retailers and prices that fit your budget and needs. If you love the style of a certain rug, but can't justify the price tag since it'll be used in a sure-to-be messy area like a playroom, you'll be able to find the style rug you love for a price you love even more.