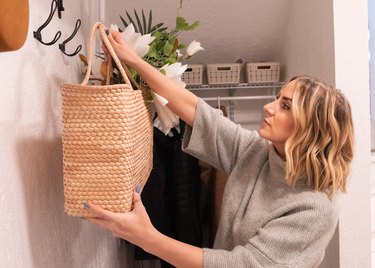 Does the term "mudroom" make you think of a dirt-covered space only suitable for kicking off rain-soaked boots and wiping messy dog paws? Okay, fine, it is very much a place for those things—but it's also a storage sanctuary for all of your coats, bags, and daily essentials. In other words, the mudroom is overdue for a rebrand.
And that's exactly what we gave it inside the home of expert DIY-er Alexi Politis Parry. Together with The Home Depot, we transformed Parry's entryway inside her Seattle fixer-upper into the functional space it deserved to be, all through smart storage, fresh paint, and clever DIY design touches. Just think of your mudroom as the eye-pleasing appetizer to the rest of your home—and scroll down to get the look.
Watch the video below to see the full mudroom transformation, and shop all of The Home Depot essentials below.