Moving or figuring out how to decorate your space can be stressful enough. The last thing you want to do is trying to figure out the dimensions of your closet. Whether you're moving into a new home or looking to maximize your space, it's important to know that they're different closet styles.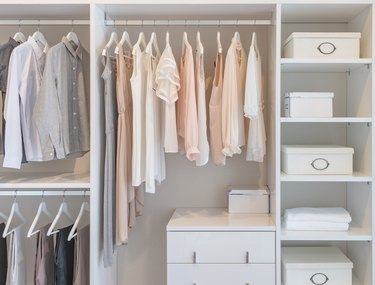 Reach-In Closets
A reach-in closet is usually just deep enough to allow clothes to hang perpendicular to the back wall, and it needs to be shallow enough so that you can reach to the back of the closet without stepping inside. The standard minimum depth for a reach-in closet is 24 inches, but a closet intended to store coats or other bulky hanging items may need to be as deep as 28 inches. A closet less than 22 inches deep isn't deep enough to allow hanging clothes.
Another critical dimension in a reach-in closet is the length of the closet's side return walls. The return walls are the short sections of a wall extending from the closet's side walls to the door opening. If the return walls are too long, they create deep spaces at the ends of the closet that are difficult to reach into. In general, return walls should be 12 inches or less.
Walk-In Closets
Walk-in closets should be at least 4 feet wide by 4 feet deep, and the closet's storage accommodations should be designed so that there is at least a 24-inch clear passageway between shelves or hanging clothes inside the closet.
Given that hanging clothes take up 2 feet of depth, a 4-foot-wide closet can only accommodate hanging storage along its back wall and one side wall. A closet width of 6 feet allows storage on both side walls as well as the back wall, while still allowing 24 inches of clear space in the center of the closet.
Seating and Walkways
Large walk-in closets with widths greater than 10 feet can accommodate seating inside the closet or a storage island or peninsula. These structures should always have at least 24 inches of clear walkway space on all sides.
Hanging Heights
Hanging rods are positioned in the closet to maximize the use of space given the types of clothes that are hung on them.
A short-hang rod is suitable for hanging shirts or blouses, and it is typically positioned 42 inches above the closet floor. In a double-hang configuration, one rod is positioned at the height of 42 inches, and another rod is positioned above it at 84 inches above the floor; this configuration provides two short-hang spaces, one above the other.
A mid-hang rod is positioned to allow pants to be hung without folding them over a hanger; it is typically placed 50 inches above the floor. A long-hang rod allows enough vertical space for longer items, such as dresses and coats; it is usually placed 68 inches above the floor.
Shelves
The upper shelf in a closet is set at 84 inches above the floor, the same height as the upper rod in a double-hang configuration, and the shelf should be at least 16 inches deep to allow for storage of large items.
Shelves intended to hold exceptionally bulky items, such as pillows or blankets, should be 24 inches deep.