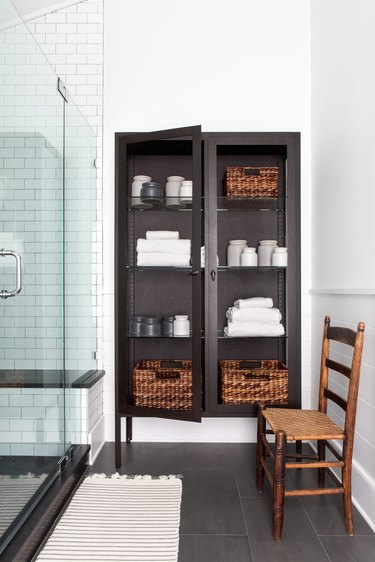 Benjamin Franklin once allegedly said, "For every minute spent in organizing, an hour is earned." And we believe the sentiment is completely true, especially when it comes to bathroom closet organization. Once you've got it all sorted, you can soak up the rest of your earned hour in a relaxing bath.
The good news is keeping those tiny areas organized isn't all that difficult. It just takes some baskets, labels, and the will to refold a towel if things start to look messy. Plus, you have to assign a home for every little item — yes, even cotton balls — and stick to it.
Scroll on for six bathroom closet ideas that will inspire you to cut the clutter.
1. Have extra room? Install appliances.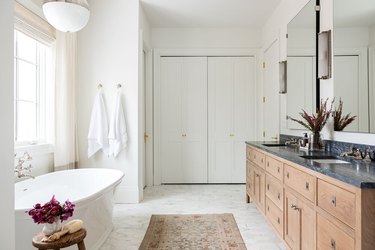 While designing their new master bathroom, Shea and Syd McGee of Studio McGee had a few extra feet of storage. (How often does that happen?) So they built a closet to hide a stackable washer and dryer and a steam room. Elsewhere in the bathroom, there's storage galore — from a bank of drawers that conceal the not so pretty items to open shelves that showcase the couple's own brand of beautiful fluffy towels. Watch a tour of the space here.
2. Turn a cubby into a closet.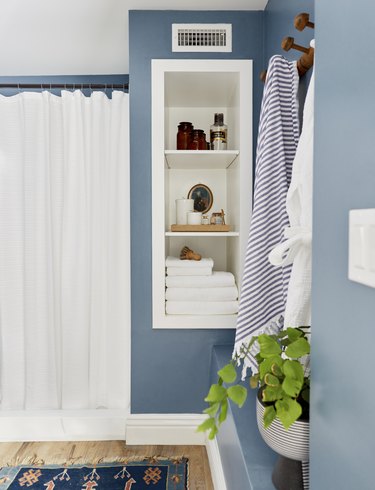 In this bathroom, Emily Henderson took advantage of every square inch to make for an ultra-organized zen space. A built-in cubby with three shelves holds all the bathroom essentials, like skincare products and plush towels, while smaller items are kept organized with glass containers and trays.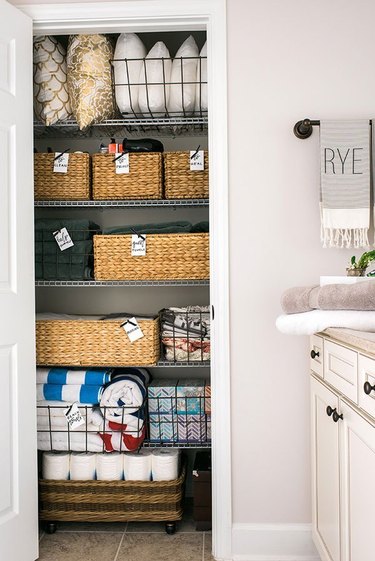 Baskets, baskets, and more baskets! This bathroom closet is organized with a multitude of bins, and they hold spare pillows up top, extra rolls of toilet paper near the floor, and everything else you reach for daily on the shelves in between.
4. Go for something see-through.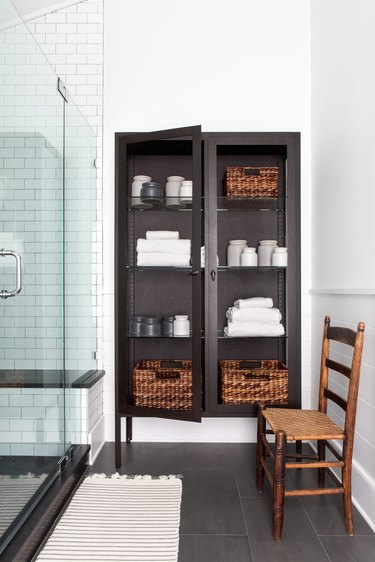 When your closet doors are made of glass, there's extra motivation to keep the contents in tip-top, organized shape. Chango & Co. arranged the goods in this bathroom unit by color and weight, sticking with neutral tones via the white towels, wooden baskets, and gray storage vessels (because all those makeup brushes need a home, too).
5. When in doubt, close the doors.
Open this bathroom closet and you could find an explosion of toothpaste and hand soap, but we doubt it. Since the exterior is so sleek, we expect the interior to be equally clean and organized. Amber Interiors designed this space, which features beautifully modern paneled wood, a vintage rug, and black marble countertops, making for a classy space where not a thing looks out of place.
6. Break out the label maker.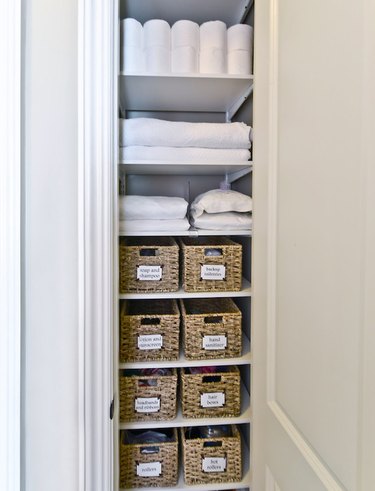 If you're going the basket route, labels — like the ones in this bathroom closet from Organized Living — are a must. Using them will help you easily identify what's in identical baskets. You'll get a sleek, uniform look. We also recommend choosing breathable storage bins that you can buy in bulk. And make sure they're easy to clean.