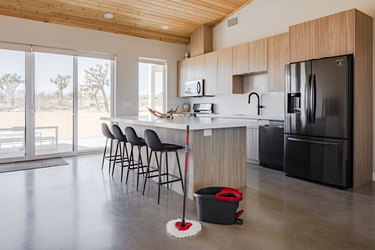 Squeaky is all about the borderline genius hacks and ideas that keep literally every inch of your space pristine.
If you want to get your floors ​super​ clean, remove dirt, grime, and debris, and leave your home smelling like freshly cleaned laundry, then you will love this homemade floor cleaning recipe. The trick is to use a spin mop and a few cleaning products found on Amazon to make this DIY cleaning solution. This can be used throughout the whole house on many types of floor surfaces such as laminate floors, linoleum, and tile floors. Trust us, this homemade DIY floor cleaner recipe is going to become a new fave.
Step 1
Add two gallons of hot/warm water to your spin mop bucket.
Step 2
Add the dish tablet, the Tide powder laundry detergent, and Mr. Clean floor cleaner to the water, and then mix well with the mop until fully combined.
Step 3
Dip your mop in the cleaning solution.
Step 4
Wring out mop using the spin feature: step on the foot pedal six to seven times to wring out your spin mop until it is damp and not dripping water.
Step 5
Mop the floors, cleaning your mop as you go.
When you notice the mop head getting dirty, rinse the mop in the cleaning solution and repeat Step 4. Continue until your floors are fully mopped.
Your floors will be so shiny and clean — and your home will smell like clean laundry!
For more disinfecting and homemade cleaning ideas, including using favorite ingredients such as essential oils, baking soda, white vinegar, dish soap, and castile soap, find our more on our Squeaky page. We love our cleaning tutorials, hacks, and DIYs!