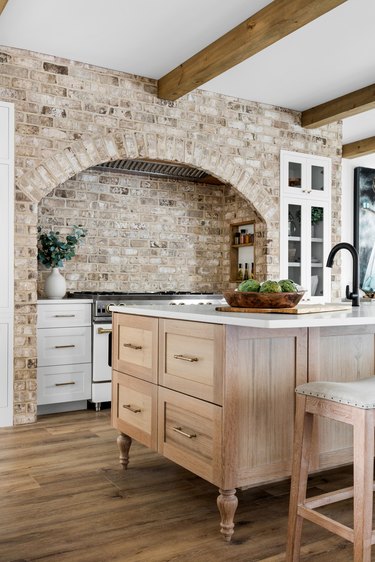 As far as home design goes, flooring is... a commitment. Unlike modular coffee tables and gold kitchen hardware that are simple enough to switch out as trends change, your floors aren't exactly something you're going to replace on a whim.
After all, flooring is an intrinsic visual element, and interior designer Gabrielle Santiago agrees. "Flooring acts as the stabilizing point in a room," she says. "It holds everything together and can make or break the tone in a room."
So, how can you sort through what's trendy and what's timeless to pick the best floor for your abode? With stellar tips from Santiago and innovative-meets-affordable options from Cabinets To Go, you'll be on the right track in no time at all.
Before they commit to the first Pinterest inspo pic they save, Santiago encourages her clients to do a little research on the flooring of their choice. To start, she recommends they ask themselves a few questions.
First, what is the color palette of the room? "Will the flooring match your furniture? Will this flooring match the legs of the furniture?" she asks. These are all important questions to ask yourself to keep yourself from committing to a flooring trend that doesn't actually reflect your style or the feel of your space.
Then, Santiago says to consider the functionality of the space, i.e. how often it's used and for what primary purpose. "Is the flooring water resistant? Will this flooring hold up to children?" she asks. FYI, Cabinets To Go checks all of those boxes with its wide variety of durable, waterproof flooring options in an array of colors and styles.
Keep scrolling for more inspo and product recommendations, plus all the trend-spotting intel from Santiago.
1. Light-colored flooring
The first trend Santiago calls out is light-colored wood flooring, like light oak, pine, or hickory. "Light oak is easy, breezy, and beautiful, and pairs nicely with beiges and splashes of color," she says.
"This style is warm, inviting, and fabulous for pairing colors or neutrals. It's very flexible in terms of style, and would work best in traditional, SoCal style, nautical-themed homes for this flooring," says Santiago.
One major feature — and a trend in itself — this Cape Code Grey option boasts? It's waterproof. Santiago points out this feature is seriously impactful, as it protects against wear and tear.
"The technology they have today is really amazing," Santiago says. "Great for a pool house or a household with kiddos."
3. Unique colors and patterns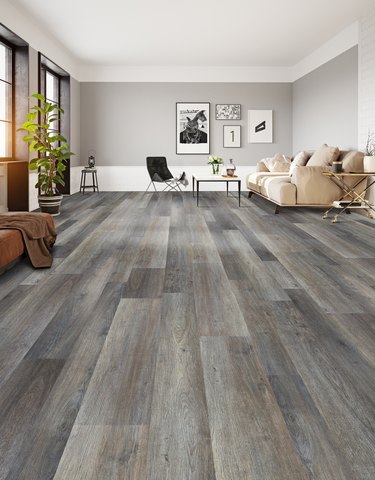 "Wood flooring is standard, but it's what you do with that wood that makes it uniquely yours," Santiago says. One way to get in on the trend of giving your flooring a little extra unique element, is by opting for a shade you don't see every day, like these Weathered Shingle planks.
Santiago notes that gray-toned planks in general are cool and crisp — making them perfect for any modern abode. This luxe option adds a touch of sleekness while being totally durable with its vinyl makeup, making it a smart and budget-friendly option.
4. Farmhouse-inspired styles
If you haven't noticed, modern farmhouse design is all the rage (no thanks to a certain popular TV show). Thankfully, the style is simply a modern spin on an aesthetic that's been around for centuries, so you know it'll stand the test of time.
These Craftsman Manor floors would fit right in amidst your shiplap and barn doors, and lets you showcase the beauty of wood-like flooring, without the added expense (or maintenance). Pro tip: If your home is surrounded by trees or grass, Santiago says, look for gorgeous floors that feel lively and assist in grounding and centered energy. Ready to choose your trend and start remodeling yet?