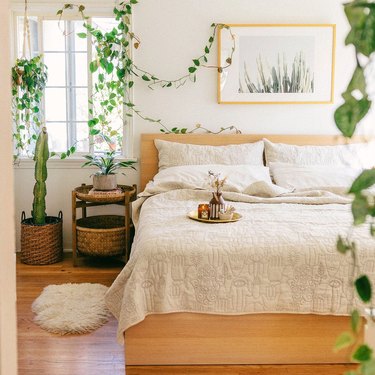 It's undeniable: Tropical-inspired decor is having a moment. Seemingly every high street retailer from Target to Anthropologie to CB2 is endorsing the trend with rattan wares, lush botanical prints, and tropical jewel tones at the forefront of each brand's respective summer line. To find out how to nail the trend without veering into kitschy territory, we tapped the one and only Justina Blakeney of Jungalow for of-the-moment tropical bedroom ideas.
The bohemian decor expert's number one piece of advice? "Take your time and include items that speak to you," the Jungalow founder tells Hunker. "Take what you love about the tropics (i.e., the colors, the plants, the natural materials) and let those elements inspire you and guide you without making it too literal," advises Blakeney. "Although, hey, if making your bedroom feel like a tropical theme park is what lights you up and makes you feel good then do it! You do you."
1. Opt for Natural Materials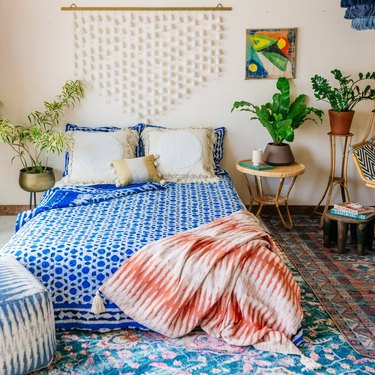 Think rattan, bamboo, and mango wood, offers Blakeney. "Bring the outdoors in by using natural materials like rattan for your bed frame or nightstand. Incorporate some smaller hemp baskets for organization and switch out your old laundry basket for a seagrass hamper."
If you're on a tight budget, vintage rattan is a great option, advises Blakeney. However, "if you're able to splurge a bit more, try modern interpretations of classic pieces. I love a fun rattan pendant or a chandelier made from unexpected materials, like tassels or beads."
2. Incorporate Bright Pops of Color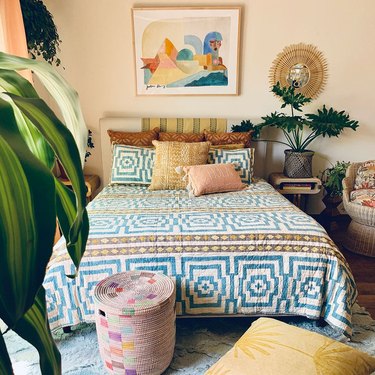 If you're looking for a tropical bedroom idea, don't shy away from color, says Blakeney. "The magic of being in the tropics is all the bright pops of color," she explains. "You can bring in color through textiles, pillows, and of course, plants."
Take style notes from Blakeney and opt for neutral-hued walls, which make the ideal backdrop for a bold, tropics-inspired color palette, as the Jungalow founder demonstrates in the bedroom pictured above.
3. Embrace Tropics-Inspired Prints
Yes, you can fill your space with botanical prints without veering into kitschy territory, reassures Blakeney. "My textile collection that's available at Fabric.com has a lot of options." (Aside: We here at Hunker HQ are partial to this eucalyptus-inspired print from the line.)
Another easy way to add texture and visual interest to a space? A rug. "Don't forget to put something lush underfoot," says Blakeney. "I love a good shaggy rug in the bedroom. Rugs from either my Caspia or Symbology collection would fit perfectly."
4. Hang a Canopy Over Your Bed
"For a little extra jungaliciousness, add a canopy over your bed using a light, breathable fabric like silk or cotton," offers Blakeney. "Not a DIYer? There are lots of options, like this one that you can just pop on a screw hook."
5. Fill Your Space With Plants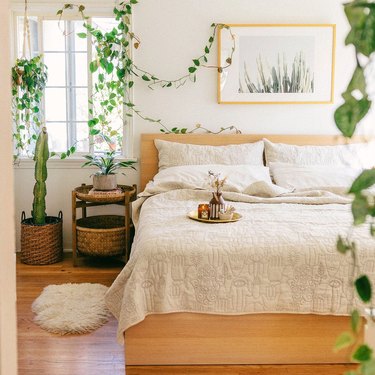 Of course, no tropical bedroom would be complete without some natural greenery. "Tropical plants like bromeliads, anthurium, and monsteras love humidity so maybe even pop in a humidifier so they feel right at home," advises Blakeney. "And don't forget to add the right scent! I love to bring in notes of pikake and plumeria in my bedroom through candles, oil diffusers, or, of course, fresh flowers."