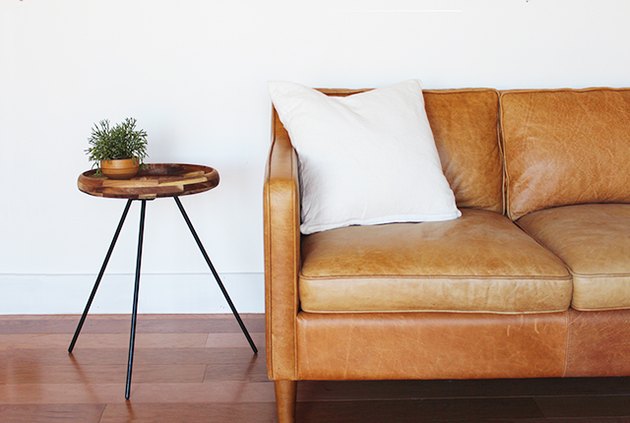 You aren't having a real Sunday Funday without taking a leisurely stroll through the aisles of Target. And thanks to the recent launches of adorable new home lines, like Opalhouse and Project 62, Target is becoming even more of a mecca for home decor enthusiasts than it was before. Plus, at affordable prices, you can get simple staples for your home that you can easily dress up with just a little DIY know-how. Here are 8 stylish Target hacks that will take some already awesome decor to the next level.
1. Makeover a plain mirror.
A simple Target mirror ( $5.99 ) received a whole new look when it was transformed into this high-water floor mirror, made with hot pink-painted handrails. Erin from the blog Francois Et Moi shows us how it's done — with a little help from her handy-dandy router tool.
2. Dress up a bar cart.
This bar cart ( $113.99 ) is undeniably cute on its own, but a little upgrade never hurt anyone. Here, Lauren from the blog House Of Hire adds marble contact paper to the base to brighten it up and give it that extra hint of luxe.
3. Revamp a table lamp with a faux marble finish.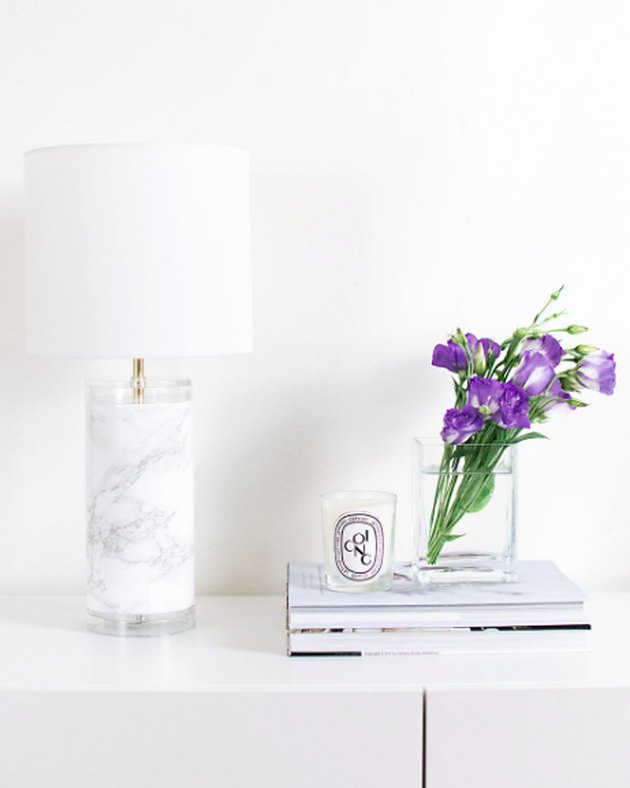 Marble contact paper is a DIYer's toolbox must-have. When wrapped around this acrylic table lamp from Target, it adds a touch of glam to the fixture's otherwise minimalist design. Unfortunately this exact lamp is no longer available, but we found a shorter version ( $37.99 ) that will look just as nice. Amy from the blog Homey Oh My explains how she worked her magic.
4. Create pretty hanging planters.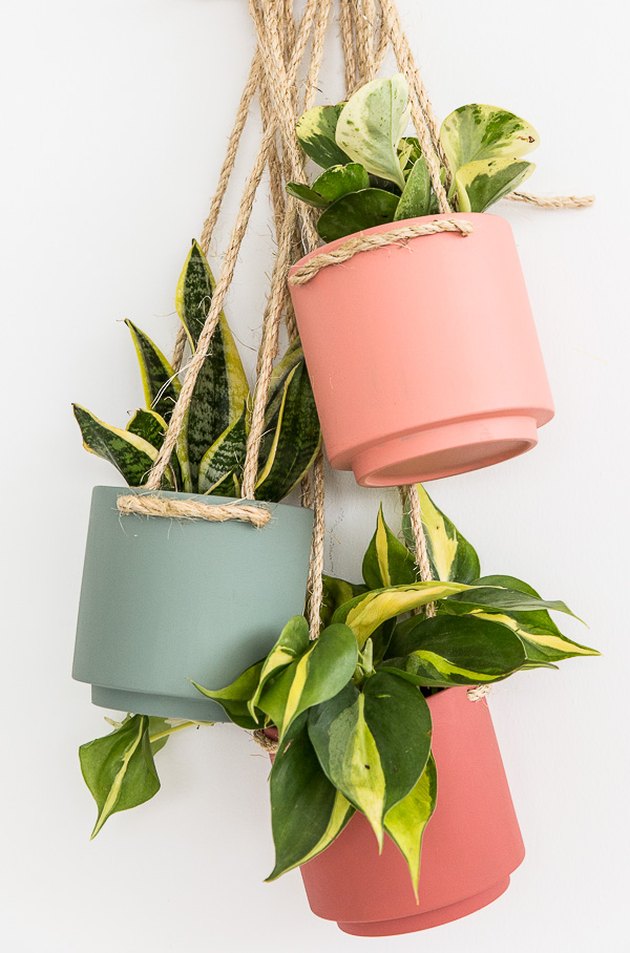 These hanging planters look stylish now, but they didn't look so great when Brittni from the blog Paper & Stitch found them in the dollar area of Target. She upped the wow-factor of these garden beauties by giving them a quick coat of paint and replacing the original string with a sturdier woven rope. See the before and after here. And if you can't find this exact planter try this one instead ( $19.99 ).
5. Transform a table runner into a pillow.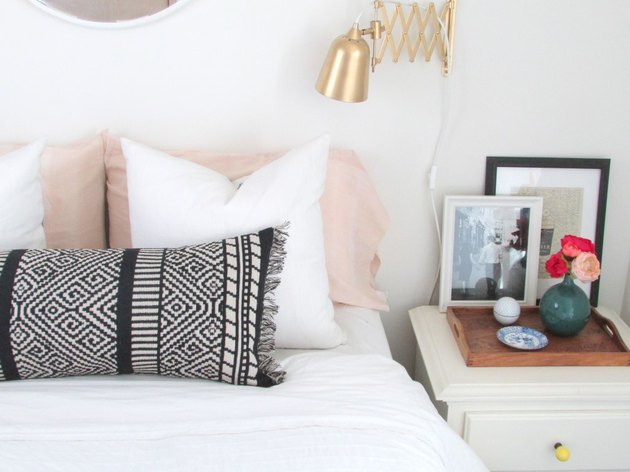 You'd never know that this pillow started out as a table runner by just looking at it. But when all is trimmed, stuffed, and sewn, this black and white Kilim-inspired fabric becomes the perfect lumbar accent pillow for your bed or sofa. While this exact table runner is no longer available, you can use this one ( $17.99 ) which is very similar. Check out how Erin from the blog Francois Et Moi gets the clever job done.
6. Turn a decorative tray into a modern side table.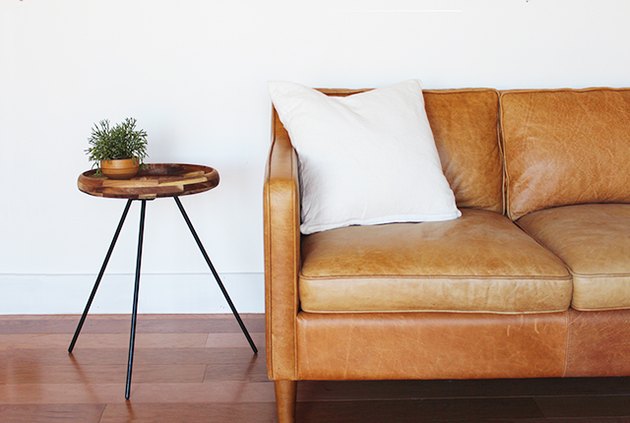 Who knew a gorg decorative tray could become a stylish piece of furniture? Apparently Anna from the blog Annabode + Co. did. She took an acacia wood platter from Target ( $9.98 ) and transformed it into a modern side table with a few hardwood dowels and some spray paint. Follow her step-by-step instructions to make your own.
7. Convert a pendant into a wall sconce.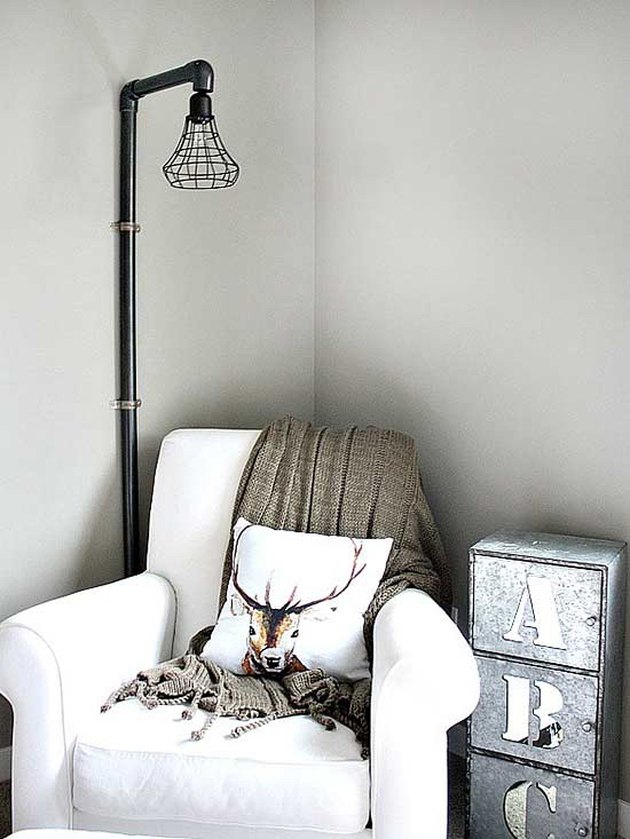 This caged PVC light fixture started out as a pendant from Target ( $22.99 ), but thanks to the DIY savvy of blogger Taryn Whiteaker it has a second life as a wall sconce. She simply thread the pendant cord through a few pieces of spray painted PVC piping, secured them to the wall with galvanized piping straps, and voilá! You can see all the details here.
8. Give a plain dresser an eye-catching makeover.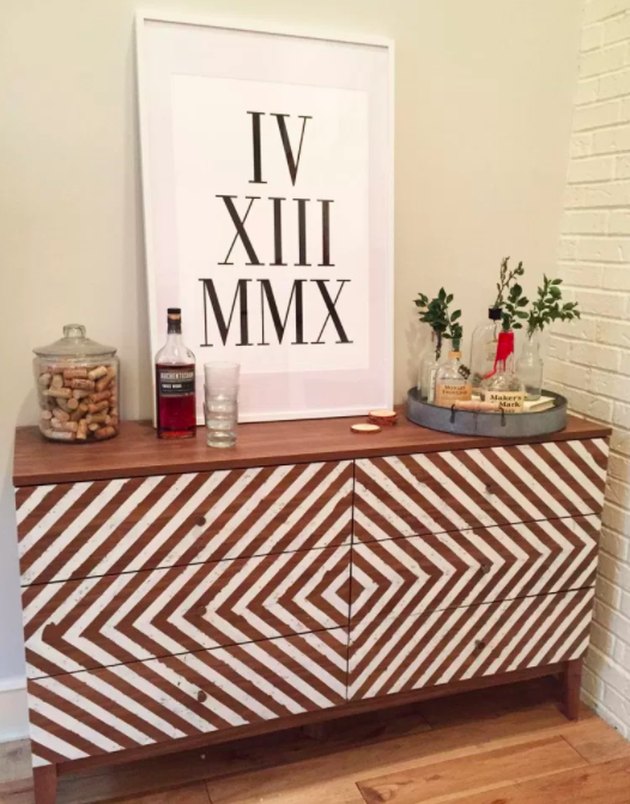 Transform this simple 6-Drawer dresser from Target ( $263.99 ) into a standout piece by painting a geometric design on the front. Kristin from the blog Postbox Designs used painter's tape to mark out diagonal lines on the drawer fronts, and then painted them with a white latex paint before assembling.
---
Maryn Liles, a former NYC magazine editor now living in sweet home Alabama, is obsessed with all things home decor. She believes people's spaces should reflect their personalities — which is why you can find lots of hand-painted furniture, sentimental wall art and playful decor accents around her place.
View Work