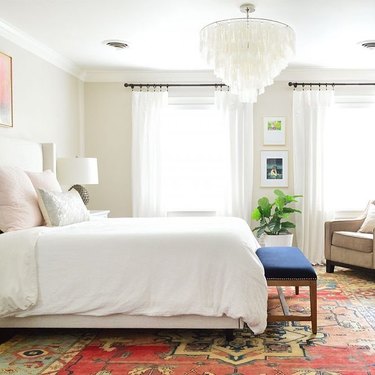 Gray and beige have each had their heyday in the design world. While beige became the go-to color in the '90s and early 2000s, gray took over in the last decade to lend a cooler, trendier vibe. While both colors still hold a strong stake in interior design, the real secret is that they're better together. Gray and beige: The Grace and Frankie, Thelma and Louise, Lorelai and Sookie of the design world.
The perfect place to dip your toe into greige waters? The bedroom. While the gray tones keep it light and airy for daytime, the warmth of beige makes it an ultra-cozy hue perfect for a blissful slumber. Ahead, we're sharing six of the best greige bedroom color ideas to give your sleeping quarters a subtle facelift.
1. Use tone-on-tone furniture with pops of color
This greige bedroom color idea from Erin Gates of Elements of Style demonstrates how to incorporate subtle jewel tones (in this case, purple) with just a few simple touches. Colored throw pillows and a purple throw tossed on a chair offers a nice contrast against the light greige walls. Add a single, decorative lumbar pillow on the bed rather than a variety of throw pillows — the simplicity will pack an extra punch.
2. Add sunny details to contrast a moody greige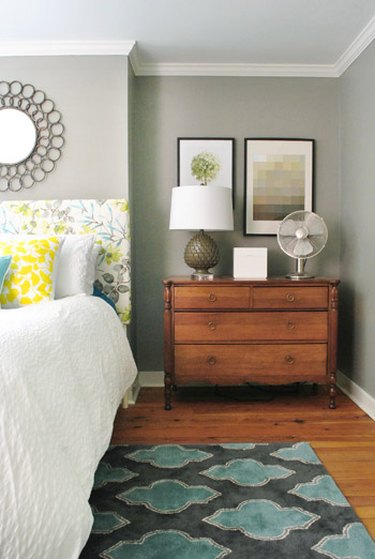 Recreate this greige bedroom color idea from Young House Love with a moodier greige, like Benjamin Moore's Rockport Gray, and juxtapose with sunny yellow, green, and blue accent colors to keep the room feeling approachable and airy. Add a vintage wood dresser to create extra warmth and character.
3. Add board and batten for layered interest
If you're torn between crisp white walls or a warm, subtle paint color, this greige bedroom color idea is the perfect way to have both. Add board and batten, like Kelly Boyd did in this room, to create depth and architectural interest while allowing the greige walls to stand out even more against the wainscoting.
4. Add texture for depth
5. Style with farmhouse touches for a modern, rustic vibe
6. Pair soft greige walls with a bold rug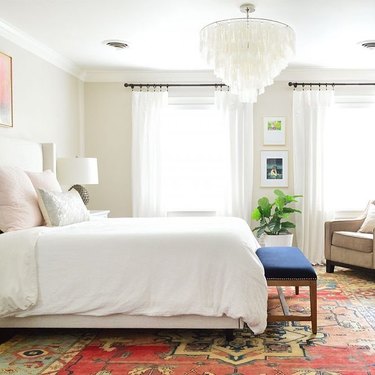 The DIY couple behind Young House Love opted for a bold and oversize rug to anchor their ultra-light greige walls, complemented with blush pink pillow shams and a navy bench at the end of the bed. To recreate this look, opt for a creamy neutral foundation (bed, dresser, accent chair) and a sculptural chandelier. Finally, layer in a colorful, patterned rug for a dose of energy.