The look of a kitchen can be instantly updated by painting cabinet doors and drawers. A coat of paint can be added in a variety of ways, combining paint techniques and finishes. Paint application can be done using a roller, brush or sprayer. Here are five different painting ideas for your kitchen cabinets.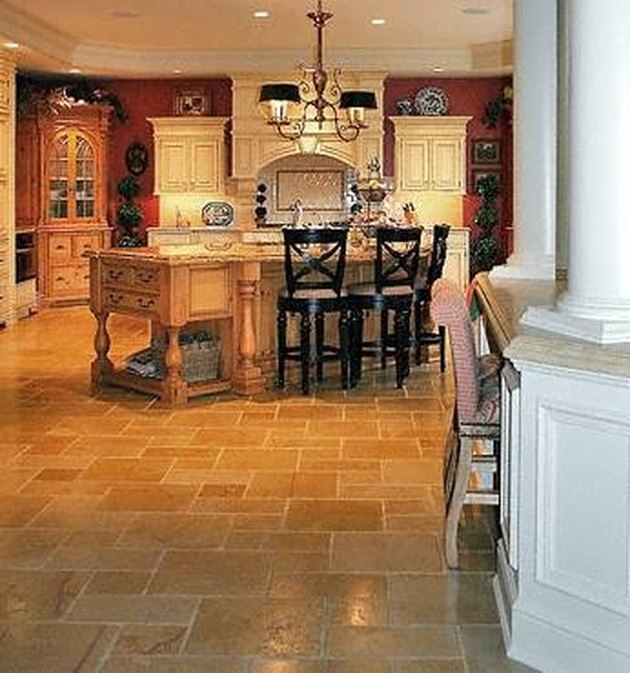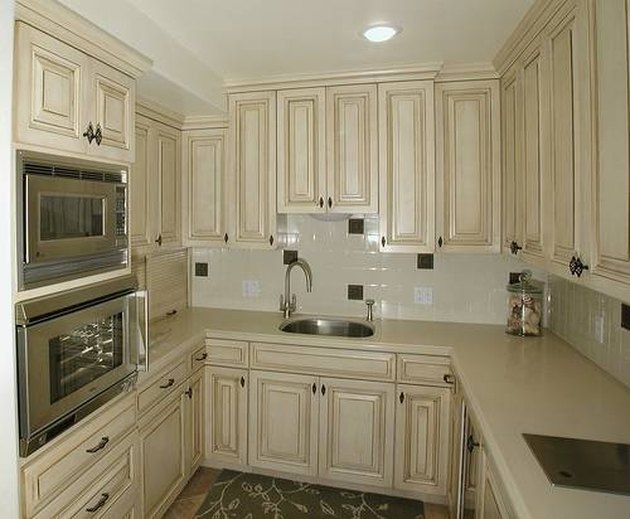 Adding a glaze to cabinets gives an antique look. Glaze is a mixture of paint and a translucent medium. The end result is a stained look in the crevices of the cabinets and on corners. The stain is liberally brushed on, and then wiped off using a rag.
Crackled paint is a common painting technique for cabinets. An underlying base coat is applied first. A glue medium is then added. Once the gluelike material is tacky, a second layer of paint is added on. The paint will crack in the direction the top coat is applied. If using a brush, long alligatorlike cracks appear. Using a sponge, the cracks will be more even in size and more symmetrical. Crackle paint should be top coated with a clear polyurethane.
Many kitchens with painted cabinets are using more than one color. If the kitchen has an island, the island's base can be a different coordinating color. The trim work of cabinet doors can be painted one color, while the inset portion can be painted a different color. Knobs and drawer pulls can be decorated in a variety of shades for a contrasting look.
Metallic paints can be utilized for a contemporary industrial feel. Metallic colors come in a range of shades beyond silver and gold. The paint is extremely translucent, and will need several coats. A base coat in black is recommended.
A stencil design or pattern can be added to the inset of cabinet doors. The design can be custom cut for the measurements of each area. Scroll or brocade designs are popular. A hand-painted vignette or scene is also common. Scenes depicting farm life, landscape and nature are commonly created on cabinet doors and other furniture.