While store-bought crackle medium allows you to quickly create the look of a cracked, weathered paint finish on furniture, decor and craft projects, you can achieve the same look without the premade product. Make your own crackle medium from regular school glue or wood glue for a fraction of the cost. Even a bargain-brand school glue works.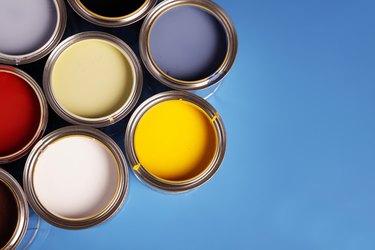 Selecting the Surface
Homemade crackle medium works on any surface that can be brushed with glue and latex or acrylic paint. Wood, paper, cardboard and thick fabrics such as art canvases are all potential project surfaces. Paint the project piece in a desired base color using latex or acrylic paint; if the item already has a suitable base coat, such as a red chest of drawers, there's no need to repaint it. If it appears too glossy or if it may contain a coating that could prevent the glue from adhering well, scuff the surface gently with sandpaper, and then wipe the dust away.
Making and Applying the Medium
A homemade crackle medium is an incredibly simple recipe, requiring only a suitable glue. School glue and wood glue both work; school glue is generally less expensive and available at more stores. Even dollar-store school glue works as a crackle medium. Brush the glue over any areas you want to crackle, such as the seat on a wooden chair and parts of the chair back. Apply glue over the entire piece if you want all of it to crackle, but if the project is large, work in a small area at a time, otherwise the glue will dry too fast.
Paint With Perfection
Use a flat latex or acrylic paint for the top coat, otherwise the crackling may not happen. Brush the paint over the glue while it is still tacky to achieve the crackle effect. Brush only once over the glue, rather than using several brushstrokes in the same area, or you may hinder the crackling process. As the paint and glue dry, the cracks occur. Once the paint is completely dry, feel free to sand some of the top color away in areas that did not crack, such as edges and corners that would normally see a lot of wear over time.
Special Considerations and Tips
If you've used a commercially sold crackle medium before, don't expect as long of a wait between applying your crackle medium and applying the top paint color. Glue-based crackle medium is dry enough to paint in a matter of minutes, so touch the project after five or 10 minutes to see if the glue is almost dry but still tacky. If the glue dries completely and you've missed the painting-time window, apply another coat of glue and get ready to paint. For large cracks, apply a thick layer of glue, and use a thin layer for small cracks.
---
Kathy Adams is an award-winning writer. She is an avid DIYer that is equally at home repurposing random objects into new, useful creations as she is at supporting community gardening efforts and writing about healthy alternatives to household chemicals. She's written numerous DIY articles for paint and decor companies, as well as for Black + Decker, Hunker, SFGate, Landlordology and others.