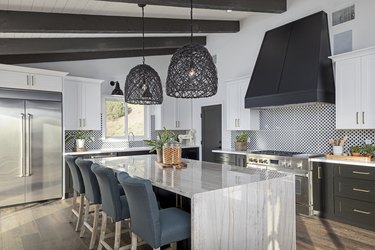 There are many websites that allow you to design free floor plans. But designing a kitchen can be a bit tricky if you aren't familiar with standard kitchen design rules and layouts. After you've educated yourself on how to make your kitchen functional and appealing, select a kitchen design app that allows you to design in both 2D and 3D. This will help you become confident in your decisions before you begin purchasing items for your remodel.
The Most Important Kitchen Design Rules
When designing a kitchen, the work triangle is a standard rule for placing appliances. It's created by the three most important workstations in your kitchen: the stove, sink and the refrigerator. Placing these three items into a triangle shape provides the best flow when preparing meals.
When determining your triangle, try to place your refrigerator at the end of a section of cabinets, with at least 15 inches of open counter space so you have room for grocery bags. If your oven and range are in separate locations, aim for 12 inches of counter space on either side of a range and at least 15 inches on one or both sides of your oven so you have enough space for hot items.
You should also consider the location of your dishwasher and the counter space around your sink, which should be 24 to 36 inches on each side. Lefties may feel more comfortable with the dishwasher to the right of the sink, while righties typically prefer it on the left.
The Five Types of Kitchen Layouts
There are five basic layouts for a kitchen: U, G, L, single and galley, which are determined by how the counters are laid out. Selecting your layout will depend on the size and shape of your kitchen.
A U-shaped kitchen is often the best option for large and small kitchens. In a large kitchen, you'll have a variety of work spaces; in a small kitchen, you'll have plenty of storage.
A G-shaped kitchen is a U-shaped kitchen with one extra half side that is often open to a dining area or family room. Adding barstools under the counter creates a casual dining area.
An L-Shaped kitchen has counters running along two perpendicular walls with only one corner. The rest of the floor plan is open. If you enjoy chatting with family or guests while cooking, this is the perfect layout for you.
If you have a small kitchen, you may need a single kitchen where all cabinets and appliances are against a single wall. Another option is a galley kitchen, which has cabinets and appliances running along two parallel walls.
Using a Kitchen Planner to Design
Now that you understand the basic rules and layouts, head to the internet for one of the many free kitchen planner tools. When selecting a site, look for one that allows you to design in 2D and 3D. This will help you determine both accurate measurements and the overall look of your new kitchen.
Begin by designing in 2D to determine where your appliances and features will fit. First, measure your kitchen (don't forget to include the length from the cabinets to the wall). Then, add your windows and all openings.
Once you have the basics, add your preferred counter layout, then begin to place appliances, keeping the work triangle and standard counter space rules in mind. If your preferred layout doesn't seem to work, try a different design. When all cabinets and appliances are in place, select the location of lighting fixtures and outlets.
Now, you can switch to 3D to choose the look of your cabinets, counters and appliances, as well as the type of flooring and backsplash. Take the time on the kitchen design app to play with styles, colors, textures and materials until you've found the perfect combination. Then, save and print your plans to begin your DIY kitchen design project.