If you think your kitchen is in need of a massive overhaul, let us stop you right there. Sometimes, it's the little things that can change our interiors for the better. For example, by simply refreshing your flooring you can easily update your cook space. And luckily, most kitchen flooring ideas are relatively fast to install. The hard part is narrowing down your choices — ranging from budget to color to pattern to material, the options are seemingly limitless. In an effort to make the decision-making process easier, here are six blue kitchen flooring ideas that definitely caught our attention.
1. Play with pattern.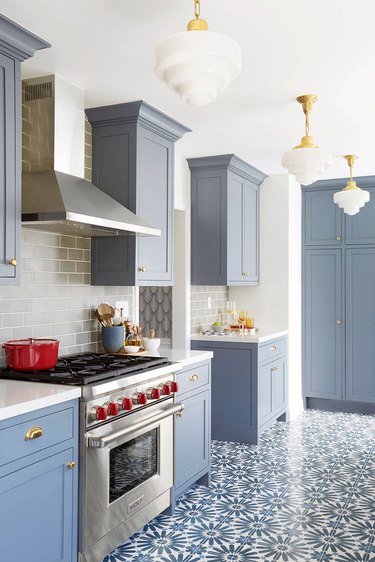 Patterned tile can break up a space and tie a color scheme together. Just look at the blue kitchen floor in this cook space by Emily Henderson if you don't believe us. The blue and white arabesque motif keeps the design cohesive, and adds a little extra va va voom that wood flooring couldn't.
2. Make it an accent.
If you've gone for a neutral scheme in your culinary headquarters, a pop of blue on the floor will help to add a dash of personality. Blueish-gray is a classic shade, making it the perfect accompaniment to beige and white hues, while still adding something different to look at. This timeless design by Kitchen Lab Interiors hits the nail on the head with a blue kitchen floor tile boasting a floral pattern — it brings just the right amount of color into the space.
3. Paint it yourself!
If you really want to go all out, paint the kitchen floor yourself, taking notes from this design by Therese Winberg of course. Therese drew up the design with a pencil before taping it up with low adhesive tape to apply the paint. The result is an innovative diamond design unique to her space. Luckily, designer Megan Pflug is showing us how to get a similar look over at One Kings Lane. Let's get taping!
4. Add another color to the mix.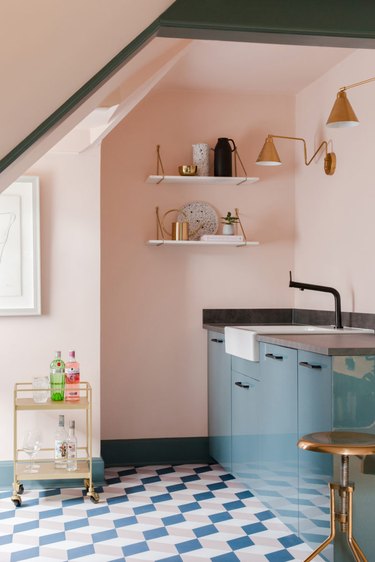 Think outside of the box with your blue kitchen floor idea. The shade used in this design by London-based 2LG Studio almost acts as a neutral to the contrasting pastel pink walls. The geometric vinyl floor pattern ties the look together, adding visual interest to the room and making it pop.
5. Be graphic.
If you want to add something fresh to your kitchen, you can't go wrong with a graphic blue kitchen floor tile. This cook space designed by Kelly Martin Interiors features a blue and white pattern on the floor that creates a fantastic optical illusion, while also complementing the blue cabinetry.
6. Take it up the walls.
Long gone are the days of needing to play it safe. Follow the lead of this culinary space and be bold, by continuing your blue kitchen floor tile on the wall as the backsplash. A modern take on '60s design, this blue hex pattern adds plenty of visual interest and acts as an abstract work of art, too.