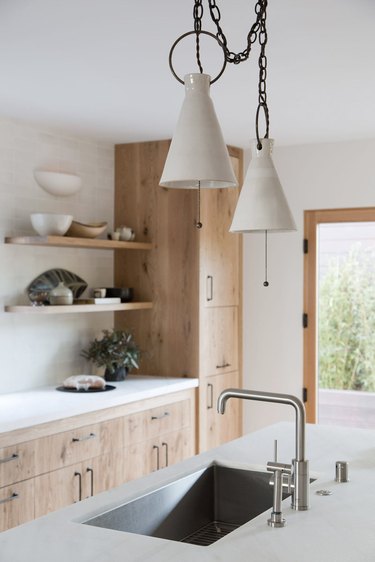 Farmhouse kitchen lighting in particular really brings the style to life, adding a warm and cozy element that ties the whole look together. There are seemingly endless options available that will mirror the aesthetic in your space. Simply keep your eyes peeled for fixtures that display materials such as distressed wood or industrial metal. Another distinguishing characteristic: traditional silhouettes — factory style pendants, lanterns, articulating wall sconces, and circular contours.
To gain even more inspiration and to discover where you can find some of these charming fixtures, read on.
1. Weave in an industrial look.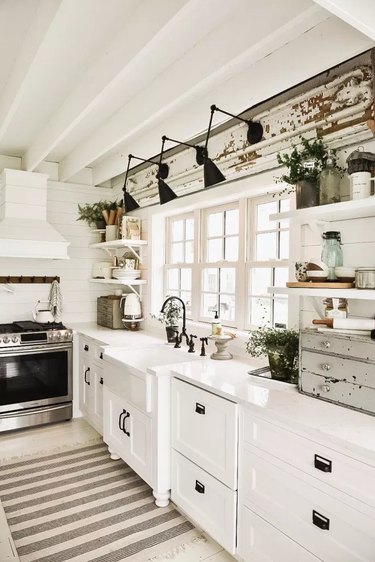 Farmhouse kitchen lighting often takes on an industrial vibe, since some of the most interesting vintage pieces around were reclaimed from old factories and barns. To capture that spirit in your kitchen, take a page from farmhouse extraordinaire Liz Marie of Liz Marie Blog. The black articulating wall sconces lend extra task light above the sink and create an eye-catching juxtaposition in this vintage-inspired cook space.
2. Contrast white visuals with black lights.
3. Hang a single pendant light.
If you don't have tons of room in your farmhouse kitchen for multiple pendant lights or a chandelier, consider hanging a single pendant light. In this pretty kitchen belonging to Beth of 1111 Light Lane, a throwback silhouette beams over the sink and acts as the perfect finishing touch.
4. Choose modern-meets-vintage lighting.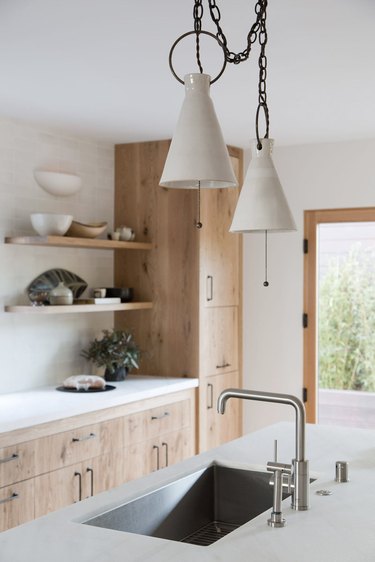 In a contemporary space, farmhouse kitchen lighting can be modern while simultaneously imbuing the essence of a bygone era. For example, this culinary space designed by the team at Simo Design has several vintage-inspired elements — rustic wood cabinets, traditional ceramic dinnerware, subway tile backsplash — but it still looks decidedly of the moment, especially with the unique ceramic pendants that are simultaneously on-trend and old-school.
5. Go clean and classic with a semi-flush mount.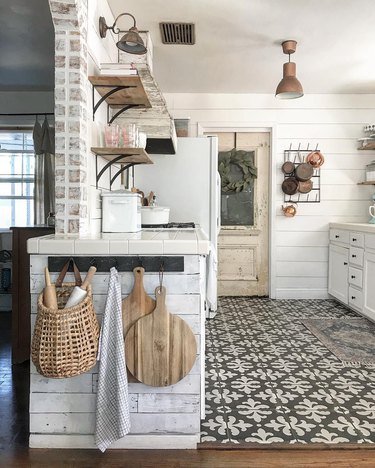 To keep your farmhouse kitchen lighting simple and straightforward, look no further than an easy semi-flush mount light. Jessica of The Rustic Pallet turned a bronze-colored pendant into a semi-flush mount in her kitchen, which communicates a traditional look and even ties in the warm metallic finishes of her pots and pans.
Where to Shop for Farmhouse Kitchen Lighting:
Now that you're readied with inspiration, head over to some of our favorite shopping spots for farmhouse kitchen lighting:
---
Shelby Deering is a lifestyle writer who contributes to national magazines and websites, including Country Living, Good Housekeeping, Well+Good, and more. When she's not writing, you'll find her shopping flea markets, hiking, and going for walks with her corgi.
View Work