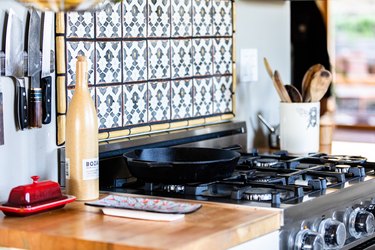 The kitchen backsplash can be the focal point of the entire room. So, picking the right backsplash tile will set the tone for the design. Before making your decision, you will need to consider the tile material, its look, how it works with the rest of the room and your budget, among other factors.
Backsplash Tile Material Options
Ceramic and porcelain tiles are among the most popular backsplash tile materials. Many people use the terms interchangeably, but there are significant differences between the two. Both are formed from clay and then heated to high temperatures, but porcelain tiles are made from a more refined type of clay and heated to a higher temperature than standard ceramic tile. People in the trade call standard ceramic tile "glazed tile."
The differences make porcelain tile more resistant to moisture and stronger than glazed tile, but glazed tiles resist moisture well enough for interior residential use. Strength, or impact resistance, isn't really a requirement for a kitchen backsplash. Both types are available in a variety of colors and designs. Porcelain tiles can be made to look like anything, including natural wood and stone.
Glass tiles can provide a sophisticated look to the kitchen backsplash. Tiles are available in traditional squares and rectangles but also in thin strips attached to a backing material. Each strip may have a slightly different shade of color than its neighbor, allowing for color variations on the backsplash.
Natural stone tiles can provide a distinctive look. You can find backsplash tiles made from most natural materials, such as marble, slate and travertine. Other materials include metal, which is usually thin stainless steel, and plastic or glass mirror tiles. Both are unusual but distinctive. Unlike other tiles, they are usually installed with a construction adhesive or double-sided tape.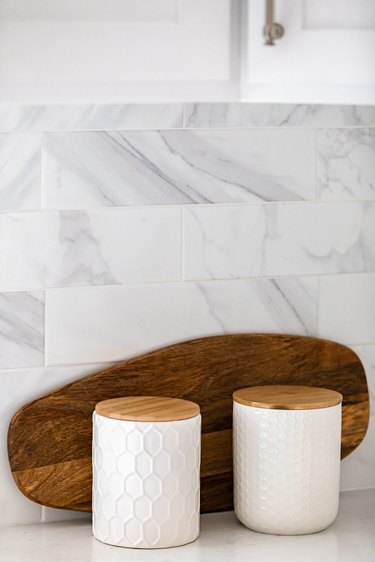 Many people want the backsplash to match the countertop or at least be in the same color family. This is fairly easy with a solid-color counter, like laminate, quartz or solid surfacing, but natural stone such as granite or marble can contain distinctive markings and veining that make the process more difficult. One option is to pick a color that runs through the natural stone and try to match it in a backsplash tile.
Another option is to let the backsplash be a backdrop and the countertop the star. Choose an eye-catching natural stone or solid-color material and then frame it with a simple, white subway-tile backsplash. White or neutral tiles help more dramatic colors and materials stand out and become the focal point of the room. If you choose the countertop first, you can compare how different wall tiles work with it before making a final decision.
The Kitchen Backsplash Area
In many kitchens, the backsplash area is well defined: It is the wall space between the countertop and the bottom of the wall cabinets. There are exceptions to that. Sometimes, there is an interruption in the cabinetry to make room for open shelving, or there might be wall space around a window that would benefit from a distinctive backsplash tile. Then, there could be walls in the kitchen that do not have cabinets on them.
These open areas offer a chance to make a design statement with a backsplash tile. Tiles that run along the bottom of the cabinets and then up their sides frame the cabinetry. Another option is to give a focal point such as the area around a cooktop or range special treatment with a decorative, hand-painted tile or glass tile that is different from the tiles used in the rest of the kitchen.
Entire walls can also be focal points, especially one that is visible from the kitchen entry or another living space in an open floor plan. You can use the space to install a tile design that stands out from the rest of the kitchen area.
Backsplash tile can anchor a kitchen's design, complement it or just fade into the background. There are numerous design options because there is much from which to choose. In addition to material selection, you will need to consider size, shape and color.
Backsplash tile shapes include squares and rectangles but also ovals and multisided tiles. Mosaic tiles are small tiles attached to a fabric backing for installation. Large-format tiles are usually 12 inches square and larger. Textured tiles add a three-dimensional look to the kitchen backsplash.
Trim and border tiles provide the option of framing part of the backsplash or adding a distinctive border. Trim tiles match the field tiles — the tiles on the rest of the wall — but they may be thicker than field tiles and have a distinctive edge treatment, such as a bullnose edge.
You are not confined to one tile for the backsplash. Consider mixing tiles with different colors and designs. You can also mix tile materials. A few mirror or natural stone tiles dispersed in a ceramic tile field create a custom design.
There are many possibilities. A good tile retailer may let you take samples home so that you can try different combinations, although some suppliers may charge for the samples. Don't forget the grout. It comes in dozens of colors and is an important component in your tile design.
Installing backsplash tile is not difficult, but the area is usually so visible that mistakes are obvious. If you want to try, Old House Online has instructions for tiling a backsplash. In general, the wall must be clean and flat. The tile dealer will recommend the best adhesive to use. Most tiles are installed with thinset mortar that is applied with a trowel.
Take careful measurements to determine the amount of tile you will need. It is a good idea to increase your estimate by about 10 percent because mistakes happen. If you have leftovers, save the loose tiles in case you have to make repairs in the future. Most retailers will let you return unopened cartons of tiles.
Many backsplash areas are small enough that you can lay out the tiles on a covered and protected countertop to see how they look. This is important if you plan on mixing different colors and designs.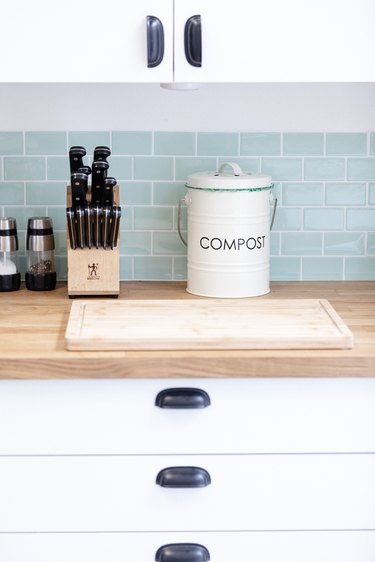 Backsplash Tile Maintenance
The vertical surface of a backsplash is usually easy to keep clean. Wiping with a damp cloth is often all that is required. Check with the tile manufacturer for specific instructions, as doing something that may harm the tile will void the warranty. In general, avoid using harsh chemicals and detergents on the tile as well as scrubbing pads and scouring powders that could scratch the surface.
The grout often requires sealing to keep out dirt. Stone tiles may be porous and may benefit from a sealant applied as per the manufacturer's directions. Some stone tiles are susceptible to etching from acids, so avoid cleaners that contain acids. Many tile manufacturers sell approved cleaning products.
You can find basic ceramic tiles that cost $1 to $2 per square foot. Porcelain tiles will cost $4 to $7 per square foot. Compare that with stone such as granite or marble that will cost about $8 to $12 per square foot and glass tiles that can cost up to $35 per square foot. The point is that prices are all over the place, so comparative shopping is a must.
Many things can affect the price of tile. Adding a color increases the cost, as does mounting mosaic tiles on a fabric backing. Some manufacturers offer standard products, such as classic subway tiles mounted on backing to speed up the installation. Unusual shapes also increase the cost. Ceramic tiles in scallop or herringbone shapes that are mounted on backing can cost $10 to $15 per square foot.
These costs are estimates for the material. A professional tile setter can cost $35 to $65 per hour. Most small- or medium-size jobs take two days or one-and-a-half days. The installer sets the tile on the first day and then applies the grout the next day.